Land of Gods. The Afrocentric Comic You need to Know.
If you enjoyed the thrills of Harry Potter and find yourself entertained by the Marvel Universe you'll love  Land of Gods. An Afrocentric comic that immerses you into the mysterious world of African deities.
Creators Somto Ajuluchukwu (Nigeria) and Janica Barrett (America) are creators of the Land of Gods. They were comic book exhibitors at Naiccon. They  are founders of Vortex Corp  a creative content and entertainment company in Nigeria, exporting African culture through visual artistry.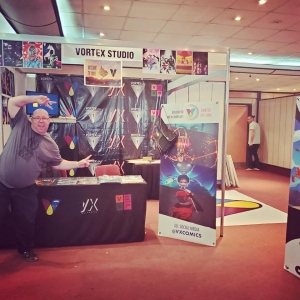 Somto Ajuluchukwu writes the reawakening of cultural relevance in a binge worthy comic. He says, "Land of Gods is my life work and a project I've dedicated a lot of time to developing the world and her characters, it reflects the diversity of African culture with a global appeal as you journey with Khashiya the main character in discovering this vast new world"
There is no wonder why Land Of The Gods was highlighted as a special feature during the year of return TEDxTUDU panel  earlier this month.
The heroine in Land of Gods is Khashiya Bello a Nigerian American 13 year old girl living in Brooklyn NewYork, she travels on summer holiday with her family to Nigeria to see her grand mother and discovers the EJIKIRI an ancient magic mirror which transports her to Orun the mystical world of the Orisha. She discovers her destiny is entwined with magical realms along with the fate of humanity.
The comic book takes you on a voyage to  the mystical world of Orisha. You get to enter Orun or Heaven at a time of great controversy. A war of the gods divide the land, thus awakening a prophecy that must be fulfilled by 13-year-old Khashiya.
"We went deep into creating archives of symbols, languages and locations unique to the story. The experience of the readers getting lost in this world isn't one we take lightly. It's a story we wish to propel the African mythology narrative to a whole new dimension, having a young girl as the lead was too important to as that representation matters for the black girl child." Says Ajuluchukwu.
Lord of Gods will be showcasing at  London Comic Con in October 2019.
*Pictures: Vortex.