Geek out at Naiccon 2019!
Comic books, cosplay, gaming and animation enthusiasts…. gather around! The Nairobi Comic Convention (NAICCON) is back; bigger and better. Get ready for an entire weekend of engagements this August 24th and 25th. #Naiccon2019 teams together with Pro Series Gaming (PSG) to bring together the best and most creative minds in animation, comic books, game development, cosplayers, YouTubers, illustrators and content creators. Get ready for an all-round geek out experience! 
Back to its original Sarit Centre roots, #Naiccon2019 will have workshops and panels with industry leaders both from local and international brands. This year's NAICCON will be headlined by Australian cosplayer Just Yeliz, renowned comic book writer Ron Marz, South African cosplayer Noorie and animator Nick Wilson.  There will be competitions, exhibitions, gaming, esports, workshops, panels, festivals and awards. We are looking forward to discovering new and rising comic book artists, writers and all associated nerd culture profiles.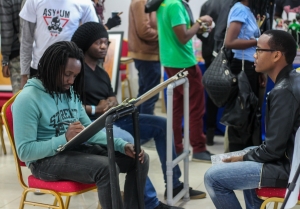 Get to experience the best in the region and witness the inaugural launch of the Kenya Animation Festival. It'll be a 60-day festival where animators get to challenge themselves to create new content from scratch in 60 days and the best will have their works showcased at #Naiccon2019. Amazing prizes will be up for grabs.
Gamers will have a real life feel through the Pro Series Gaming #PSGElite tournament and the LAN Party. The #PSGElite tournament will be a Call of Duty tournament. We can't wait to see this tournie bring out the best in First Person Shooter games.
Cosplayers, bring your 'A' game.  There'll be cool prizes to take home and of course, bragging rights. 
Mark your calendars. Don't miss out on this wholesome family fun and get your tickets on www.kenyabuzz.com