Weekend Plan: Eatout's Big Brunch at Lake House Tigoni
EatOut's famous Big Brunch is back this Sunday at the picturesque Lake House in Tigoni.
Nothing like an easy brunch Sunday that includes all-you-can-eat sweet and savoury menus, with bottomless drinks at an enviable location and no one knows how to throw a brunch like EatOut- the biggest authority on all things restaurants and culinary delights.
This month' s Afro Fusion edition is the perfect weekend plan and promises great music, fashion and food.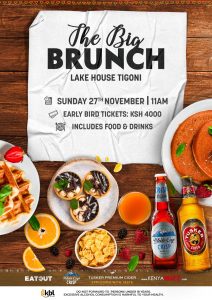 Tickets available on KenyaBuzz
*Image: Eatout