The Korean Influence in Kenya
Times have changed and there's a new fad today, Korea! The country that gave you Samsung, LG, Hyundai and that catchy tune, Gangnam style.
Korea's biggest import to Kenya is K-pop . Anyone who tells you they don't like K-pop is straight up lying or they just don't know what they are missing…Ok, I'm a big fan so I might be biased.  From the infectious beats, catchy hooks and amazing dance moves, to performances which leave you in awe. I mean thank you black culture for being the inspiration for  all those by the way.
If your YouTube hasnt already been taken over by the Korean wave, peep your Instagram and some of the beauty supply stores you follow.  K-beauty has been in more demand than the lifestyle audit Kenyans want politicians to take. But once you go K, everything else fades in comparison. Over the years there have been a handful of beauty stores which cater to Korean beauty products and regiments, especially in Nairobi.
Facial products from Korea have hit the market and are in heavy demand. From snail and tea tree masks, black sugar scrubs, lip tints and facial toners. A lot of these types of products can be found on online stores such as Jumia, Zhuri K- Beauty cosmetics and K- Beauty Kenya. One can even go to a physical store such as Glow Secret at Jamia Mall.
https://www.instagram.com/korean_products_in_kenya/?hl=en
https://www.instagram.com/glowsecret__/?hl=en
https://www.instagram.com/fletnakenya/?hl=en
Korea has slowly been imprinting in these Kenyan streets, with people able to buy groceries in places such as the Korean Market on Oloitoktok Road, at Food Plus and at Corner Store Ltd at Parklands Avenue. If you'd want a ready meal, infused with culture, there is a Korean restaurant called East Seoul Street Food based in Village Market.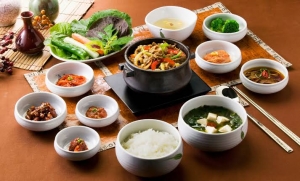 If you want to be engrossed beyond face value, Korean Studies is taught at the University of Nairobi and international schools such as Manahaim School and College. And if that's not enough Korean for you, there is a television station called GBS (Good news Broadcasting System) which started in 2009 with the aim of giving viewers high quality content.
The surge for everything Korea can be said to have been sparked by K-pop, basically Korean version of pop. With the likes of BTS, who have become one of the greatest boy band of 2019, not just with accolades but with  over 100 million views om YouTube. This has shifted the balance, with more artists getting recognition in America and all over the world. With fans quite literally flocking to concerts, meet and greets and buying their merchandise, the demand for this kind of talent is quickly being filled.
Naturally such a huge following has led to K-dramas, shows created and written by Koreans. If you enjoy watching shows like Good Doctor and Masked Singer, you have officially watched a Korean show, although they have been adapted for the American audience. You have to give props to Korea for that. When watching K-dramas, prepare for a storm of emotions, because the writing and the actors are that good. There are so many different genres to pick from and so many different dramas and movies to explore.
In Kenya, we have K-pop and K-drama meet and greets, where people who have similar interests in Korean culture meet up, socialize and have a good time.  It gets lit  with a k-pop playlist and games.
What's your Korean explosion experience?