The Art Lover's Guide to Nairobi
A round-up of Nairobi's popular contemporary art galleries and museums for the discerning art enthusiast.  This is by no means a definitive guide but it's a good place to start. Nairobi is flourishing with art spaces and collectives and every other day a new artist pops into the scene. The Alliance Francaise and Goethe Institut are also great places to watch out for new talents as they hold exhibitions for new artists every so often.
An opinion on art is very subjective. It's about how a piece of work makes you feel rather than what other people say is good or not. I hope that takes away some of the intimidation that comes with walking into a gallery – these airy, pristine and deathly quiet spaces which sometimes carry misconstrued notions of patronage by a certain 'cultured class'.
The truth is, the spaces are for everyone, no matter your level of art knowledge. All the people I've met while working on this article have been more than willing to walk me through the basics of beginning to appreciate art.
Circle Art Gallery
Location: 910 James Gichuru Rd
Why You Should Visit: Expansive exhibition space, curates predominantly contemporary art from local artists. Suitable for serious art collectors.
Represented Artists: Asteria Malinzi, Boniface Maina, Dennis Muraguri, Dickens Otieno, Gor Soudan, Jacke Karuti, Longinos Nagila, Micheal Musyoka, Shabu Mwangi, Salah Emur, Wanja Kimani, Tahir Karmali, Sydney Mango'ong'o.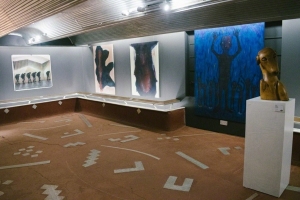 One Off Art Gallery
Location: #16 Rosslyn Lone Tree Estate
Why You Should Visit: Displays an extensive collection of established Kenyan artists
Represented Artists: Peterson Kamwathi, Timothy Brooke, Lisa Milroy, Peter Ngugi, Anthony Okello, Harrison Mburu, Mandy Bonnell, Beatrice Wanjiku, Richard Kimathi, Ehoodi Kichapi, Olivia Pendergast, Florence Wangui, James Mbuthia.
Red Hill Art Gallery
Location: Gatatha Rd, Limuru Town
Why You Should Visit: Tucked away in the outskirts of Nairobi, the gallery boasts an extensive collection of modern and contemporary African art amassed by the owner over a period of 25 years.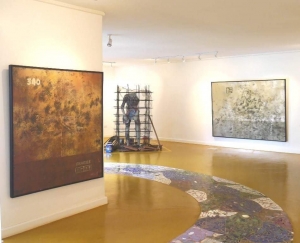 Nairobi Gallery
Location: Kenyatta Avenue
Why You Should Visit: The gallery's very walls are steeped in history. Built in 1913 as the provincial commissioner's office during the colonial administration, it was nicknamed 'Hatches, Matches and Dispatches' due to the number of births, marriages and deaths recorded there. The building also houses the zero point from which all distances in Kenya are measured.
The gallery is now home to a part of the Murumbi Collection – a motley of valuable African art collected by former vice president Joseph Murumbi and his wife Sheila during their travels, art pieces from renown East African artists including Magdalene Odundo, Francis Nnaggenda, Yoni Waite, and curates exhibitions from various contemporary artists from time to time.
African Heritage House
Location: Mlolongo
Why You Should Visit: The house is a wonder of architecture. The structure is a combination of African indigenous building techniques, combining mud and coral to fortify its walls. The interior has a large and invaluable collection of African art, ranging from authentic hand-woven fabric that drapes the furniture, art pieces hanging on every wall, making the African Heritage House is a filling feast for the eyes.
Kioko Mwitiki Gallery
Location: James Gichuru Rd
Why You Should Visit: Exhibits of renown artist and sculptor, Kioko Mwitiki. It also exhibits prints, sculptures and ceramics from different artists as well.
Kuona Artists Collective
Location: Likoni Close
Why You Should Visit: An eclectic artists' colony ranging from visual artists to musicians who are in residence at the centre's studios.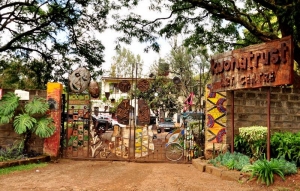 Banana Hill Art Gallery
Location: Banana Hill
Why You Should Visit: A wide range of contemporary African art from over 70 represented artists.
Paa ya Paa Gallery
Location: Garden Estate
Why You Should Visit: One of the oldest galleries in Nairobi, opened in 1965. It has an extensive collection of art from established and upcoming artists.
Dust Depot Art Studio
Location: Railway Museum
Why You Should Visit: If you are yearning for a bright and beautiful display of graffiti art, Dust Depot is where you need to be. To truly appreciate the diversity of the graffiti art, one needs to pay regular visits as new artists draw over the older graffiti art.
Side Bar
Ask a Gallery: Who are the hottest contemporary artists in Kenya right now?
Nairobi's popular contemporary galleries weigh in on the artists you need to know from the local art scene.
Red Hill Art Gallery
High-quality artists with an already broad international reputation would be among others:
Peterson Kamwathi
Beatrice Wanjiku
Paul Onditi  
(All three participated in the Venice Biennial)
Others: Onyis  Martin, Longinos, Samuel Githinji, Michael Musyoka and many more
One Off Art Gallery
Wangechi Mutu
Magdalene Odundu
Peterson Kamwathi
Beatrice Wanjiku
Richard Kimathi