Real Queens Fix Each Other's Crowns in New Series Ma'empress
"Real queens fix each other's crowns" might as well be the tagline of Ma'Empress the new comedy drama series that follows five women and the everyday struggles they face as they navigate through life, career, friendships, relationships and everything in between.
Produced by the power duo of Philip Karanja and Abel Mutua (Phil-It Productions) and directed by Kenji Gatheca, Ma'Empress' storyline hits close to home as it tackles various issues affecting women in modern society, like the sexism that stares at them so blatantly in public spaces, body shaming, marital struggles and infidelity, and even issues of identity and womanhood. All while maintaining a sense of humour that borrows from pop culture references and modern Kenyan slang speak that you will immediately recognize, a signature style that Phil-It perfected even with its 2017 award-winning series Sue na Jonnie.
Outstanding cast
It's great to see Neomi Ng'ang'a back on our screens in a leading role, something she hasn't done since she appeared in Dorothy Ghettuba's Sumu La Penzi way back in 2013. Neomi plays the bubbly TV personality Renee dealing with childlessness in her marriage and a TV career that takes a turn for the worst in the first few episodes.
Catherine Kamau "Kate Actress" (Plan B, Sue na Jonnie) features as the naïve, humble housewife Eve, a biochemist who quit her job to take care of her husband and two kids. Kate's is an out of character role that proves the actress is moving away from typecasting that has seen her play great but almost similar roles in movies like LowlaDee's Plan B and Tosh Gitonga's Disconnect.
Tahidi High's alum Brenda Mwai plays Tasha, a socially-awkward IT geek with a penchant for waistcoats and bold lipsticks. She's also the smartest one of the group, and the one who struggles the most with getting into a relationship because well, she hasn't yet invented an algorithm to make it easier for her.
Of course, not forgetting the outstanding performance of Nyokabi Macharia, an actor who has honed her acting chops on stage in popular plays like Tinga Tinga Tales and Too Early For Birds. Her character Zawadi is an arty, straight-to-the-point painter-activist who refuses to conform to societal standards of what a woman should be. Other than her liking for one-night stands, Zawadi is a rebel who would rather spend her day protesting for women's rights than with her new love interest Rio (Norman Abubakar "Abu Sense").
To complete this quintet of strong, independent women taking life and their problems head on is Minne Kariuki's Crystal, a socialite and social media influencer who falls from grace after a very public break-up. She believes in keeping up appearances on social media because for an Instagram celebrity like her, the sound of notifications is like "music to her ears" as she puts it.
You will spot other familiar faces like Brian Ogola (Lusala, Kati Kati), and along the way, Maryanne Nungo (Supa Modo). Nungo, a force to reckon with in the film/TV industry in Kenya plays the enigmatic Mrs Wawawawawa (I kid you not), a woman so intimidating that only a fool with a death wish would dare mess with her.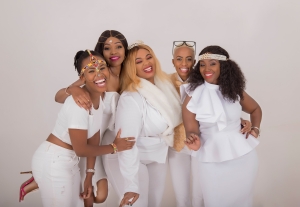 Female friendships, women empowerment and code names
Ma'Empress finds a balance between humour and tackling serious issues, and in essence shows us what female friends that empower each other could be like.
These women have codes for everything. In fact, every episode is a different code name; it's they summon each other for mini emergency meetings, how their bond of friendship is nurtured, how they pour their hearts out to each other as they share and find solutions to the various and unique problems they are facing.
For instance, Code Adams Apple is used whenever they face issues of sexism like when Eve is undermined by her daughter's teacher and blamed for her disobedience at school because apparently when children misbehave, it's always the mother's fault.
Or in Code Blush where Ma'Empress really shows us the depth of this bond these women share and why a support system is necessary. Here we see Eve who's been in denial about her husband's philandering ways become vulnerable about her marriage. Even Zawadi who's been nothing but tough drops her guard down and opens up for a date with a guy that she actually likes. It doesn't end up like we want to, those walls can't be broken in a day; even Eve still goes home to her douchebag of a husband but it's impressive to see Ma'Empress drop its comedy act and embrace its vulnerability.
These women need it, especially if they are truly going to tackle the issues they are going through, offer each other a shoulder to cry on and fix each other's crowns because they are all "maempresses" as they continually assure each other.
Ultimately, Ma'Empress is like fine wine. It gets even better with age, or rather as the show progresses. And in the very capable hands of writers like Bryan Ngartia and Queen Gathoni (who recently sold out Visa Oshwal Community Centre theatre with their iconic play Too Early For Birds Tom Mboya Edition) what could possibly go wrong?
Ma'Empress is available for streaming on Showmax.