Nairobi Gallery Presents: TingaTinga
Many people have heard of Tinga Tinga, first from the animated series of African folk stories, and then, from the musical by Eric Wainaina and Claudia Lloyd. But most of them may not know that Edward Saidi Tinga Tinga was once a humble bicycle repair man from Tanzania before he picked up painting (using enamel bike paint on scavenged ceiling boards). He realised that being an artist was more lucrative than fixing bikes and began training all his relatives and friends to follow in his footsteps, which they have.
For the past eight years, the Pioneer Gallery, housed at the former Nairobi Provincial Commissioner's office which sits at the epicenter of the city, has been focusing on works by the Pioneer Artists of Africa. These are artists whose careers began at the time of independence, or shortly thereafter.
Many of these artists were associated with the African Heritage Pan African Gallery and its founders Alan Donovan and Joseph Murumbi.
In 2019, the gallery has been exhibiting works by legendary artists of Tanzania.
Since May, the gallery has been showing works by second and third generation "TingaTinga" artists, i.e. disciples of the original master of this genre, the late Edward Saidi TingaTinga (signed E.S. Tingatinga).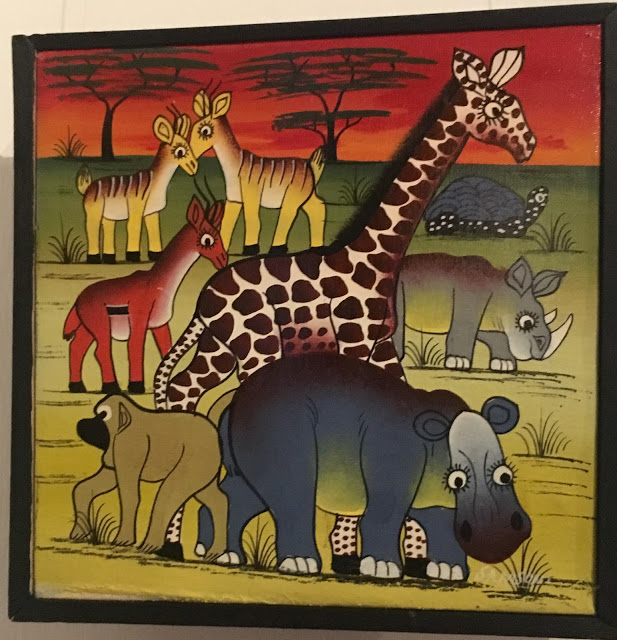 TingaTinga used enamel bicycle paint to produce colorful works on Masonite ceiling boards which were commonly found in colonial era houses. His style of art has been carried on by a multitude of East African artists, most of them borrowing from his original naïve style of painting. This art has inspired children's books, a TV series and even a Broadway play. Original TingaTinga paintings have become collectors' items, selling at premium prices afforded to the best of East African art.
Today, the Pioneer Gallery will unveil the second phase exhibition of works from the TingaTinga series and other pioneer artists from Tanzania.
Phase 2 will feature several original E.S. Tinga Tinga artworks and a few by his followers. The 61 paintings in this exhibition will include over a dozen Tanzanian artists, including prints and paintings by George Lilanga and his second and third generation family members.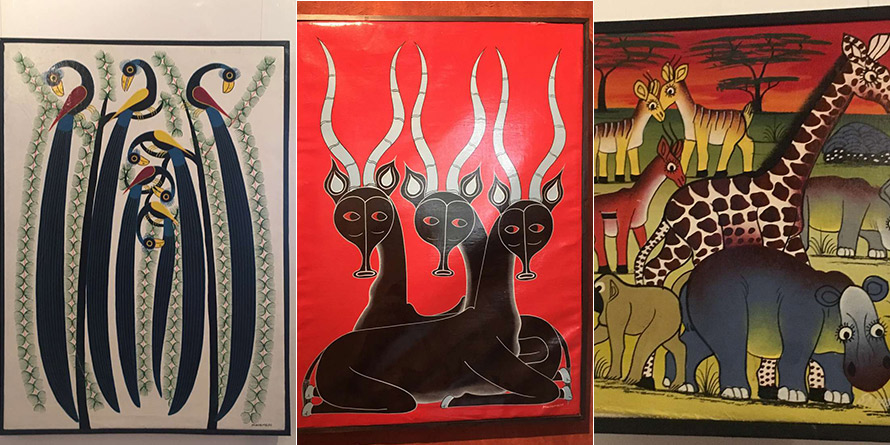 Mkura, like many others, was infuenced by TingaTinga. Others have developed their own unique styles, including those who have acquired fame through Nyumba Ya Sanaa, an art colony cum studio founded in the 1970's by Mary Knoll. Her work left an indelible mark on the formation of Tanzanian art as exhibited by Robino Ntila, George Lilanga, Edward Kiiza, Valentino Saudi, Augustino Malaba and other East African artists.
Oil paintings in this exhibition range from the stunning "African Pride" by Professor Elias Jengo from the University of Dar es Salaam, who worked with Sam Ntiro, another artist who encouraged and influenced the late Jak Katarikawe in his early days, to Aggrey Mwasha, whose paintings emerge like a dream from the mist, to the stark realism of Claud Chantanda's "Umoja!" and  Muzo Sulemani's "Bao Game".
There are also more whimsical works like the charming "Grace with her Thoughts" by Mohamedi Charinda, and the more serious "Alien" by Joseph Lyombo, depicting the landing of a space ship!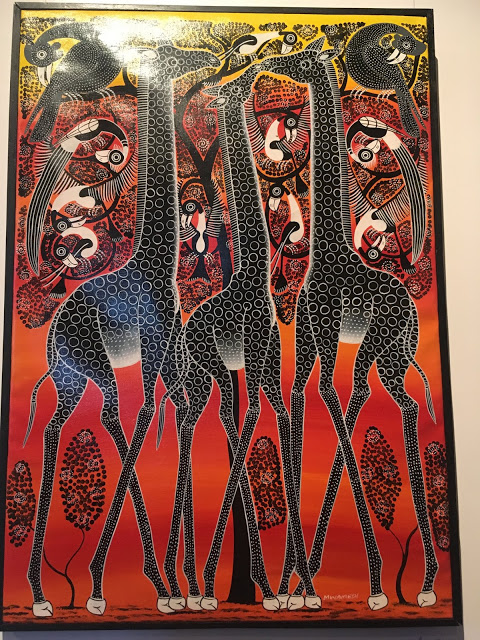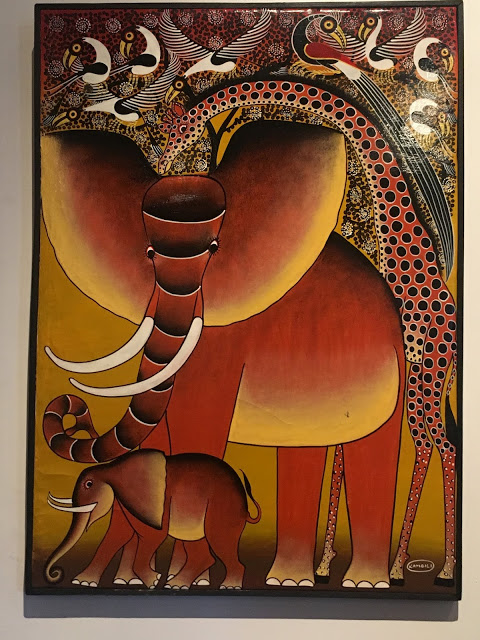 Students of Lilanga, like those of Tinga Tinga, have the most vibrant and colourful paintings in this show. However, two of the most proficient artworks are by Elias Jengo and Claud Chantenda whose painting, 'Umoja: A sinking ship' is the most stunning, yet sobering work in the show. Almost Turneresque in its treatment of tempestuous weather threatening to sink a ship which is clearly meant to symbolise his troubled post-Independent homeland.
The exhibition is FREE. Get you some art in your life!