Celebrity Cats: Get to Know Famous Lions of the World
Cats -big or small- hold a special place in the world. How else can we explain the internet phenomenon that makes people disappear into hours of kitten and cat videos, GIFs and memes? Cute distant relatives aside, lions are seen as unique due to their social behaviours and the fact that they are the only members of the cat family with striking sexual dimorphism. These majestic creatures have carved out a lasting impression in hearts and minds across global cultures. Here's a look at some of the most famous lions of the world:
Aslan
From the novels and film 'The Chronicles of Narnia,' created in 2005, emerged a great lion named Aslan. Aslan has been featured in all the seven books by C.S. Lewis and in the movie adaptation. His character is seen as a mighty, magnificent true ruler of the world of Narnia. Though strong and terrifying, he also appears to be kind and very wise. This bravura beast first appears in Narnia as a guide to the dwellers. Eventually his wisdom navigates everyone's path the right direction. Aslan is also the Turkish word for lion and is commonly considered to be an allegory for Christ. Aslan is seen as a phenomenal role model and spiritual leader for all things just, courageous and good.
Simba
Simba is a fictional character created by Disney for the movie 'The Lion King,' created in 1994 with subsequent remakes in 1998, 2004 and the most recent one set to come out this July 2019. This fictional character is synonymous with the global feel good phrase: Hakuna Matata (no worries); made popular by one of the original movie's songs. Although considered an original character, Simba was actually inspired by the character of Disney's Bambi in 1942, as well as the stories of Moses and Joseph from the Bible.  Disney had no idea that this story, first portraying little Simba as a cocky, confident character who must eventually mature and learn to take responsibility, would ultimately charm the hearts of billions across generations.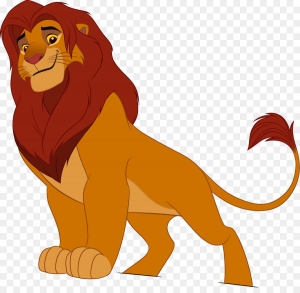 The MGM Lions
If you are a movie buff then you have definitely seen and heard the Metro-Goldwyn-Mayer (MGM) lion roaring. Since its inception in 1917, the Hollywood film studio has used a lion as its mascot.  Interestingly, there have been seven MGM lions but the most popular one is Leo the lion, with an impressive run from 1957 to the present.  The first MGM lion was Slats who appeared in 1924, followed by Jackie in 1928. Jackie was the first lion to appear in Technicolor for the opening of Wizard of Oz. In 1930, two lions -Telly and Coffee took up the mantle. Tanner and George were used in 1934 and 1956 respectively, before Leo took the reins. In all lion appearances, there is a ribbon around the faces in the logo that reads "Ars Gratia Artis" which means "Art for Art's Sake" in Latin.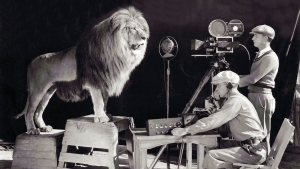 The Cowardly Lion 
Created by American author L. Frank Baum, the Cowardly Lion is a beloved character from the fictional Land of Oz. He is introduced in Baum's first Oz book titled The Wonderful Wizard of Oz, published in 1900 and then made wildly popular in the 1939 American musical fantasy film. In the Oz books, Baum describes him as a gentle giant at heart and because of his gentle nature, he is loved the people of Oz. Since lions are supposed to be "The Kings of Beasts," or fierce in nature, the Cowardly Lion felt that his fear made him weak and inadequate. He learns  that courage means acting bravely in the face of fear, something he does frequently throughout the Oz stories.
Elsa 
Raised by Kenyan wildlife conservationist George Adamson, Elsa was a female cub orphaned at only a few weeks. Elsa and her two sisters 'Big One' and 'Lustica' were raised domestically by the Adamsons. The five-week-old cubs were given enough training to survive in the wilderness. Big One and Lustica were taken to Netherlands' Rotterdam zoo while Elsa stayed in Kenya before later being released into the wild. The story of Elsa has been highlighted in documentaries, books and movies, with the most famous ones being Born Free and Living Free. Elsa's Legacy: The Born Free Story documentary made in 2010 marked the 50th anniversary of Joy Adamson's book Born Free. It includes home footage of Elsa and her cubs shot by the Adamsons and interviews with Virginia McKenna and David Attenborough.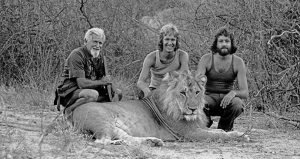 Christian 
You've probably come across a viral video of a lion running to meet two men; hugging and playing around with them in a remarkable reunion. Well that lion's name is Christian. Christian was born in captivity in a zoo in England. He was part of a litter rejected by their mother after birth. He was later sold to John Rendall and Ace Bourke. With the help of their friends Jennifer Mary Taylor and Unity Jones, Rendall and Bourke raised Christian until he was one year old when he became too big to manage as a pet.  So, they requested George Adamson to adopt Christian and teach him wildlife survival. Christian was successfully released into the wild in Kenya and years later had his own family of cubs. Rendall and Bourke visit him in Kenya years later and, to everyone's bewilderment, Christian not only remembers them but goes crazy with joy. If you haven't seen this viral video, look it up, it's truly heart-warming and demonstrates the huge, loving personality of lions.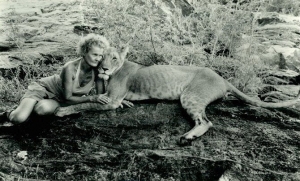 Cecil 
This has to be one of the most tragic stories about a famous lion. Cecil lived in Hwange National Park in Matabeleland North, Zimbabwe. He was the best-known animal in the national park and was identifiable by his majestic black-fringed mane and a GPS tracking collar. The lions in the park, including Cecil, have been studied by scientists from the Wildlife Conservation Research Unit at the University of Oxford as part of a scientific project. On 1st July 2015, Cecile was reportedly lured away from the park and seriously wounded by trophy hunter Walter Palmer, who used arrows. Cecil escaped that night but was later tracked and killed by a rifle the following morning. The culprits were never charged and this brought an uproar by wildlife conservationists, including a world-wide campaign that prompted political responses. The killing of Cecil sparked a discussion among conservation organizations about the ethics and business of big-game hunting and a proposal for bills banning imports of lion trophies to the U.S. and European Union. These discussions have convinced three of the largest airlines in the U.S., American, Delta and United, to voluntarily ban the transport of hunting trophies. Of the 62 lions tagged during the Oxford study, 24 have been killed by sport hunters.