Be My Eyes: A Revolutionary App For Assisting Visually Impaired People
Be My Eyes is a free app that provides live assistance to visually impaired people, but not enough of them know about using the service in Kenya. It is available on Android and iOS; tell a friend who needs it.
The app allows blind people to make video calls to sighted volunteers who then proceed to assist them with whatever visual assistance they need. Some of the ways seeing volunteers can help is by helping blind people identify colours, notes, brands of products in a supermarket etc.
Be My Eyes works on WiFi, 2G, 3G and 4G networks. Whenever a visually impaired person makes a call, the application randomly selects ten people and the first person to accept the call, provides assistance.
The iOS version was released in January 2015 while the Android version has existed since October 2017. So far, it has over 2 million volunteers and 138, 137 visually impaired users.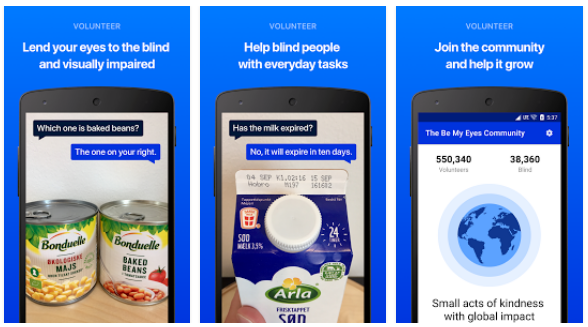 They are able to access it via TalkBack on Android devices and VoiceOver on iPhones. Calls are sent out from those seeking assistance while all a volunteer has to do is swipe right to accept a call and see what they need help with via their camera.
The app currently has a default time zone setting where volunteers can only receive calls between 8am and 9pm in their time zones.
Be My Eyes connects blind and low vision users to volunteers who speak their primary language which has a database of 180 languages including local languages.
For volunteers who want to give more assistance, the application allows volunteers to contribute to the translations on the app via Crowdin.
It does have a few shortcomings.
There is a necessity for having data bundles if you are not in a WiFi zone. This can be costly for users.