Easter Grill: Mbuzi Choma
If there's something quintessentially 'Kenyan Easter' it's Mbuzi Choma (barbequed goat). Easter just won't cut it if you don't throw a Mbuzi Choma party or get invited to one. Typically, the meat is cooked over an open flame and served with ugali and kachumbari (a tomato and onion salad) with 'dipping salt' on the side.
For a special twist this Easter, we show you some different ways to prep a nation's fave. Here's Mbuzi Choma like you've (probably) never seen, umm…tasted it before. Ever tried mbuzi choma sufuria style, pit roasted or beer-marinated? Dig in!
Mbuzi Choma- Sufuria Style
Short on time? This is an easy, yet delicious way to prepare choma ribs without a grill or open flame. Here's how.
What you'll need:
Prime cut mbuzi ribs
Salt & pepper to taste
Two tablespoons of oil
Deep sufuria (aluminium cooking pot)
Instructions:
Cut your ribs to desired size and season with salt and pepper
Heat a sufuria –medium heat. Add two tablespoons of oil.
Arrange your ribs in the sufuria- add as many as you can without piling them on top of each other.
Heat on high.
Don't touch the meat until it's brown on one side then flip and heat to golden brown on the other side.
Remove and repeat with remaining ribs.
Serve with Ugali & Avocado Kachumabri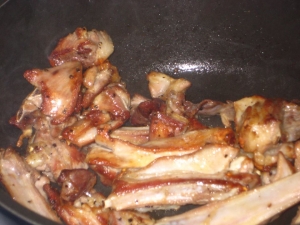 Mbuzi Choma- Pit Roast Style
This is an unconventional method and will probably need some polished DIY skills but we promise if done well, everyone's going to remember your epic pit mbuzi. The meat will be falling off the bone! It's one of the oldest methods of cooking.
What you'll need:
Full mbuzi, gutted, cleaned and seasoned as desired
3 foot deep pit with a circle of stones/bricks at the bottom
Enough firewood/charcoal to roast a full goat.
Large banana leaves or substitute (cabbage or corn husks) to wrap the meat.
Aluminum foil to seal the banana leaves
A wire basket
Fire Tongs
Instructions:
-Fill the pit with logs and set alight-  make sure the fire is blazing- and burn the wood down to coals. This process can take 2-3 hours so prep early. The rocks you placed in the pit earlier will help retain the heat.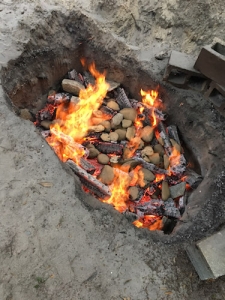 -Wrap your seasoned meat tightly in banana leaves, then in foil. Place the meat in a wire basket.
-When the pit is hot enough, lower your basket of prepared meat (and vegetables if desired) onto the bricks/rocks so it's slightly above the coals.
-Cover the pit using the dirt you dug up or a large sheet of metal. This keeps the banana leaves from burning by starving the fire of oxygen. By covering the pit, you maintain a constant temperature that is perfect for cooking.
– The cooking time is going to be around 5-6 hours. Then, carefully dig out your wire basket. Lift out the meat and vegetable packages using your fire tongs, unwrap & voila! mbuzi choma is ready.
-Serve as desired.
Mbuzi Choma- Guinness Style
Forget bland mbuzi choma. Give it a little kick by soaking it in a boozy marinade of Guinness beer. Yup, that black stout beer is the secret tenderizer ingredient you didn't know you needed.
What you'll need:
mbuzi cuts
2 cups Guinness stout beer
1/2 cup vegetable oil
1 tablespoon paprika
1 teaspoon freshly ground black pepper
1 medium-size onion, thinly sliced
12 cloves garlic, thinly sliced
2 bay leaves
Salt
Instructions:
– In a container large enough to hold the mbuzi cuts, combine all the other ingredients to form your marinade.
– Rinse the mbuzi cuts under cold running water, then drain and blot dry with paper towels. Add the mbuzi to the marinade and turn to coat. Let the mbuzi marinate, covered, for 6 hours till barbecue time.
– Set up the grill and when ready, remove the mbuzi cuts from the marinade and season them generously with salt.
– Roast as usual.
– Serve as desired.