Wildly Coffee Restaurant: A Cosy, Delightful Experience Inside the Park
Set in the midst of breathtaking scenery, this restaurant fuses fine dining with conservation by serving up a nature-inspired breakfast, lunch and drive menu. Wildly Coffee is located inside the Kenya Wildlife Service headquarters in Langata and from your table, you can spot a family of warthogs roaming the nearby lawns and playful monkeys cheerfully swinging back-and-forth across the century-old trees.
This, then, was the untamed yet snugly setting that we walked into when we honoured an invitation to sample their lunch menu. We had the pleasure of indulging in their platter for four which is extensive, and effectively caters to a wide range of taste buds.
Everything in the platter comes in pairs; two giant veggie samosas, two sumptuous spring rolls, two sausages, two lamb chops, two humongous and succulent pork chops. This is served with a side of flavoured potato wedges and the most delicious stir fry vegetables you'll taste.
Priced at an economical Ksh 3,500, this platter for four gets you your money's worth. It is the ultimate go-to grub for a group of friends who've just spent a day at the park. For an extra Ksh 200, you can wash it all up with some of their mouthwatering smoothies. I highly recommend the Oreo smoothie whose appetising presentation will bring a loving tear to your eye and get your taste buds ringing. It definitely had me begging for more.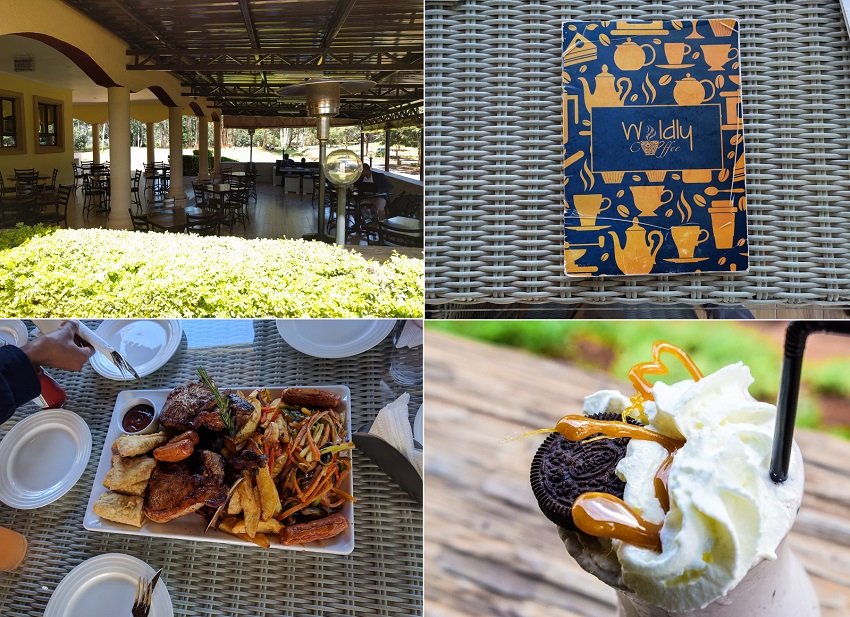 Courtesy: Majessty
In addition to their vibrant menu, they also have happy hour all week-long from 4pm to 7pm on selected cocktails such as the whisky sour.
It is not hard to tell that the restaurant offers nothing but quality to its clientele. The service is exemplary, the setup is homely and the food is tasty. It's main appeal though has to be the natural surrounding; the place lulls you with sights and sounds of the natural wild immersing you in an otherworldly ambiance just a stone's throw away from the modernity's of Nairobi city.
If you have a special event you're celebrating, a birthday, a new job, a promotion, an engagement, you name it, this has to be one of the places on your list that you must try out.