Vikash Pattni: Radio's 'Superstar Action Hero'
If you ever meet him, make sure to take a selfie with him; it'll raise your Instagram profile. Apart from being a leading radio presenter on East FM's drive time slot, Vikash Pattni is an aspiring action hero, a former runway model, an actor on Maisha Magic's Varshita, humorous and an all around awesome guy.
His flair was on full display at the just concluded KenyaBuzz Movie Week when he co-hosted the Bollywood Quiz Night at the Fox Theatres, Sarit Centre; his quick wit and disarming charm ensuring everyone had a good time on the night. We had a chat with the radio star to find out more about him because whatever is hidden, we make sure becomes known. That's what the press does, right?
Who is Vikash Pattni?
Vikash Pattni is this superstar action hero who women are crazy about but that's only in his head, otherwise, he is just an ordinary guy who loves to entertain people.
What excites you about being a radio presenter?
I think the fact that you have the power to change and influence how someone feels, I mean someone may have had the most pathetic day at work but you can make them smile and forget about it because of what you said and also take them back to a memory they have attached to a particular song you play on radio is very exciting and fascinating.
Did you grow up wanting to be on the radio?
Not at all. I had never even thought about it. I actually got into radio so that I know about auditions for TV should anyone advertise it but God had other plans.
Do you remember your first time on the radio? What was it like?
Yes, I was probably 8 or 9 and my cousin sister would use to me make calls to the station and request for her favourite actors' songs and id sit there and chat up the presenter mimicking actors.
Fast forward to the day I was going on my first show, I had a night slot from 9 to 11 pm. My dad was tuned in and I had prepared some really funny jokes I was to say on air. So I went and said all of them in the first 10 minutes. After that, my dad gave me a call and said haven't you reached the studio yet? There is no presenter only blank air between the songs! Which is when I realised I hadn't even switched the mike on!!!
You were a model before joining radio. Is it something you'd go back to?
I was a catwalk model then, which I wouldn't want to go back to because in my opinion modelling now is done just for a new Facebook profile picture, you just need to know a designer aunty or an organising uncle and boom you will be on the ramp.
But I had always wanted to be a fashion model or a commercial model so if that opportunity does come up I'd love to do that.
You have interviewed a lot of big personalities on your morning show. Do you ever get nervous?
 I don't quite know if I get nervous or very excited but I'd like to believe it's a mix of the two.
Who would be a 'dream guest' you'd love to interview?
Katrina Kaif….. oh wait I don't think I'd be able to speak if she is in front of me but there are plenty I'd love to have as my guests; Indian actor Aamir Khan or Amitabh Bachchan, Hollywood star Will Smith, Sylvester Stallone.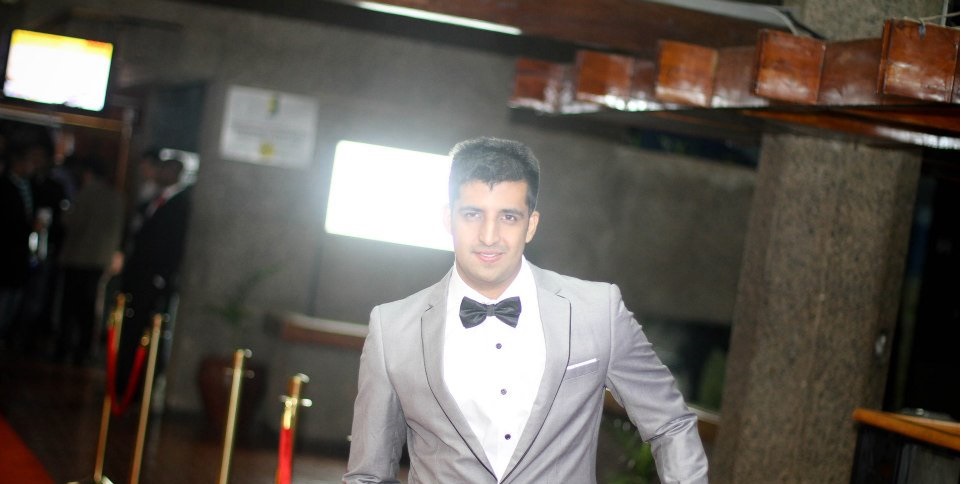 You are quite popular both on radio and online. What's the craziest fan experience you've had?
We were hosting international sensation Raghav Mathur for his concert from the radio station and after his performance he was taken for an interview, after the interview, thousands of his fans had crowded the area for a selfie with him, and suddenly a lady tapped me on my shoulder and said "my daughter wants a picture with you" and I thought she was confusing me with Raghav so I said no that's Raghav, not me and she said "no, no you Vikash she loves your show and she wants a picture with you." So that is something I think I'll never forget.
Of course, East FM is targeted at the Asian community, where most of your fan base is. Do you see your career expanding into the mainstream in the future?
Well as much as it's believed that East FM is targeted to the Asian Community, we do have a lot of locals who tune in simply because they love the music and it's also an English speaking station so it's not really difficult for anyone to understand. However, the content may probably be targeted to the Asian community but l also do a TV show called Varshita that's aired on Maisha Magic and I've also acted in a couple of other local TV shows and theatre so I'm hoping the leap into the mainstream is much sooner through TV if not radio.
What are your other passions away from the radio?
Acting is what I've always wanted to do ever since I was a kid and that is what I would classify as my passion but I have other hobbies which include rock climbing, motor biking and martial arts.
Who are your heroes in life?
Has to be my mother. I owe everything I am today to her and thanks to her upbringing and watching her tackle life's hurdles; I feel I matured way before my time.
You're also a bit of a movies geek –, especially Bollywood. What's the one movie you've seen the most times?
Wow, that's a tough one. I used to watch a lot of movies with my grandfather, there were 2 movies we watched so many times that the VHS cassette got spoilt. These were Sadak and Rambo: First Blood. I can recite those dialogues like I wrote them.
What ringtone do you have on your phone currently?
It's the theme music of Enter the Dragon (a Bruce Lee movie)