This Kenyan Youtuber Redefined Minimalism And Here Some Of The Benefits
Recently, Kenyan Youtuber Joy Kendi shared Instagram-royalty-level pictures of her tastefully furnished minimalist apartment. In the caption she shared the process she has taken over the past two and a half years, slowly but lovingly working on her dream space.
Against the common misconception that the minimalism lifestyle is pegged on big spaces with high ceilings and generous amounts of light, minimalism is all about reducing clutter. In this piece, we will focus largely on the benefits of adapting this lifestyle as exemplified by this Kenyan fashionista.
Quick question: How long has it been since you last took out your trash (and the trash you take out for the garbage truck to collect)?
As we plough on and on through our daily life, we often don't take enough time to sift through what we own, what we keep and what we buy; to see what we actually need, what is important and what is clutter.
What we mean here is have you done the radical moving room by room of your entire house asking yourself these important questions that make the base criteria for what to keep and what not to keep?
Like an old transistor radio that you keep on top of your wardrobe:
Do I really use this radio?
Do I have any duplicate items?
Does it have any personal or aesthetic importance?
If no, then it has to go.
But not to worry, minimalism is not all about throwing stuff out.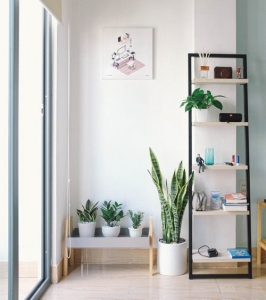 Here is the best part; it comes with benefits:
More Space – Needless to say the key importance of de-cluttering is the extra space that you never thought you had, which could come in handy if you needed somewhere to place your yoga mat on mornings you feel like you could use some meditation or space for that bookshelf you've always wanted to get.
Easier to find things- After minimalism, chances are high you wont turn your house upside down looking for your favorite pair of socks before that 9am meeting you have on Thursdays. Why? When you have less stuff, it is easier to organize and clean after yourself. Which is one of the best things you can do for yourself this year.
Gives you a sense of intention- When you adapt a minimalist lifestyle, your attention is drawn to what is important; it sieves out the chaff from your perspective of life leaving only what is important. This give your life a sense of intention and purpose.
More productivity- Do you ever sit in your house and feel unmotivated or drained of creativity?
I bet you blamed it on a creative block and made yourself a mug of coffee that you sipped on as you fanned the hopes that things will work out. Well, maybe you need to know this yet, but too much stuff is visually and mentally distracting. It's probably the cause of your creative block.
Easier to focus on quality- When quality and quantity are pulling on either ends of a string, it is easy to think quantity is the stronger opponent especially it you are surrounded by a lot of clutter. Take out all that you don't need then maybe you will see the need to invest in better quality stuff for what remains.
You become a role model- This one may feel a tad far-fetched but wait until you go into a well organized minimalist space, you'll feel the need to borrow a leaf. Trust us when we tell you this. Good minimal organization could easily win a lot of peoples adoration which will also translate to a major confidence boost and in tandem you might just come to love having visitors around.
Donation– When you de-clutter, all that you don't need may be all that someone else needs. You could just give it away. It could mean a lot to someone.
We hope that after reading this, you will no longer sit on the fence about whether or not to adapt a minimalist lifestyle.