How It Went Down at the Kenya Plus Size Fashion Weekend 2017
The annual Kenya Plus Size Fashion Weekend happened last Saturday, October 7 at the Carnivore. This year's edition was themed: Fabulous and Unapologetic.
The event brought out Kenyan and international designers and exhibitors who displayed amazing creations catered to curvy women. The highlight of the event was a runway show with models showcasing a variety of looks, from sexy lingerie, cocktail chic and trendy summer dresses. The intimate setting was packed with excited full-figured fashion lovers, stylists and journalists who showed a lot of love to each and every one of the runway walkers.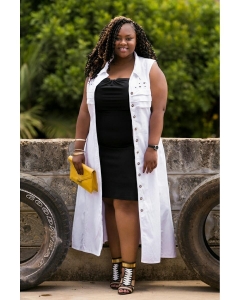 Francisca Nyamu, Founder of Plus Fabulosity said: "We support body confidence in women at every size, and we believe we have something to offer everyone."
This exclusive forum is not just a chance for curvy plus-size women to shop but also a platform for the stakeholders in the fashion industry to network. This edition successfully showed that Kenya is an emerging market for the plus-size apparel market.