Social distancing Snacks: Easy Recipes For Kids to Try
Here are some easy peasy recipes (with easy to find ingredients) that you and the kids can try out while you practice social distancing amid the crisis.
Chocolate Chip, Peanut Butter & Banana Sandwiches
Ingredients
1/4 cup creamy peanut butter
2 tablespoons honey
1/4 teaspoon ground cinnamon
2 tablespoons miniature semisweet chocolate chips
4 slices whole wheat bread
1 medium banana, thinly sliced
      Directions
Mix peanut butter, honey and cinnamon; stir in chocolate chips. Spread over bread. Layer two bread slices with banana slices; top with remaining bread. If desired, cut into shapes using cookie cutters.

No-Bake Peanut Butter balls
Ingredients
1/3 cup chunky peanut butter
1/4 cup honey
1/2 teaspoon vanilla extract
1/3 cup nonfat dry milk powder
1/3 cup quick-cooking oats
2 tablespoons graham cracker crumbs
Directions
In a small bowl, combine the peanut butter, honey and vanilla. Stir in the milk powder, oats and graham cracker crumbs. Shape into 1-in. balls. Cover and refrigerate until serving.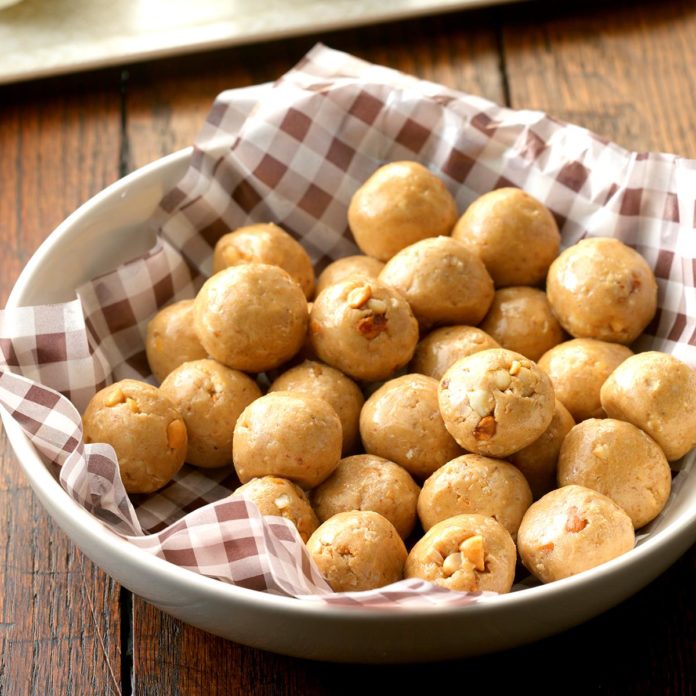 Pizza Toast
Preheat oven to 350° and line a medium baking sheet with parchment paper. Place bread on prepared baking sheet and spread with pizza sauce. Top with mozzarella and mini pepperonis and place in the oven. Bake until cheese is melted and pepperoni is slightly crisped.
Garnish with parmesan and parsley and serve.
Baked Parmesan Zucchini
Ingredients
4 zucchini, quartered lengthwise
1/2 cup freshly grated Parmesan
1/2 teaspoon dried thyme
1/2 teaspoon dried oregano
1/2 teaspoon dried basil
1/4 teaspoon garlic powder
Salt and freshly ground black pepper, to taste
2 tablespoons olive oil
2 tablespoon chopped fresh parsley leaves
Directions
Preheat oven to 350 degrees F. Coat a cooling rack with oil and place on a baking sheet; set aside.
In a small bowl, combine Parmesan, thyme, oregano, basil, garlic powder, salt and pepper, to taste.
Place zucchini onto prepared baking sheet. Drizzle with olive oil and sprinkle with Parmesan mixture. Place into oven and bake until tender, about 15 minutes. Then broil for 2-3 minutes, or until crisp and golden brown.
Serve immediately, garnished with parsley, if desired.