Sheila Munyiva: The New Sarafina
Sheila Munyiva loves Sarafina. She is also very excited to be playing the titular character, taking over from Brenda Wairimu who was the star in the same production last year.
I was seated with her outside the gallery at the Kenya National Theatre. I had to know what that felt like.
"These are big shoes to fill," she explained reverently, "Brenda is a household name and replacing someone who is loved by everyone is one of the hardest things I've ever done. But she has been really supportive and made it easy."
We were in the company of Mkamzee Mwatela, who is playing Miss Masembuko. Manyivu explained how she joined the show.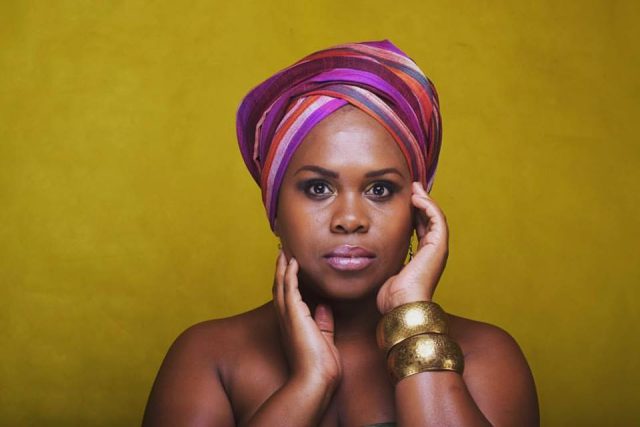 Mkamzee Mwatela
"She is the one who brought me in," she gestured at Mkamzee, recounting how her fellow actor urged her to reach out to director Stuart Nash since they needed a new actor to play Sarafina.
Munyiva isn't entirely new to the industry. She blew up in 2018 after playing Ziki- a bourgeois love interest to the other main character- on the award winning film Rafiki. But she wouldn't mind playing even more diverse roles.
"I have no problem with physically demanding roles," she explained, "I would love to play a super or antihero in a Marvel film." Here's hoping.
Munyiva went to primary and high school in Kenya but has that sort of urbanite accent that comes with travel "abroad" or abroad abroad. She revealed that when young she visited the UK a lot because her mother lived there. London is one of her favourite cities.
"I would love to work there. It's definitely a market that my agent and I are trying to penetrate."
Having already worked in film, one might wonder if theatre was more challenging. She had no such compunctions.
"There's something to love about them differently. I honestly can't choose. They both require different forms of expression and different ways of preparation. I love film for the chances that you get to rectify mistakes but I also like theatre because,  you perfect the craft and then you put on a show."
Mkamzee smiled knowingly, agreeing with Munyiva who went on to gush about Mkamzee's arguably greatest role.
"Her role that has always stuck with me was Usha Juma. I think it's going to follow you for life Mkamzee," they laughed, "Usha was the most fabulous woman. This is how I know women. It's my aunty. It's a friend of mine's mum. She's so cool but you don't want to cross her."
Munyiva is not shy about wanting big roles for her career, "I'd love to play a young Wangari Maathai, seeing what got her into environmentalism and also Winnie Mandela."
It seemed obvious that she had watched a lot of films, especially those that portray very strong women. I was unsurprised to learn that her favourite actor is Meryl Streep.
"I think her range is incredible. I also love Charlize Theron, Nini Wacera, Mkamzee- of course and Mumbi Kaigwa."
Mkamzee took the praise modestly and added why Munyiva makes a great Sarafina, "You need come for Sheila. Because you can see she makes it look like it's not hard. She can make anyone think they can take up acting."
I'm so excited to be playing Sarafina in Sarafina this year! 😃

If you can, come watch me on my theatrical debut ❤️ pic.twitter.com/nCDrDdBwMD

— Sheila Munyiva (@sheila_munyiva) May 15, 2019
A trait shared by Angelina Jolie according to Mkamzee, "I love Angelina because she's so dark. But also because she makes acting look effortless. And that's the beauty of it."
It's a throwaway comment in an innocuous conversation but I couldn't help but wonder if it's premonitory. Could Munyiva- also with high cheekbones, piercing eyes and a permanent pout- be Kenya's very own Angelina Jolie? As the soundtrack for the musical bellowed out of the gallery she shared why she loved the show so much, "I just love the whole cast, Miss Masembuko, China and the girls- we have such great chemistry, Crocodile, Sabela… Everyone is bringing their A-game."
And she knows why it's so important, "Watching the film as an adult who now understands how the world works, I have great respect for the pride that Sarafina has. As Kenyans we need that send of pride within us. We're being battered left, right and centre but I'm yet to see Kenyans angry the way the South African students were. And they took to the streets. They lost their lives for the country that they want to live in."
Munyiva wishes for viewers to be fueled by the drive of the South Africans. How they reacted viscerally against apartheid. In the film, which starred Leleti Khumalo, Sarafina and her mother have a very candid conversation about the situation. Sarafina roamed the opulent halls of the house where her mother worked. She jumped on the stark white bed with her shoes on. It's revealed that Sarafina's father died fighting against apartheid while her mother took on a job with "the enemy". Trying to clean up the mess Sarafina had made, her mother wondered what had gotten into her.
Sarafina states ominously, "I'd rather die like him than live like you."
Munyiva hopes their musical inspires that unflinching zeal to make the country better, "We need to see how we can do this for ourselves."
But will the theatrical production be enough to cause the change Munyiva hopes to see? Does the theatre even have a future in Kenya?
"The government doesn't support theatre. Kenyans' interest in watching theatrical performances isn't enough. Theatre here doesn't pay as well as you'd want it to. The ministry of sports and culture doesn't back us up. And we can't survive off ticket prices."
It's frustrating, this lack of support. But this doesn't bog her down. She has multiple upcoming projects. One a directorial debut slated for next year. She also creates time to read, gushing about the book currently in her bag, "The Tipping Point is just the best book I've read. I'm sorry but I'm just so in love with it."
As she is called away back into rehearsals, her enthusiasm lingers. If this is just the future of theatre and film in this country, we'll be fine.
Sarafina opens at the Kenya National Theatre on July 18th. Purchase tickets here.