Restaurant Review: Honey & Dough, Honey, It's Worth the Dough!
The 7th floor of One Africa Place is home to Honey & Dough-a multi-cuisine, Gourmet café style restaurant in the heart of Westlands.
Honey & Dough's ambiance is elegant, with simple, muted tones. The dining area has plush seating and excellent views. The hostesses at the entrance are quite friendly, always happy to show you to your table. I'd highly recommend advance reservations. I mean, walk-ins are allowed, but it does get really busy especially on weekends.
Honey & Dough offers an extensive menu that caters to every palate. From vegan pancakes, Italian classics like Arabiata, seafood specials and good ol' chips. The discerning foodie will delight in all the options H&D dishes out for sure.
They invited me for what they dubbed as a 'media tasting'. They used 'tasting' modestly. It was an elaborate meal with two starters, three different main course options, three delectable desserts, a Fresca and a house gin with an interesting name-Fallen Angel to wash it all down.
First up, was the Pulled Pork Bao Bun.  It's a soft, freshly baked bao bun served with pulled ginger pork and red cabbage drizzled with a mild chilli sauce.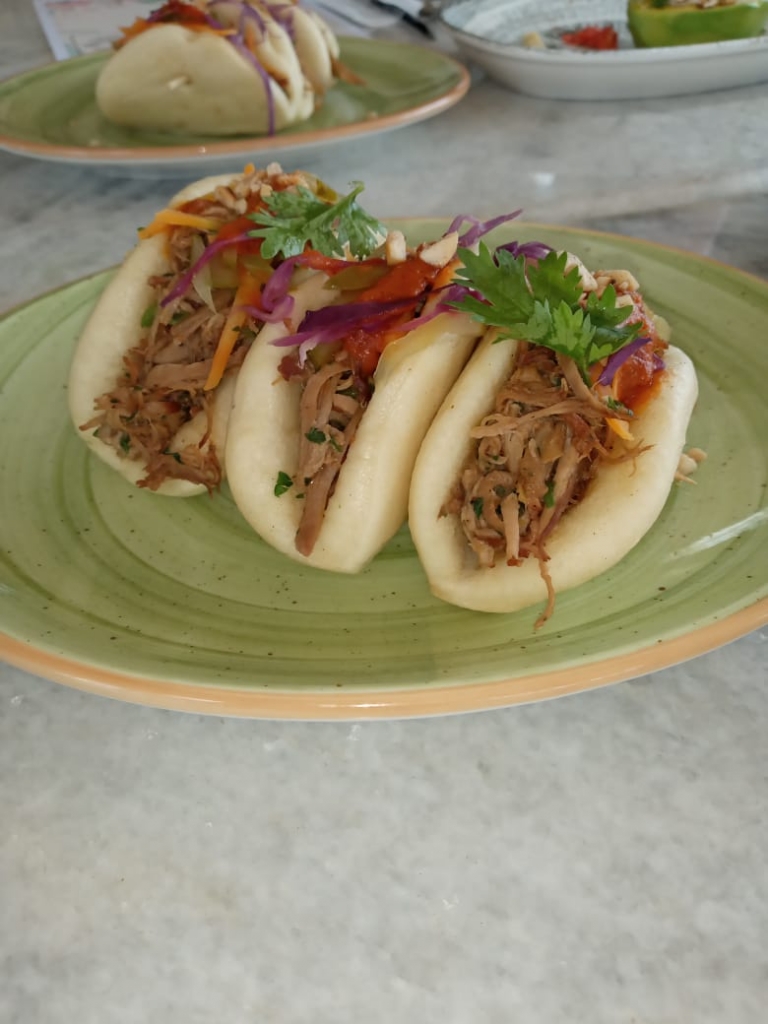 I nearly bit off my tongue devouring this Chinese carb experience:The baozi. A steal for Ksh 550.
Next was their Stuffed Avocodo filled with cashew cream and cashew Parmesan which… I can't believe is not real cheese! Vegans will revel in this divine entrée.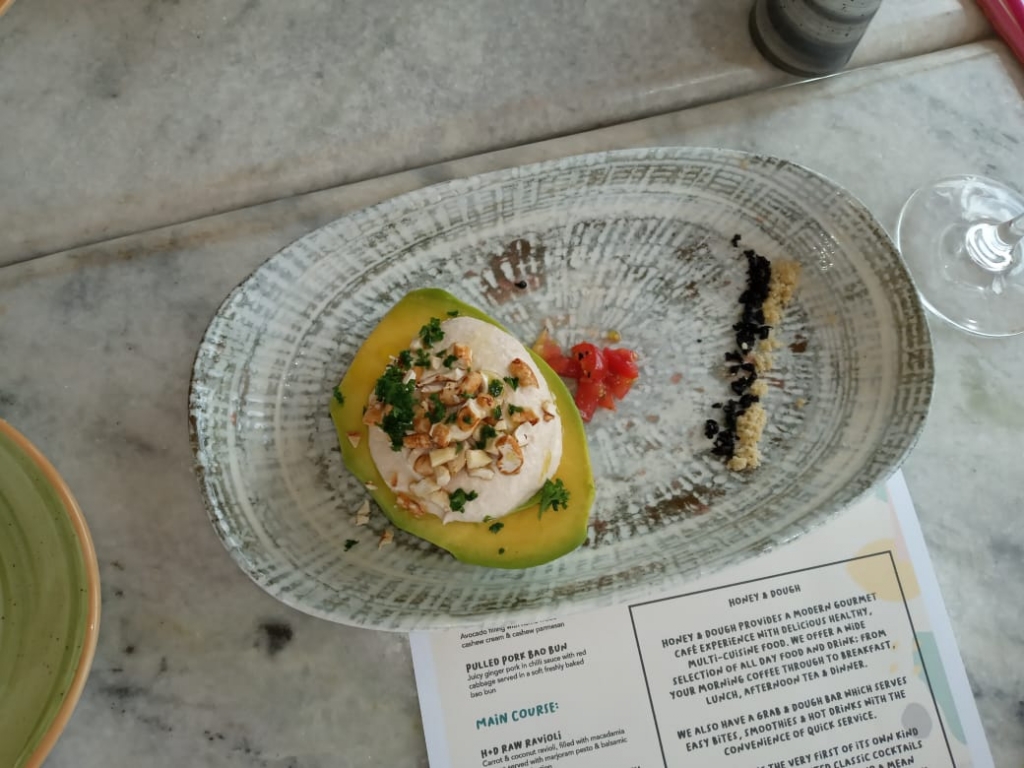 For the main course, I had a taste of all three options.
The H&D raw ravioli is a coconut ravioli filled with macadamia cheese, marjoram pesto and a balsamic garlic reduction.  An interesting twist to an Italian classic.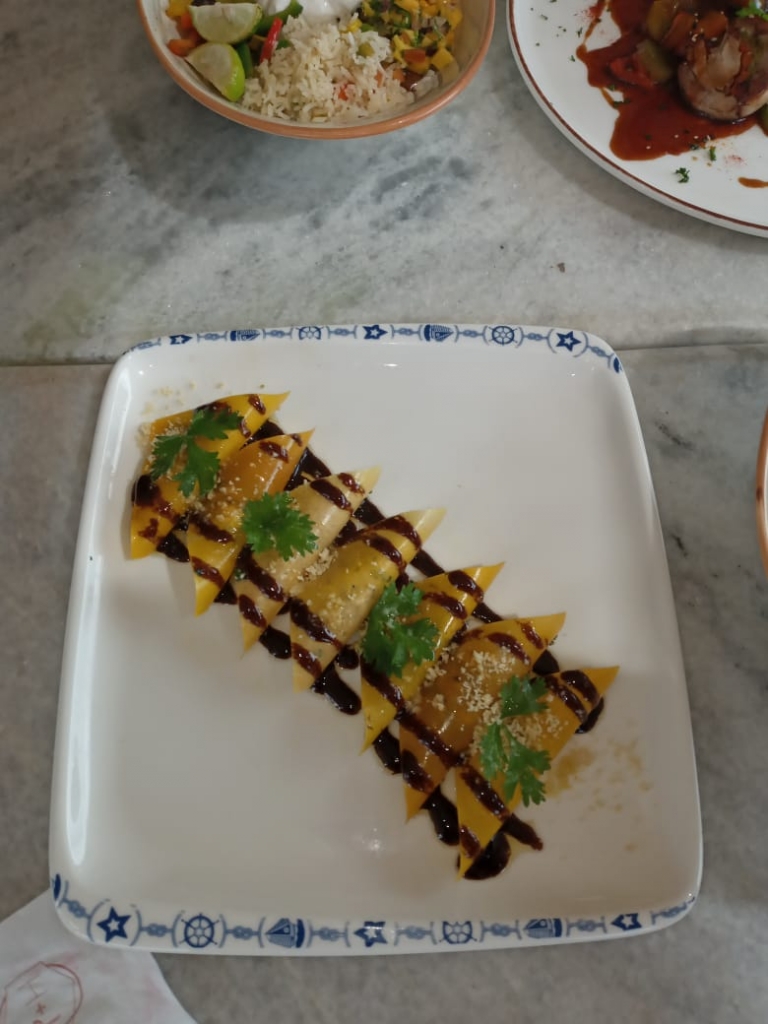 Next, I had the Mexican Chicken Buddha Bowl which was filled with Mexican rice and grilled peppers, guacamole, sour cream and mango pico de gallo. A filling dish that can be shared by two. For Ksh 800, It's worth the dough. 
My fave main course dish was the Oriental Chicken. A no-fuss spicy stir fried rice with chicken served in a mouth watering sauce.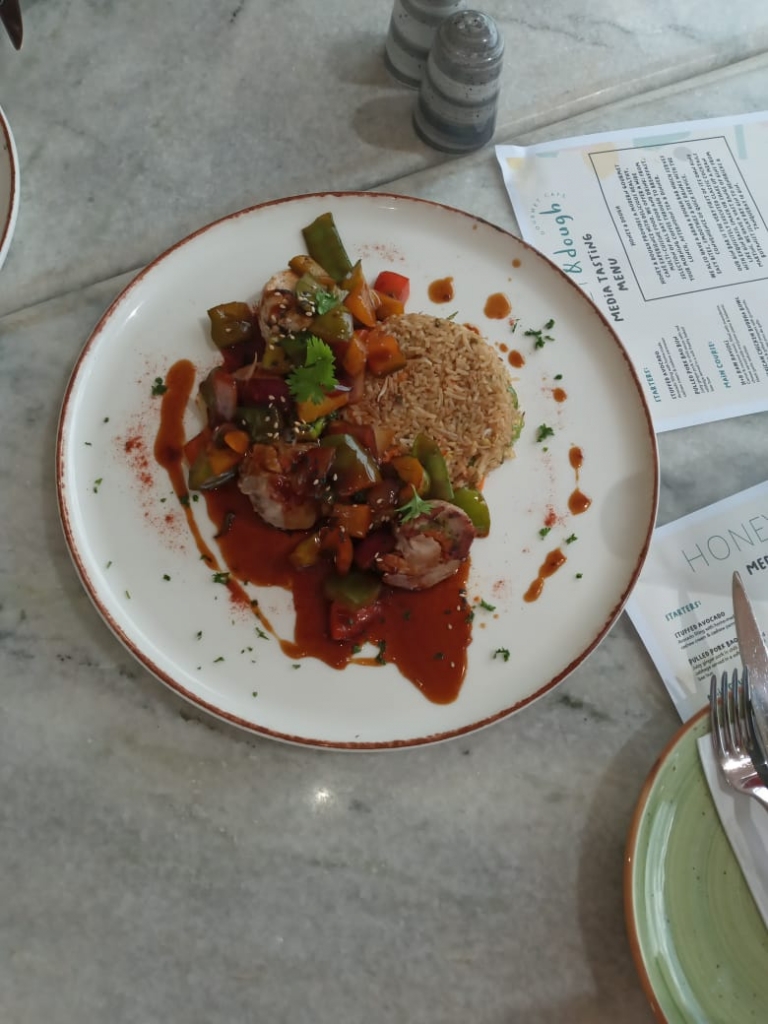 For dessert, it was a triple delight. They got me started with the Coconut Pear Slice-marinated pear in red wine served with coconut cream and cacao. Now, pears on their own are boring fruits, but H&D somehow turned this bland fruit into a scrumptious dessert. Feast your eyes on this.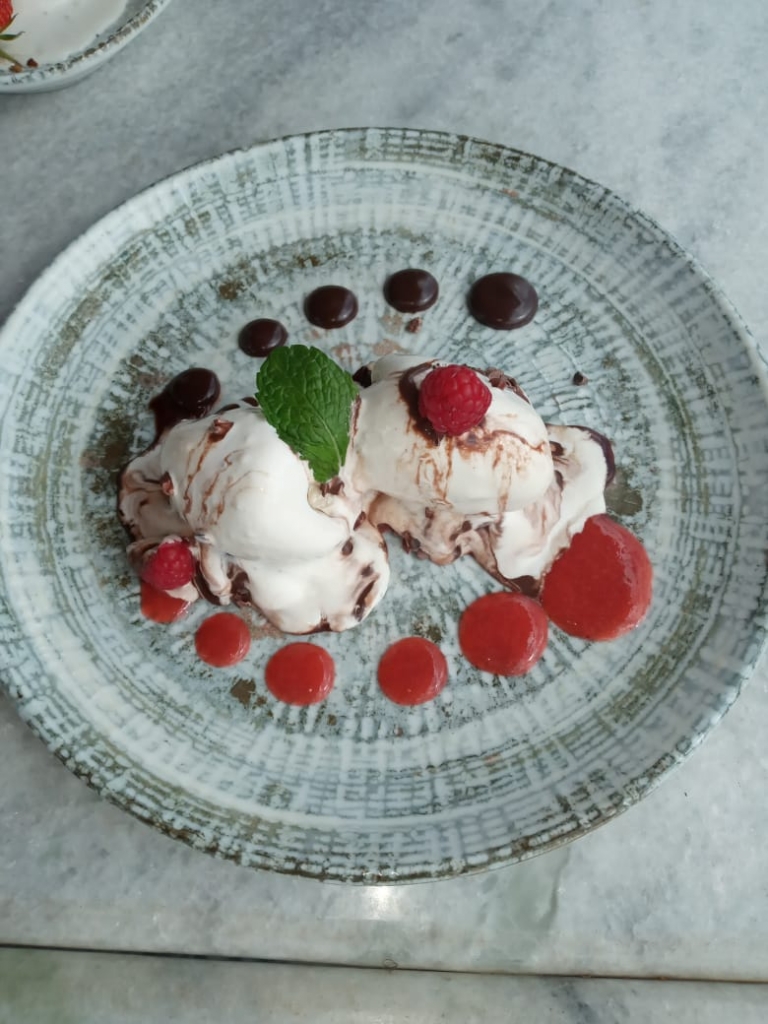 Then, I had slice of their Nutella Pizza- A crispy Nutella 'pizza' topped with torched bananas and fresh strawberries. It was delish. Could have done with more strawberries though 😉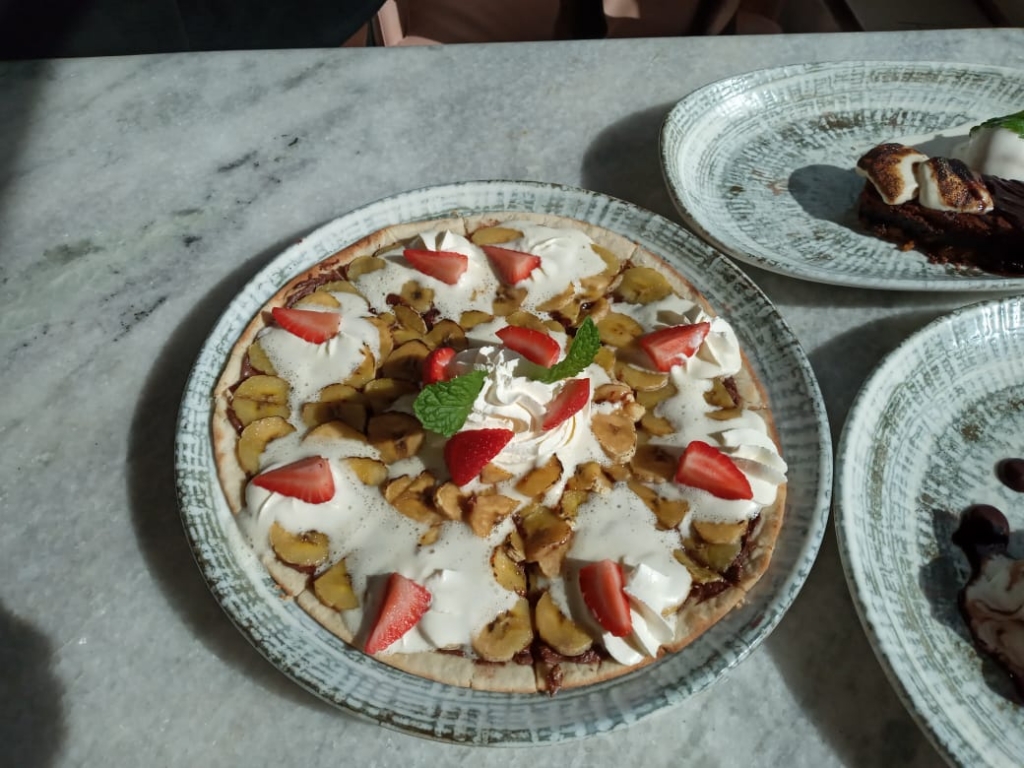 My absolute favorite was the H&D Browkie. A chocolate brownie and cookie dough served with caramelized honey and marshmallows. A delectable, dare I say, orgasmic last course. Highly recommended. Get the best brownie you'll ever taste for a steal…Ksh 45o.
Throughout my meal, the staff were incredibly attentive without getting in the way. They were helpful and patient with my inquisitiveness about their unique menu items.
Honey & Dough also has an impressive drinks menu. I tried their non-alcoholic house Fresca with lush strawberries, lychee, cranberry and lime stirred up with a tonic.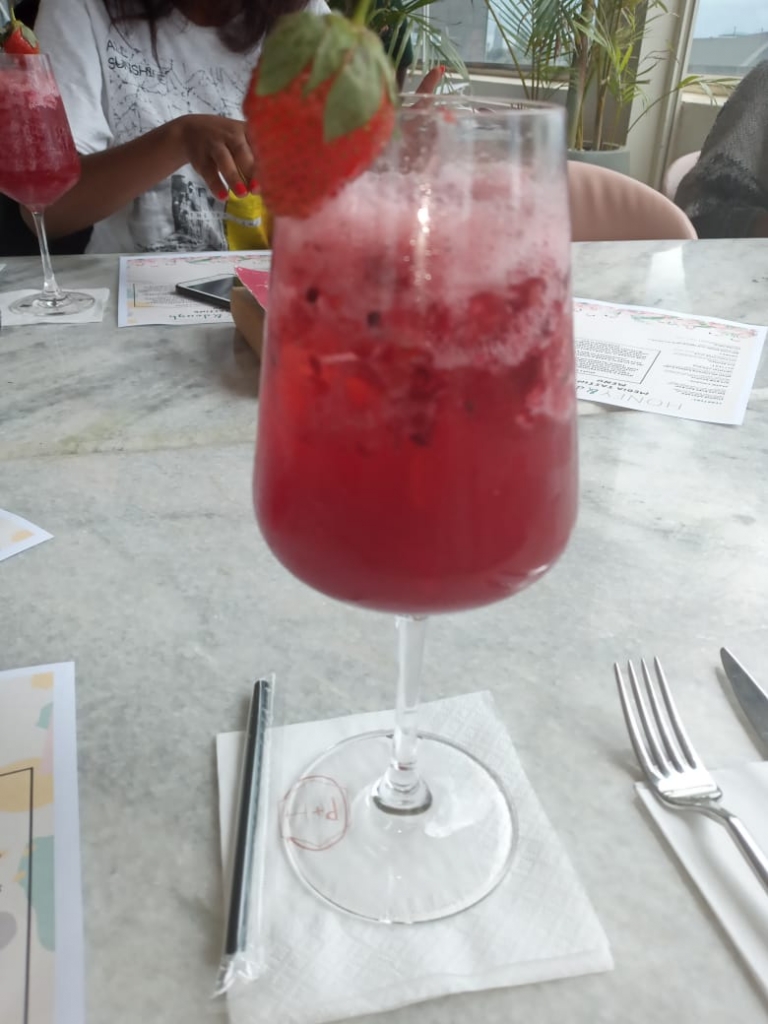 They also served me an interesting gin cocktail from their exclusive gin bar. A first in Nairobi.
Ask for the Fallen Angel-A Tanqueray, cranberry juice, vanilla, citrus house made Gomme syrup. It could use more gin though. It was a bit watered down.
H & D is all the rage now. If you're looking for an instagrammable restaurant with a menu that'll leave you spoilt for choice, then honey, take your dough to Honey & Dough.