Reel News: Stop Motion Comes Alive in "The Big Sad Nairobi"
Zordfiles is an illustrator, writer and filmmaker based in Nairobi. A few years back he and two of his partners, Kelvin Malombe, and Sheldon Mutei, created the Ink Space Bureau, a collective of artists who are keen on creating pop art for Kenyans and Nairobi.
Inspired by the daily lives of Kenyans and elevating that to world standards, Ink Space Bureau is currently the only dedicated stop motion animation studio in East Africa. Stop motion is an animated filmmaking technique in which objects are physically manipulated in small increments between individually photographed frames so that they will appear to exhibit independent motion.
The founders of Ink Space were inspired to create stop motion films after a late night studio session where they found themselves playing with plasticine/play clay.  It reminded them of a kids show called Pingu that used to air on Kenyan TV.
Stop motion calls for patience and stellar craftsmanship. Some famous stop motion films from Hollywood are Shaun the Sheep, Coraline, Kubo and the Two Strings, and recently the best animated feature from this year's Oscars, Pinocchio.
The company's debut stop motion short film The Big Sad Nairobi is based on characters in a comic strip also called 'The big Sad Nairobi' created by Kyansimire-Zordfiles-Oroni. The film follows a fictional character who embodies a goat persona.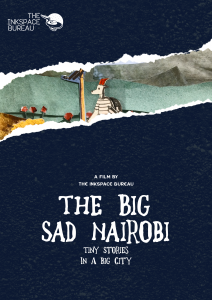 The character explores questions about human emotions and faces demons from the past on his quest to be a better person by exploring different depths of the human heart. 
View this post on Instagram
Zordfiles tells KenyaBuzz that Ink Space recently premiered the film at Nairobi Design Week to an amazing reception. It was a great opportunity to showcase what stop motion is to people and teach them how to do it.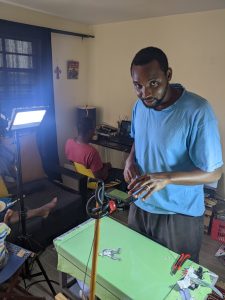 Ink Space Bureau has also worked on music videos, ads and films using this technique. And they are currently running a school program with Under the Microscope, a nonprofit organization that focuses on science engagement in Africa, where they are teaching kids how to use stop motion to communicate science ideas.
What's next? A feature length film. Keep it here for the details.