Ram Kasongo & Darsh Pandit on Directing & Producing Kiswahili Action thriller "Nyara" 
Nyara is a Tanzanian Action thriller directed by Ram Kasongo and produced by Darsh Pandit of Wanene studios. 
In Nyara, successful businessman Adam's 7 year old daughter Rehema is kidnapped by ex-military officer turned serial killer in Dar-es-Salaam. Adam enlists the services of his sister-in-law Faith to track his daughter. She is the badass head of the police Special Forces undercover unit. 
Ram & Darsh let us in on some Behind-the-Scenes details and why you should watch Nyara now showing in cinemas in Nairobi.
The film took three years to complete, and it was an ambitious project, because the genre of action films in Tanzania was yet to explored. 
One of the most challenging aspects of taking so long to shoot a feature film, Ram & Darsh explaib is  to maintain continuity, for example one of our characters in the film (Tarakim) the kidnapper who is interrogated, disappeared after shooting the main scene, and when they wanted to shoot the chasing sequence 5 months later he was nowhere to be found.
We contacted his family and they also were unsure of his whereabouts so we had to look for a replacement double, which took another two months, and then we had to play with the angles to make sure that he resembles the same character which is why he is seen wearing a helmet for most of the chase sequence!
Another challenge was when we started filming Rehema was 9 years old, and when we finished she was 11 years! So we had to make sure to maintain continuity over her look and her dress code so that the viewer is under the impression she is still the same age, and that the kidnapping happened the same day.
KB: First, Hongera on bringing Nyara to Kenya! It's not everyday that we get to watch full length Tanzanian films on the big screen here. How did you manage this feat? 
Thank you! We appreciate it! It was actually a very smooth process as we were working with Trushna from Crimson Multimedia who is a recognised and established distributor of films across East Africa and her team made it very easy to organise the process and we are blessed to work with Anyiko PR who has helped us to get publicity for the film and project.
I believe this is a good stepping stone for East African films in general, and we hope to see more and more projects reaching the big screens all over Africa through cross collaboration. 
KB: Darsh, we understand this is Wanene's first feature film. What were you working on before Nyara and has this shift been overwhelming?
Yes, this is our first feature film, and the reason we got into producing this film was because of a short film that we made in January 2017, with Dragon Boys which worked as a proof of concept of what was possible.
We took the short film to ZIFF (Zanzibar International Film Festival), and when it was aired to the general public we got a really good response with audiences cheering and asking for more (the film is only 6 minutes long), and we then realised that there is a good demand for such content so we started work on the feature film.
In order to understand how we got started, Wanene is a 360 degree content creation center, and we produce everything from documentaries, to music videos to TVC's etc. 
Therefore, working on a film was the next logical step and it provided a good opportunity for us to showcase our facilities and what can be possible together with our in-house team and local talent.
It was challenging at first because we didn't realise how different the process would be from other work we had done, but through persistence and a good team we managed to persevere and create an end result that everyone involved in producing and working on the film can be proud of.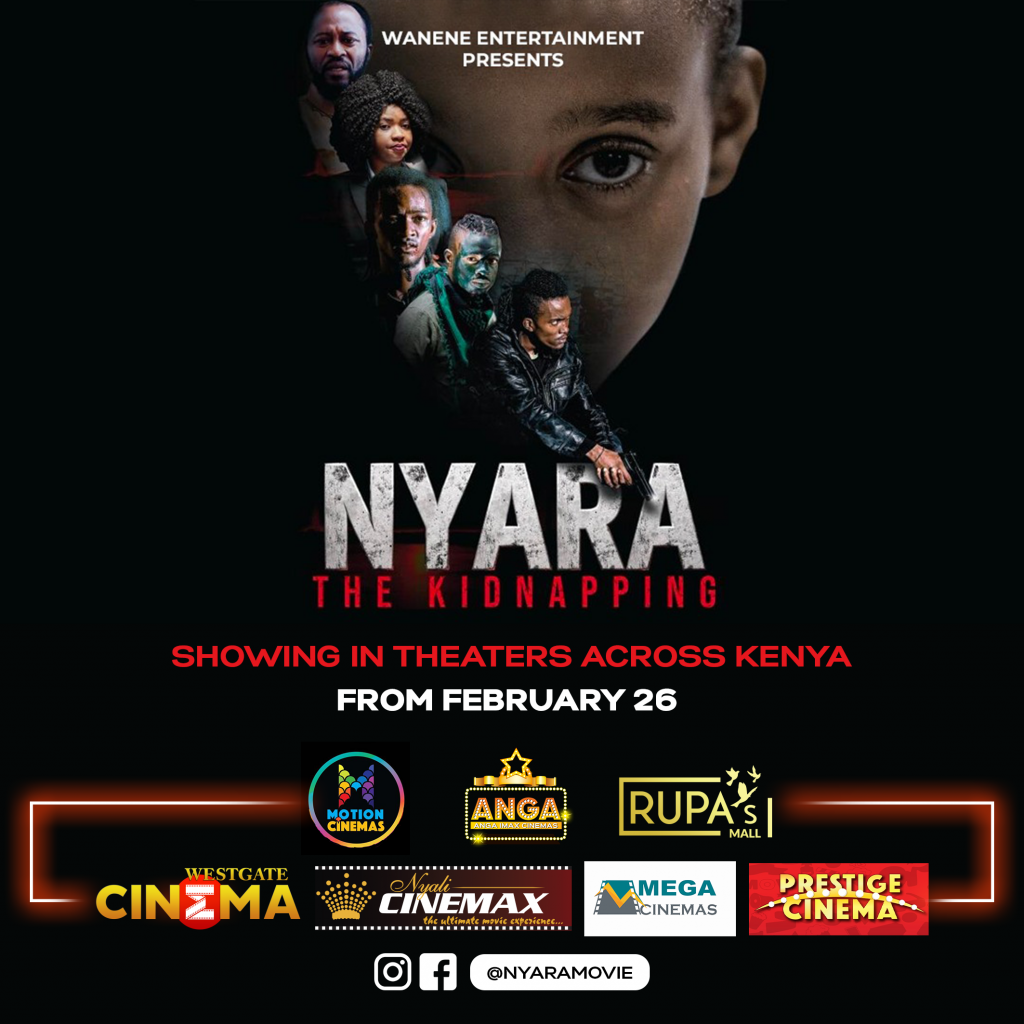 KB: Ram,  the Character Rehema did a really good job in Nyara. As a director how did you help a kid like her get into her role?
We found "Rehema"  after holding a casting, and in her batch we met alot of other children who didn't have the standard or appearance that I was looking for.
"Rehema" started starring in the film "NYARA" at the age of 9, and she was still very young and intimidated because it was her first acting gig, but before entering into production I had the opportunity to stay with her for two months to allow her to get to know me and the directing team better and become comfortable working with us. 
After a while, through the production she became very close to me and it wasn't difficult for me to direct her, at first she was scared because she felt the things that were going on in the scene were real and not dramatized but later she started to adapt to the production environment and became more at ease with her role. 
At times, she would get tired and wouldn't be able to continue, so we had to stop recording until she was ready and then continue. These things are common challenges especially for children that happen regularly in such situations.
She was also able to get a lot of support from other crew and team members who were there on location to help her catch the dialogs faster and give a good performance. 
"Rehema" showed interest in acting from the very first day I met her at the age of 9, and by the time we were done filming she was 11.
KB: The soundtrack is awesome and features an array of artists like Chid Benz, Weusi and Chin Bees. Who was responsible for selecting this talent?
The idea of choosing local artists to work with came with the concept of trying to represent Tanzania and Dar Es Salaam in general through the film, so my producer Darsh Pandit got in contact with Chid Benz and sat down with him and our music producer Mboks to create the soundtrack for the NYARA movie . 
To me it was a surprise as I came in to listen when it was completed and automatically I became interested in the feel of the song. The original score of the film also was created by Hariel Godius (Harry Gb), and features experienced local band The Core TZ.
The reason we spent so much time and effort on the soundtrack is because we believe the audio is just as important in terms of giving our film a certain aesthetic and feel to represent our city. 
All in all, there was a lot of back and forth between our editors, myself and the sound team to bounce ideas off one another in order to create the best possible work.
KB: Sell us some tickets. Why should Kenyan audiences be excited about Nyara?
The Kenyan audience should be excited about Nyara, because it is a step in the right direction for East African films, and it is a film that is mixed in 5.1 surround sound and made specifically to be enjoyed in theatre by people of all walks of life.
 It showcases the very best of local talents, and speaks volumes towards the possibilities of our film industry here in Tanzania, which although is at it's infant stages, through support from fans and investors we have the possibility of creating a bright future, and a landscape where east african filmmakers and directors can tell the stories they want to without having to compromise on story or script because of budget or conceptual limitations.
It is through support from stakeholders and movie-goers alike that we can bring about this change, one film and cinema at a time.
Buy tickets here