Raise A Glass! Viva Wine Trade Expo
Wine lovers, gather around and raise a glass to the biggest wine expo in town. The Viva Wine Trade Expo that kicks off today at Park Inn By Radisson in Westlands.
The inaugral wine expo is target decision makers of the Food & Beverage departments of the hospitality industry, restaurateurs, retailers, and wine enthusiasts.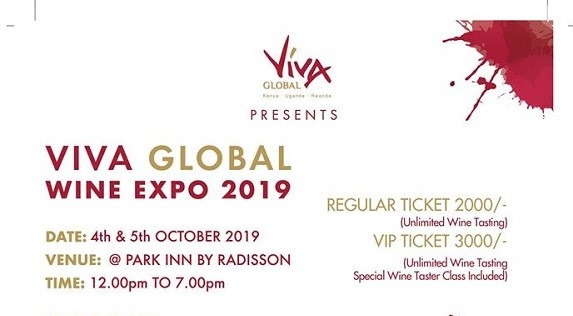 It will see over 75 different types of wines exhibited. Some award-winning wines and fine wines like Bellingham, Boschendal, and Franschhoek Cellars from the popular DGB Winery in South Africa, Casillero del Diablo from Chile, Cloudy Bay from New Zealand and the exclusive Penfolds range from Australia's oldest winery are just some of the wines that will be exhibited on both days of the expo. Viva Global will have an opportunity to showcase its extensive wine portfolio from seven different countries.
It is expected that over 400 wine lovers and traders from across the region (seeing as Viva is present in Kenya, Uganda and Rwanda, and is in the process of expanding its portfolio further to meet the needs of the premium drinks consumers in the region) will grace the expo.
Join us for an exciting wine tasting and merriment in this year's Viva Global Wine Expo, happening on the 4th and 5th October. Doors open from 12 noon closing at 6P.M. Do not miss out on this classy, vast wine tasting experience. pic.twitter.com/Dyy7AJy4KJ

— EAGMLtd (@eagmltd) October 2, 2019
Other wine activities at the wine expo such as wine education, will give a chance for the attendees to meet experts from various viticulture backgrounds. This as well as wine tasting classes where attendees will learn about wine pairing principles at an affordable price of KSh.3000 per class.
At the same time, the tasting class will give the consumers an opportunity for sensory examination and evaluation of wine. The tasting classes will highlight differences between various wines. There will be unlimited wine from different parts of the world, local cheese and chocolate.Win!
In the reds department, there will be a selection of Cabernet Sauvignon from different regions, Merlot and Shiraz from Australia, the popular Pinotage from South Africa.
In the whites department, Sauvignon Blanc and Chardonnay, along with a range of Rose wines.
Viva's wine portfolio also includes wines from other countries such as Argentina, California, Australia and New Zealand.
There will be an opportunity to discover major wine growing regions, important grape varietals and the significance and meaning of certain terroirs. While tasting through a flight of wine, attendees should expect to learn about all these and to also discover the techniques of smell, sip, taste and evaluate.