Purrfect History: The Actresses Who Played Catwoman
Bad ass women in black catsuits, cat ears protruding, sharp claws and razor sharp ambition. What's not to love? Known as Selina Kyle in the comic books, Catwoman has captured the attention of comic book readers and movie makers such as Tim Burton and Jean-Christophe "Pitof" Comar.
Yesterday, smoldering goddess Zoe Kravitz was announced as the next cat woman. Let's take a look back at some epic actresses who have donned the antihero costume or sometimes played love interest to Batman, the the caped crusader.
Julie Newmar
She was the first woman to play Catwoman in season 1 and 2 of the Batman television series, with Adam West as Batman in 1966. Her costume was the  first of its kind, giving off 60's chic vibes. It was made using lurex, a fabric incorporating glittery metallic thread and modified with a belt to emphasize her hourglass shape. She is highly acclaimed as one of the best Catwomen to ever grace the screen, with her ability to be playful, funny and cruel. Her costume is still etched in people's minds and in pop culture, such that in 2008, it was donated to the Smithsonian American History Museum in Washington DC.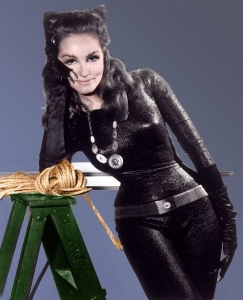 Lee Meriwether
She was the second woman to play Catwoman in Batman, the television movie in 1967. She did not have enough time to solidify herself in the role and in the minds of fans, due to her short tenure. She got a chance to play both sides of the coin though. She was a villain as Catwoman and a love interest to Batman through the character Lisa Carson. She kept the original design of the costume.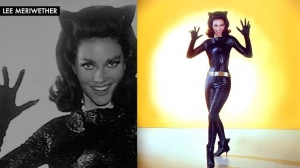 Eartha Kitt
After Julie Newmar left the show, Eartha Kitt became the first black woman to play the role in the Batman television series season 3, from 1967 to 1968. She signed up and became the underdog and was the most expressive Catwoman. Kitt's version was unlike the first two. She put on her petty hat and engrossed herself in the role and unlike the others, she had a Kitty Car!
"If you are interested in doing a character then that character automatically becomes you. And you automatically become that character." She once said in an interview.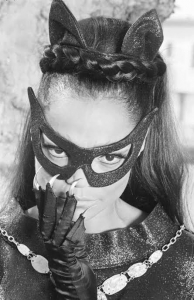 Michelle Pfeiffer
She was the embodiment of 'crack the whip'. Tim Burton's Batman Returns in 1992 gave us a catty, modern and cynical woman. Her character transformed the role from skittish scaredy-cat to the feisty feline we've all come to know and love. Designed by Mary Vogt, her costume was composed of a skintight leather suit with white stitches everywhere instantly became synonymous with this character. Her life was shattered to pieces and she personally put herself back together again and had started anew.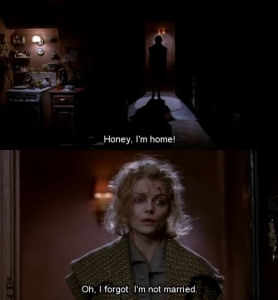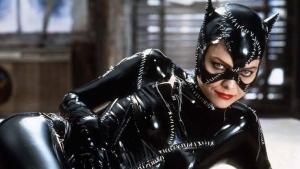 Halle Berry
She was the second black actress to play the feline character and the first to have her own movie. Her character was different from the rest, as she was playing Patience Phillips and not Selina Kyle due to copyright issues with Batman Returns. Although this 2004 movie was not popular with critics nor with the audiences. It picked up a total of four Razzie "wins" for Worst Actress (Berry), Worst Picture, Worst Screenplay and a Worst Director. The catsuit was a collective effort designed by Academy Award-winning costume designer Angus Strathie, Halle Berry herself, director Pitof and producers Di Novi and McDonnell. Both Halle Berry and script writer John Roger hated the movie. It was deemed to have zero cultural relevance either in front of or behind the camera.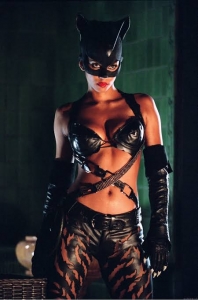 Ann Hathaway
In Christopher Nolan's 2012 hit movie, The Dark Knight Rises, we are introduced to Catwoman's alter ego, Selina Kyle, but it wasn't implied that she was Catwoman. Compared to the other catwomen suits, her costume, designed by Linda Kemming was more tactical and incorporated technology to suit her tactical needs.  The heels in the Catwoman suit can be used as weapons. The ears have a specific function and purpose that works with the technology of her suit. When they are on top of her head they look like ears, but they drop down over her face to become goggles. Her goggles function as both night vision goggles and a jeweler's loupe.  Hathaway acted against Christian Bale as Batman. The movie was a success, giving us a different impression of the Cat.