INTI-'A Nikkei Experience': The Japanese-Peruvian Culinary Sensation in Nairobi
When the first Japanese settled in Peru in the 1800s, an exotic fusion of culinary traditions and Nikkei cuisine was born. Nikkei, are Japanese immigrant descendants living in Peru.
Popular principally across South America, Nikkei cuisine is a blend of traditional Japanese and South American flavours and dishes. Nikkei food is Peruvian ingredients molded by Japanese techniques. And now, it's becoming increasingly popular in major cities across the world- if all those instagram hashtags are anything to go by.
We got to experience contemporary Japanese-Peruvian gastronomy at the upscale restaurant– INTI-'A Nikkei Experience'  . Nestled on the 21st floor of One Africa Place, they claim to be the only Nikkei restaurant in the region.  INTI has an air of exclusivity. Right from the private, direct-entry elevator service on the 20th floor accessible  only to their guests to the  breathtaking panoramic views of  the Westlands area.
INTI'S  interiors are grand (with scarlet maple leaves hanging from the beams above the tables), the atmosphere heady, the dress code- strictly smart casual.  So don't show up in 'straight to the beach' get-up.  Important to note- Advance reservations are highly recommended.  Walk-ins aren't prohibited, but it does get really busy especially on weekends.  For groups of 10 and above, please call the reservation line (+254735065945) as deposit payment is required to reserve a table.
The menu at INTI includes four main sections — the Sushi Bar, the Robata (marinated skewers fired on a charcoal grill), the Wok and Tempura. And uh, they don't come cheap but you'll appreciate their impeccable service and exquisite meals the discerning foodie will delight in.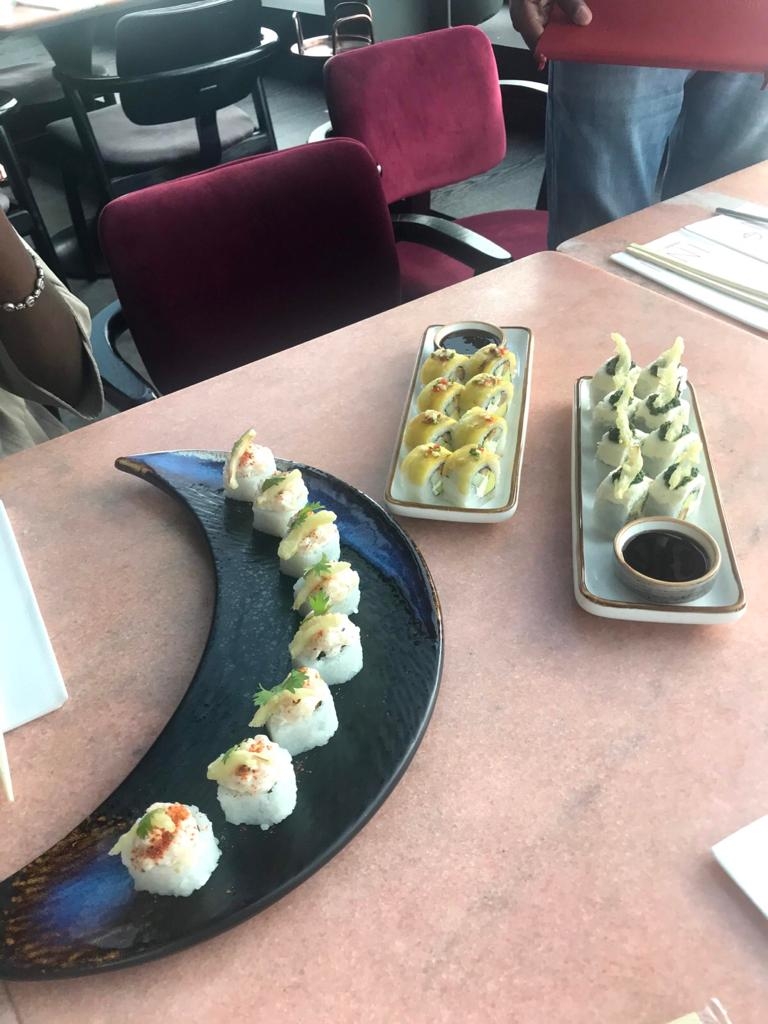 We started off by sampling some interesting beverages. The  Pisco Sour, a classic Peruvian cocktail of pisco brandy and sweet and sour ingredients stood out for me.  Also on the beverage menu was a chicha sour-the base ingredient of this drink is corn! How cool is that? INTI have a large selection of wine, spirits, Nikkei  cocktails and non-alcoholic fruit beverages. You'll be spoilt for choice.
For the entree we tried the Peruvian ceviche first. A tasty appetizer of fresh fish marinated in citrus which involves immersing delicate raw fish in aromatic citrus juices. This innovative Japanese technique is a great way to slowly "cook" fresh fish.
Vegans, fret not. They also have meat free ceviche. I'd recommend the ceviche al veg and the carribean mango ceviche. Be sure to also try the enchiladas of crispy tofu or couscous and avocado.
I'm not too keen on raw fish but I was curious to try out some menu items at their sushi bar. I sampled a maki roll- It's fish, vegetables, and vinegar-flavoured rice layered atop one another, then rolled up in a sheet of seaweed.  The Vegan friendly sushi on the menu was the truffle roll-sushi rice cooked in truffle oil stuffed with avocado and wasabi.
The main course has a  selection grilled meats, fried tempura, stir fried rice with a choice of vegetables, and the Yakitori and Robatayaki selection of Japanese charcoal grilled seafood, meat and veggies.
You have to try the Arroz con Marisco! It's a delicious Peruvian rice dish with generous amounts of seafood and cheese. It's a Nikkei dish so they use Japanese rice.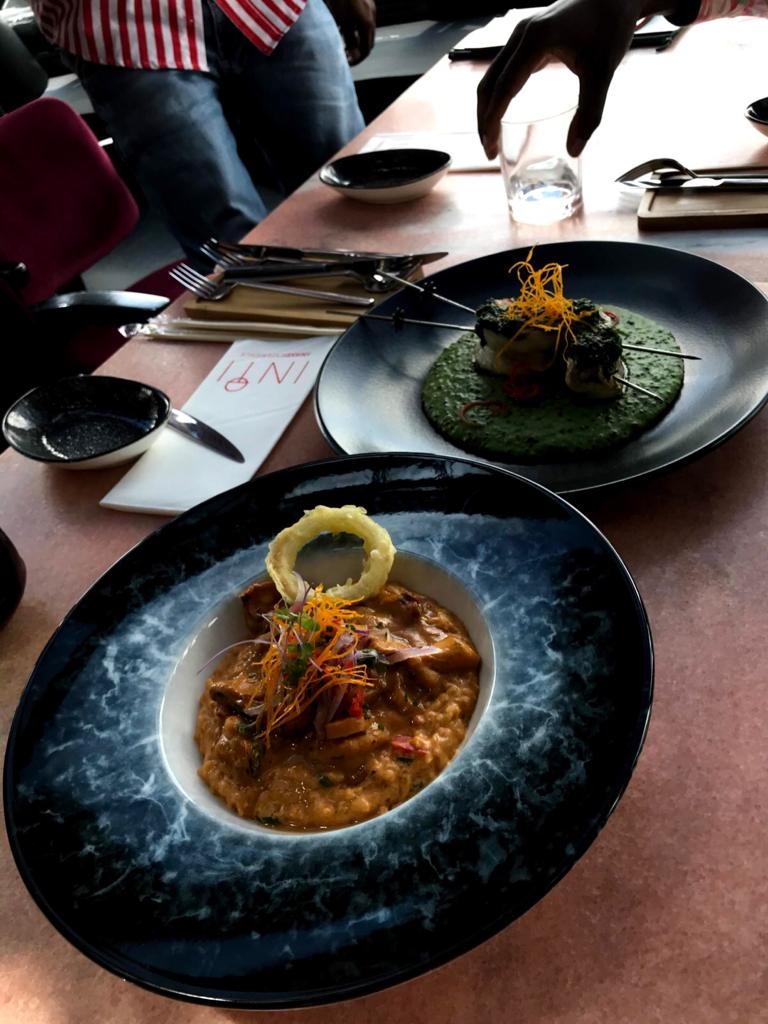 If your taste buds can handle it, try some green rice and  grilled Sakanayaki fish. The green rice gets it's hue from the chimichurri sauce of spinach, butter, oregano and olive oil.
For dessert, they had a delectable assortment that included  a non-baked cheesecake sour, a mango martini with Oreo cookies and some fruit that tasted like peach, scoops of strawberry sorbet and tres leches cakes soaked in milk and cream. It was divine!
If you're feeling fancy, order the Inca Gold, a plate of pistacchio biscuits, cherries, nuts and chocolate balls covered in edible 24 karat gold oil.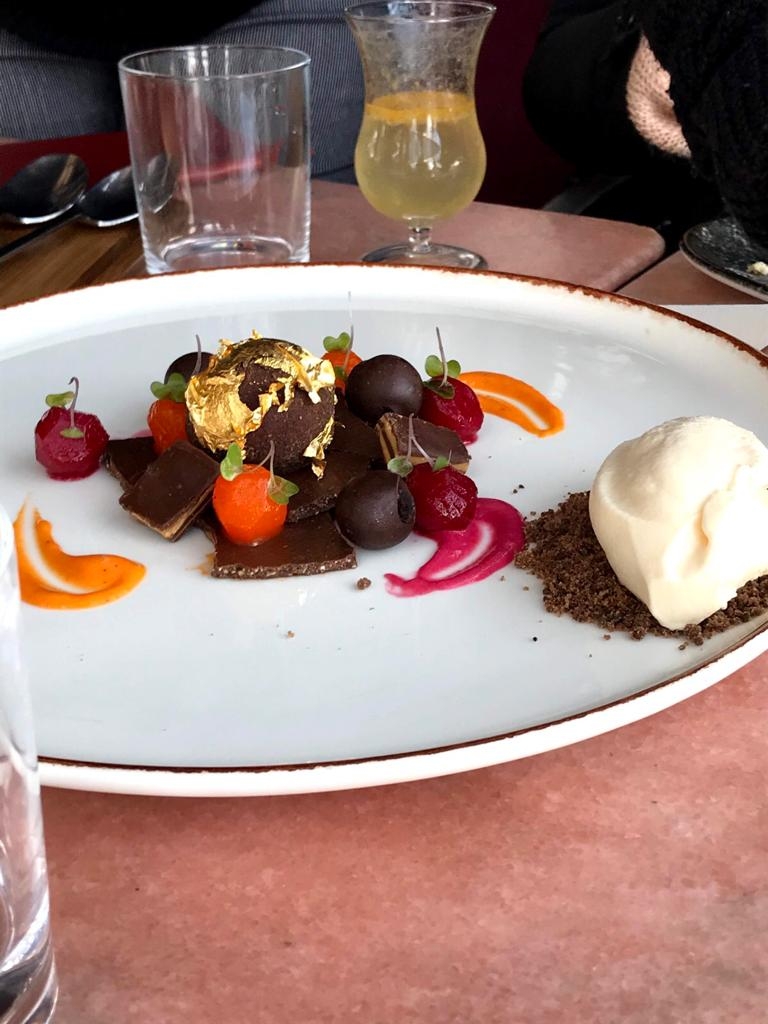 Get to experience this incredible fusion of Japanese and Peruvian dishes by booking your reservation today at INTI.