Mum & Me Virtual Workshop 
Self love and awareness is critical to the self esteem of young girls. In a world that tells young girls to shrink themselves and conform to societal standards in order to fit in, The Confidence Queen (TCQ) organization wants to amplify the voices of girls aged 8-19.
Building strong relationships between mums and daughters will go a long way in helping young girls navigate their formative years. 
A recent survey by Netmums found mothers were twice as likely to be critical of their daughters than their sons (21% compared to 11.5%).
Of the 2,672 mothers questioned, 15% said they had formed a stronger bond with their sons than their daughters.
The findings also suggest 51% thought it was wrong to treat boys and girls differently.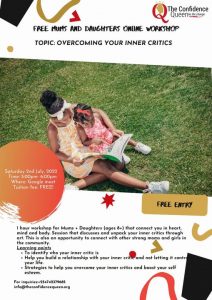 More than one in five of the mums (22%) surveyed agreed with the statement that they let their sons get away with more, turning a blind eye to behavior for which they would reprimand their girls.
The poll found mothers were more likely to attribute positive personality traits to their sons than their daughters. This revelation reveals that young girls develop self criticism at a young age and this is why  The Confidence Queen (TCQ)  is conducting a FREE Mothers & daughters workshop to overcome this.
Mums with daughters aged 8-18 are invited to sign up for the 'Overcoming inner critics' workshop set for July 2nd from 5PM-6PM. Interested? Sign up HERE 
*Image: Unsplash