Shop Global and Pick Up Local on MallforAfrica, a One-of-a-Kind Online Store
When Abbi, a sophisticated and cultured 25-year-old who is ready to make her own name in the image consulting industry got invited to join her boss at an exclusive Sunday networking brunch, it was an opportunity she had been patiently awaiting. In an industry where getting ahead depends so much on image, she knew she had to impress and she was long prepared for this day. She had made a habit of bookmarking appropriate dresses for the occasion while browsing her favourite online fashion website – the UK-based www.boohoo.com – whose friendly prices and aspirational designs matched her career ambitions and slim budget.
As soon the coveted invite came through, she referred back to her two dozen bookmarked dresses and settled on a $75 (Ksh 7,500) peach-coloured bandage cutout midi dress. That Boohoo only operates out of Europe, United States and Australia meant that she would incur extra charges on independent shipping, customs clearance and local delivery. All of which would end up almost doubling her total spend and nervousness about the brunch. A huge but necessary price to pay for a chance to make a career-paving first impression with celebrities, business executives and other members of Nairobi's social elite.
A close friend recommended MallforAfrica, a recently launched e-commerce website that hosts over 180 international big brand stores including Boohoo. "I couldn't believe it!", Abbi exclaims, "It [MallforAfrica] allowed me to buy the dress and have it brought in from the UK to my doorstep for just a fraction extra!"
Her excitement at her discovery is justified. MallforAfrica is unlike any other e-commerce website we've had in Kenya before. Unlike Jumia which is predominantly limited to local stores, MallforAfrica lets you buy from international retailers dealing with everything from fashion to fitness, electronics to auto parts; including but not limited to brands like: MAC, Victoria's Secret, Louis Vuitton, Macys, Sephora, SportsDirect UK, The Works, Mountain Warehouse, and other huge e-commerce platforms like Ebay and Amazon UK (see the full list here). Hence their slogan "Shop Global, Pickup Local".
Global credibility
MallforAfrica had been successfully operational in Nigeria and other African countries since 2011 before launching in Kenya in mid-2017. It is the continental offshoot of MallfortheWorld which is widely popular in USA, UK, UAE and the Carribbean. The platform gives Kenyan shoppers access to more than 8.5 billion products across 20,000 categories. They have completed thousands of transactions since launching in Kenya.
But it's not only their vast brand options that is making MallforAfrica the favoured go-to online shopping option for discerning Kenyans, it's also their reliability and customer-centric approach.
Customers are assured they will receive items within 10 to 15 working days of purchase. Shipment is handled by experienced global partners such as DHL so, you can have peace of mind knowing that your item will arrive in tip-top shape. If any breakage occurs during shipment process or in case the item doesn't meet expectation, there is a refund and return policy at the expense of MallforAfrica. Even more impressive is that exchanges are allowed within this policy, which means if your pair of shoes arrive and they happen to be a size bigger, for instance, then you can trade them back for your actual fit. Basically, the platform has eliminated all aspects of risk from the customer's end.
On arrival, there are no hidden charges and taxes, nor are there any extra clearance charges at customs. Once a customer has made an order, all they have to do is await delivery of the package to their doorstep. Personalised customer care service is available all day round and you can also keep tabs on your shipment on your phone or desktop via a tracking service that provides regular notifications on the location of your order.
How does it work?
Visit www.mallforafrica.com on your browser or launch the Mall for Africa app on your phone. Choose the "Start Shopping" option. At this point, you will be prompted to download and activate the MallForAfrica extension on your Chrome browser. This is a unique system built to support African consumers who want to buy directly from foreign stores. After the extension is activated, you can start browsing any of the 150+ available stores and select items to put into your shopping cart.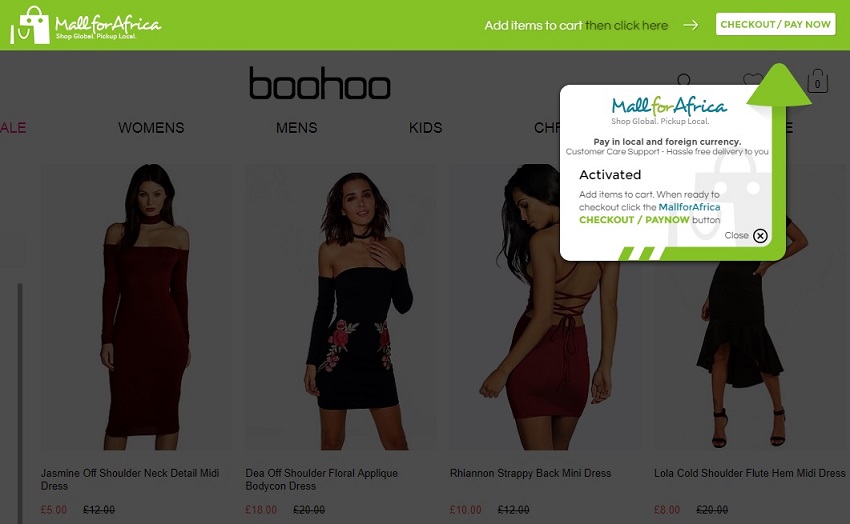 Once you have a full cart, proceed to checkout via MFA (MallforAfrica). Here, you'll get the full breakdown of your charges which includes the product total (actual cost of the item from the store) and convenience & clearance fees (added cost of shipment). In comparison, these shipment overheads are quite reasonable – never more than half the total of your product total. For instance, if I buy a long sleeve buffalo shirt that costs $20, convenience and clearing fees amount to $10 or less.
Custom orders are also available for UK or US stores not listed on their platform, if somebody needs large quantities of products or if the products are bigger than the normal packaging standard.
Local payment solutions are integrated into the platform too. This means customers can easily pay for their goods via mobile money (Mpesa or Airtel Money) to add to the card options and the service's own MallforAfrica web card.
A killer first impression
Abbi divulges that the brunch was a roaring success. She says she was happy with her perfect choice of dress and credits it with helping her build the confidence to rub shoulders with her industry's most coveted clientele. Her hope is that it helped her build something even greater – a dream business.
No longer do you have to book foreign trips to get your Black Friday and Christmas shopping done. All you have to do is be like Abbi and simply log onto http://www.mallforafrica.com/. Watch as the best of the world comes to you.
---
Check out what happened when fashion writer & stylist Nancie Mwai tried out Mall for Africa and made a video for her YouTube channel.