Lizz Njagah on Getting Back to Acting in 2020 and 'News Just in' Series Finally Finding a Home in Kenya
There's no denying that Lizz Njagah has been dearly missed on our screens ever since she relocated to Greece in 2016 with her husband, filmmaker Alex Konstantaras. But that's about to change in 2020 as the actress who's appeared in some of Kenya's top TV shows such as Jane and Abel and How to Find a Husband (and even Nollywood's beloved Tinsel) prepares to make a comeback. Despite her three-year hiatus, Njagah says she's not out of the game yet and her acting career is still intact.
"My move to Greece didn't slow down my career per se, I consciously took a break to focus on my kids, and now that the second one is older, I am back in business. As much as I have done very little acting work since my move, I have still been involved in creating and writing different projects which you will hear about soon. 2020 is also the year I get back into acting. I have been approached to be in some productions that will be shooting this year so I will be travelling back to Kenya," she says.
Through Historia Films, a production company she founded with her husband, Njagah has written, produced and also starred in notable productions like the award-winning risqué comedy House of Lungula (2013) and Fundi-Mentals (2015), both which received immense praise in Kenya. However, their comedy-drama series News Just In which was released in 2017 didn't get the attention it deserved in Kenya because it was branded as too risqué for the Kenyan audience by local stations.
"We were not able to sell News Just In to a local Kenyan station because of how edgy the content was and as such it was only aired in South Africa and Ghana. It was disappointing that Kenyans were not going to be able to watch the at the time of its completion but they say its better late than never," Njagah says.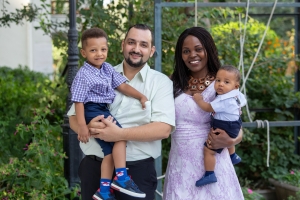 News Just In is one of the first local shows on Showmax's line-up in 2020 as the streaming platform prepares to pick up more local content yet to be aired anywhere else in Kenya like Raymond Ofula's-led The System which will land on Showmax in February.
"News Just In was a labour of love and I can't wait to get feedback from the Showmax audience. We are already getting good reviews from people who have watched it. It's really great that a platform like Showmax is focusing on getting local content out to the masses, and we can now focus on creating edgy content and not worry about local stations not buying our content."
Directed by Aggie Nyagari, News Just In follows the lives of employees in one of the most popular news channels in Nairobi – Habari Channel, a dysfunctional, quirky, and hilarious world where office banter, gossip and drama meets news. In this world, there is no such thing as boundaries or inappropriate office romance, and gossip travels faster than real news. It helps that everyone in this show is a little bit out of their mind.
In the series, Njagah plays Lavenda Nyota, an over-meddling diva mother who spends most of her time trying to fix every problem in her daughter's life. "Lavenda is like the neighbourhood gossip who is always in everyone's business but she also does her meddling from a place of genuine love for her daughter. I enjoyed seeing all the crazy ideas she would come up with. I never thought I could do comedy but I'm glad I got to explore that part of myself," Njagah says
Melissa Kiplagat (This Is Life, Pieces of Us) plays Njagah's daughter Justine Nyota, the News Editor at Habari Channel and the object of fascination between the two top news anchors at the channel. She's married to one actually – James Were played by Njoro wa Uba's Joe Kinyua. James is a philandering husband who can't seem to learn from his mistakes until it's too late, or rather until his wife Justine sets her eyes on the newly appointed hotshot news anchor Simon Mambo (Lenana Kariba, Selina).
And so begins an unending love triangle and competition between two men who have no problem showcasing their rivalry even on air. Both Lenana and Kinyua are great in their roles, especially since they embody the kind of machismo that doesn't mind being silly and petty, each trying to prove they are worthy of Justine's love. It's hilarious and sometimes facepalm-worthy to watch these two men plot and do unimaginable things to win the love of a woman who can't seem to make up her mind on who she wants to be with.
Caught in the middle, like the rest of us, are the other three employees at Habari Channel (played by Gerald Langiri, Angela Nancie and Asha Mutuku) who are often used as pawns in this James-Simon-Justine on-and-off love affair. And Njagah's Lavenda, of course, who cleans everybody's mess or digs them further down into it. Throw in Mumbi Maina (Sense 8, Kati Kati) who plays herself, and even a hilarious cameo appearance by Likarion Wainaina (director, Supa Modo) and you are reminded why Historia Films needs to make a quick comeback in the film industry in Kenya.
Now let's keep our fingers crossed for season 3 because with Njagah's comeback in 2020, anything is possible.
News Just In S1 and 2 is streaming on Showmax.