Kenyan Models Rally Behind #PayModelsKe to Speak Up About Industry Exploitation
Pics: www.instagram.com/sheilakanini
#PayModelsKe is the latest hashtag to whip up online convo in the 254. Sheila Kanini, former Miss World Kenya, Machakos County sparked the conversation on her Instagram Stories when she gave revealing insights into the inside world of modelling in Kenya and how models are taken advantage of both financially and sexually.
Sheila publicly announced that she would no longer be taking jobs from Kenyan brands, but she also spilt all the tea on renowned magazines and companies she has worked with before who either did not pay her for work done or act dodgy with payment once the job is done.
She definitely did not come out to play and started out her eloquent rant by claiming "she has nothing to lose". She proceeded to give some serious name drops – explicitly putting the likes of True Love Magazine and Darling on blast, as well as posting up a screenshot of her on a billboard ad by ICEA Lion that she's still owed money for – many months later.
Other top-notch Kenyan models hopped onto the conversation to give their bad experiences and expose big-wig Kenyan companies and personalities for allegedly not paying them for their modelling work.
A lot of other social media users, including influencers, also backed her up in exposing the dark underbelly of Kenya's creative industry in general.
If you missed out on all the tea, check out Sheila's posts and some of reactions on Twitter;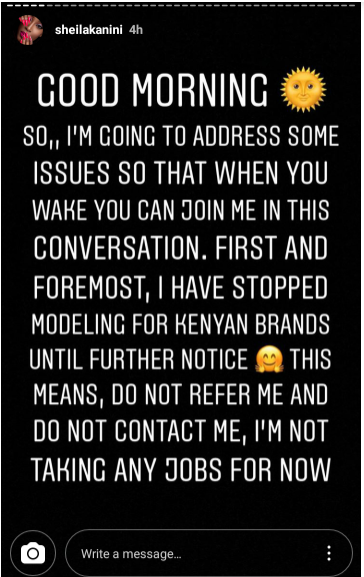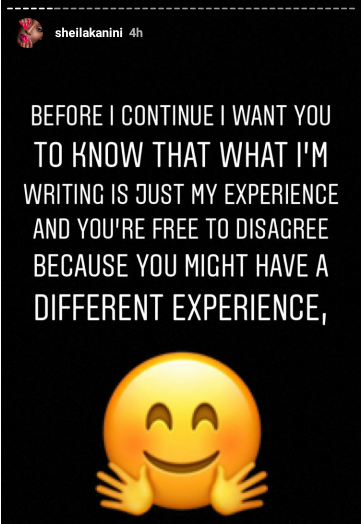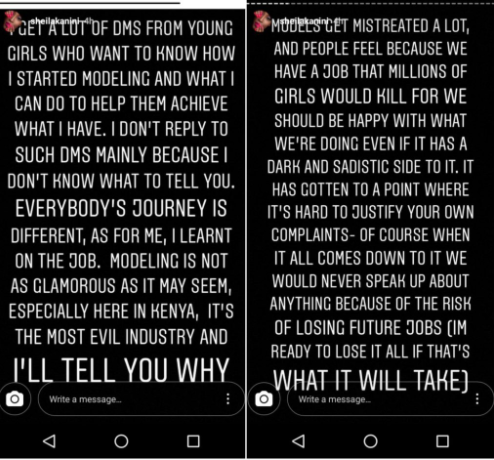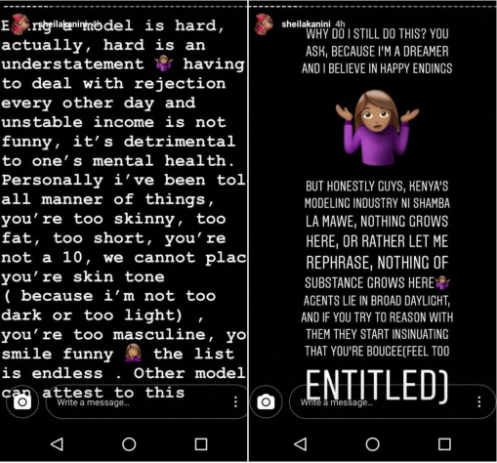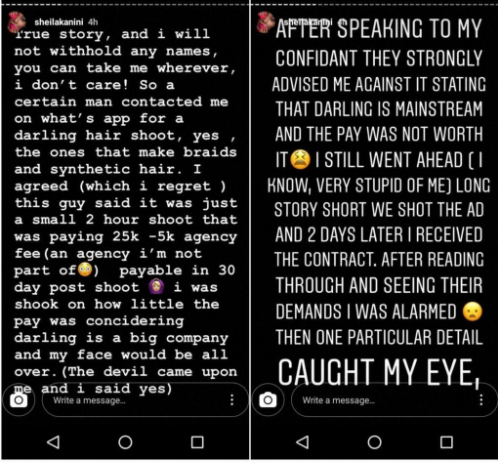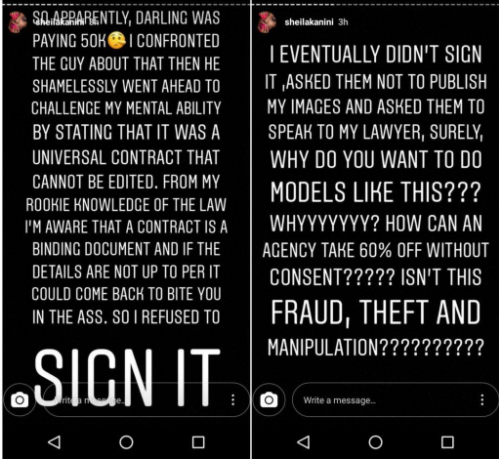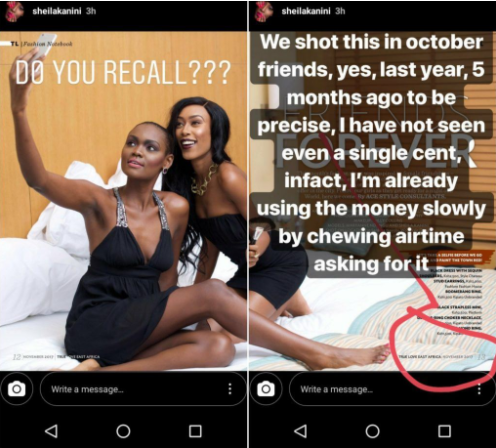 We don't want exposure and we don't want jobs in exchange for sexual favors!!!!! #paymodelske

— Sheila Kanini (@sheila_kanini) February 8, 2018
#PayModelsKe #modelconfessions pic.twitter.com/no9htiAchd

— Sheila Kanini (@sheila_kanini) February 8, 2018
#PayModelsKe #metoo
Oh the Rot!!!!! This model was Raped because of a pageant! @RobertAlai @xtiandela @OleItumbi pic.twitter.com/hfkaCZBSMd

— Sheila Kanini (@sheila_kanini) February 9, 2018
I did some work for someone in December and after agreeing about the pay, doing a fashion show on air (yes in an aircraft), modeling the entire day in Malindi…. bado tunasumbuana! #paymodelske

— Daisy Mwikali (@DMwiks) February 8, 2018
When I was 19 I did a runway and was paid with fries and a sausage…
That's when I gave up on modelling..mind you I had spent money going for two days of training and fare for the actual event #paymodelske

— hotensiahkay (@kabura_etm) February 8, 2018
There is a difference between Modelling and marketing…That is why you shouldn't say you have a 'modelling' job then ask the models to do activations… Plus never be fooled to pay for auditions at any point. #Paymodelske

— Amal Abdul (@AmalMAbdul) February 8, 2018
I did a magazine cover and waited over 9 months to get paid! A child was conceived and found me waiting for my pay. #paymodelske

— Olive Waithera (@OliveWaithera) February 8, 2018
#PayModelsKE is a perfect storm – uninhibited exploitation of a young, overwhelmingly female population, often masking sexual abuse, and always geared towards either taking away their already limited resources, denying them fair recompense for their labour, or both. #WeAre52pc

— Dr. Njoki Ngumi (@njokingumi) February 8, 2018
Yes!!!! Reading the stories now and it's unacceptable!

May this storm lead to accountability- those exploiting can't continue to get away with it! #PayModelsKe https://t.co/qmsA5GpHKR

— Adelle Onyango (@ADELLEO) February 8, 2018
Do not just #PayModelsKe
Pay them on time as well.
Ukilipa mtu after 6 months you are just as evil as someone who refused to pay.

Creative economy tunaumia sana

— Magunga JaKaruoth (@theMagunga) February 8, 2018
The unfortunate thing about #paymodelske is that the people who've encouraged this sort of behavior of exploiting young women has been fellow women who own these magazines, modeling agencies, designers. I hope this will be a wake up call for creatives to stand up for each other.

— Brian Siambi™ (@UrbanSkript) February 8, 2018
I did Miss Kenya 2015 with @sheila_kanini and we became very close and the heads didn't want us hanging out together because we were not good for each other. Main reason was the two of us never entertained the old guys they brought around or the other schemes. #paymodelske

— Amal Abdul (@AmalMAbdul) February 8, 2018
Can we adress the Judge on Lions Den who owns a 'high society' magazine talks big about promoting women and the arts and still won't pay either the models nor the photographers. #paymodelske

— Gichohi Wa Nyeri (@LordGichohi) February 8, 2018
Don't forget that Pulse also don't pay. If they don't have the budget for models then let them put cars or something as their cover picture. #paymodelske

— Amal Abdul (@AmalMAbdul) February 8, 2018
It's so disappointing that big brands like True Love, Uber and Darling are taking advantage of our talented models, stylists & photographers. This has to stop ? #paymodelske

— ??Zagadat?? (@nzioki_sandra) February 8, 2018
Fam, my friend was called for a "swimwear modelling gig" in Runda. Tools of trade are a bikini and Eiffel tower length heels. How was she paraded in front of old white men for easy pickings? Issa guise for pimping out naive models on the come up. #PayModelsKe

— Sandra Joan (@TsandyJoan) February 8, 2018
My cousin was so mad but well. Ni kitu wamezoea. Don't even get me started about Drum Magazine taking sijui how many months to pay someone. You have to call these guys kila siku go to their offices na you did that work so well. Stupid! Asif it was a favour #Paymodelske

— Ekuam ? (@ali_ekuam) February 8, 2018
It's very unfair what's going on in the local modeling industry, just who is the exposure for when you don't even credit us for your campaign? Of course we're not happy especially considering we are to make our own way…. guys need to style up #paymodelske

— Sean Andrew ? (@sean_andr3w) February 8, 2018