Kenya Receives Global Recognition from American Rapper, Cardi B
Cardi B, who has received two Grammy nominations under the 'Best Rap Performance' and 'Best Rap song' took to her Instagram to share her love and appreciation for her Kenyan fans by posting a picture of a graffiti painting of her face on a Kenyan matatu with the caption 'This in Kenya,Africa !!!😍😍😍❤️❤️❤️I Love it .I wanna cry this made me really happy !Shout to all my supporters in Africa !!Hope i visit one day # BardiGang'.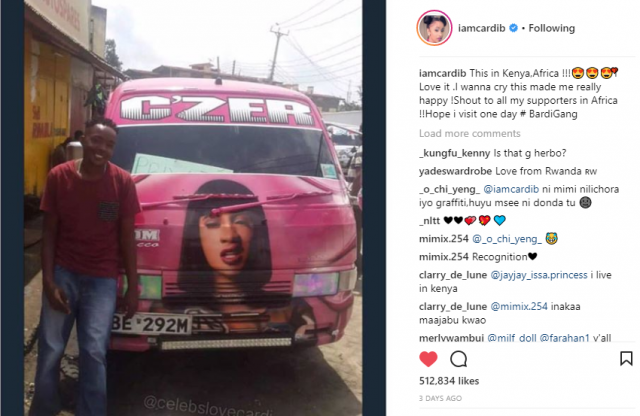 Photo Source: Cardi B's Instagram
It's quite clear to see that Kenya is increasingly getting on the global maps for all the right reasons with the CEO of FaceBook Mark Zuckerberg paying Kenya a visit to find out more about our impressive technological innovations, while British singer/actress Rita Ora visiting Tsavo for her birthday over the past weekend and Madonna visiting the Kibera slums :- we simply can't wait for celebrities like Rihanna and Nicki Minaj to pay us a surprise visit .