It Actually Pays to Be a Creative
We want jobs and you need skills and none of those come for free. Yet we still hear stories of people trying to downplay (especially self taught) professionals in a bid to get work done for free, with some exposure as a consolation prize. The accurate term for it is P.I.E (payment in exposure).
Excuse me, what? Whew, chile. Payment in exposure?
That doesn't make any sense. If you look at it, it's not in every profession that people unashamedly ask. It's the skilled creatives or freelancers.  First of all, can a degree compare to the days, weeks, months of painstaking research and commitment that these people have endured to become the talent you are looking to swindle?
Is there no value in their work, that they should do it for free? I mean, exposure never paid the bills or fed you or got you your necessities, you know?
"Pay me in exposure," said no one ever.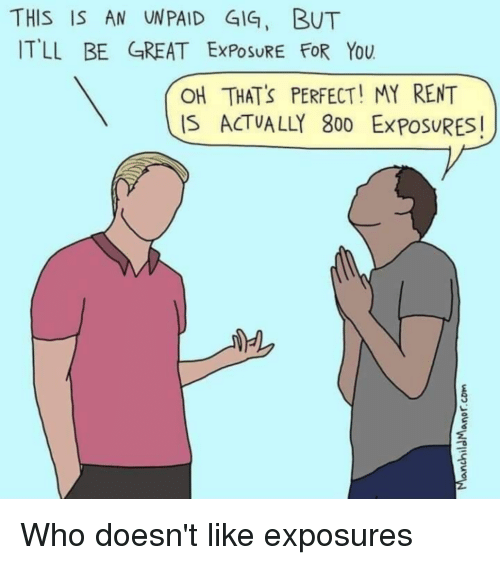 I do think in Kenya it is a huge issue. Let me explain why it is not only disrespectful, but also impractical.
-The point of advertising your services is to get a return on your investment. Exposure doesn't guarantee your monetary investment being given back.
-Once you accept exposure, you are setting precedent for others to pay you exposure money for the hard work you do.
Animators deserve credit. Writers deserve credit. Photographers deserve credit. Designers deserve credit.
This is where the Paid in Exposure gets ingrained into the industry itself. https://t.co/LPgrSDW69V
— The Kitty, Gwendolyne w/Goose (@LongcrierCat) November 12, 2019
Hello, I am just putting this out to the universe that I don't work for free. I am not interested in mileage nor exposure.

And for budding creatives, I will personally fucking slap you if you start taking gigs for free because it is people like you who don't help the cause.

— Mr. H (@asonofapeach) November 7, 2019
If a photographer has taken years to hone their skills, offering them a gig and using exposure as a means to replace money is a joke and an insult. Not just to them but to the profession, they are in and the countless hours are taken to perfect the skill. In some cases, exposure could work additionally to payment.
It is even more appalling not just because of the whole P.I.E, but because clients have the audacity to get angry with the professional over their prices.
If you are a creative let us know, would you work for exposure?