Isis Nyong'o Talks Life on the Parenting Fast Lane
Isis Nyong'o Madison is a Kenyan-American media and technology leader in Africa. She is the founder and CEO of Mums Village, an online community that seeks to provide a safe space for mothers to seek out advice, support and inspire each other.
KENYABUZZ: Tell us a bit about your family.
ISIS: My husband and I have a young family of two toddlers, a 4-year-old girl and 3-year-old boy. We spend most of our time together at home, and also exploring Nairobi. It's a really fun and all-encompassing stage of parenting as we are get to know what our children enjoy as their personalities unfold. Our daughter loves creative play, dance and playing with other kids and our son loves cars, superheroes and breaking things (no stereotypes here).
KENYABUZZ: You're a techpreneur, investor and influencer. You were once named among 'Africa's Top 20 Youngest Power Women' by Forbes. How do you find the ideal balance being a mum and a career super-achiever?
ISIS: It's a never-ending quest! I definitely have no secrets of success to share but I am very conscious of how I spend my time amongst the spheres of life that are important to me. I've also come to better understand that you do have to make tradeoffs and be okay with saying "Not now" to opportunities that in the past you would have said "Yes" to instantly. This is very hard for "super-achievers". For example, I travel significantly less than in my pre-family life and also look at how to integrate my family into work – which is admittedly easier as an entrepreneur in some ways as you are creating the norms in your organisation, not fitting into existing structures.
KENYABUZZ: Is there any other super mum like you out there that you admire?
ISIS: There are so many. We are fortunate to be parenting at a time when there are open conversations online about the challenges and joys of being a mother. I have huge admiration for Janet Mbugua in particular for how committed a mother she is and how she leverages her visibility to draw attention to maternal and child health issues.
KENYABUZZ:  What's your parenting style? Old school or new age like Jada Smith and Kris Jenner?
ISIS: That's hilarious – to see my name in same line as Kris Jenner. And also, interesting you note Jada Smith as I've been binge-watching "Red Table Talk", so I feel quite informed about her parenting style. At Mums Village, we have the "Big 5 Mums" scale to reflect the parenting styles of Kenyan mums, and I think I most fit the Lioness who is, "No stranger to the grind, she works day and night. She does all this while being present for her little ones' milestones and nurturing them."
KENYABUZZ: Let us in on your daily routine with the wee ones?
ISIS: Most days I wake the kids up just after 7am, sit them down for breakfast and then get them dressed for kindergarten with the help of their awesome nanny. Then we typically walk to school (one of my most treasured times of the day). I pick them up after school on most days and their joyous shouts of "Mommy!" is the other most treasured moment of the day. No matter how bad a day you might be having, that will always lift up your spirits. On afternoons they will either have free play outside mixed with lessons and then it's bedtime stories before lala.
KENYABUZZ: What are your mummy essentials?
ISIS: When I leave the house, these are the must-haves in order of importance – diapers, change of clothes, snacks and water and books.
KENYABUZZ: You're a yoga and fitness enthusiast, any pro-tips on getting kids started?
ISIS: I love this question as yoga has been a lifelong interest of mine. I used to attend regular classes but find that is much harder time-wise for me, so instead, I watch Yoga with Adrienne on YouTube at home. I'm sometimes lucky in getting the kids to join me, but most of the time it's just me with them playing around me. In terms of other fitness, we take walks in the neighbourhood, go swimming and the kids take ballet and soccer.
KENYABUZZ: You were born and bred in Michigan, US. How much different is it for your children growing up in Nairobi?
ISIS: I was born in Michigan but mainly bred in Nairobi. However, Nairobi has changed so much that my kids' lives are more protected. It's a much bigger city in terms of things to do or places to go, and they have more structured activities now. However, since we walk a lot in the neighbourhood, the kids know all the askaris, the maize lady and it's nice to feel a sense of community beyond your gate as was the case when I was young.
KENYABUZZ: How do you keep your kids entertained and out of your space when you need to concentrate on work while at home?
ISIS: They have a range of toys, books and each other. I marvel at how kids can entertain themselves at this age, so if I need absolute quiet, I then ask their nanny to take them outside to play with the neighbours or ride their bikes.
KENYABUZZ: Parenting can be hard sometimes. Do you ever take mommy breaks?
ISIS: I do try but it needs more "systematizing". I am trying to do a monthly massage and I have stayed on course for three months (you can see how proud I am of that!). But typically taking a short walk outside in the neighbourhood is the easiest way to get some 'me time'.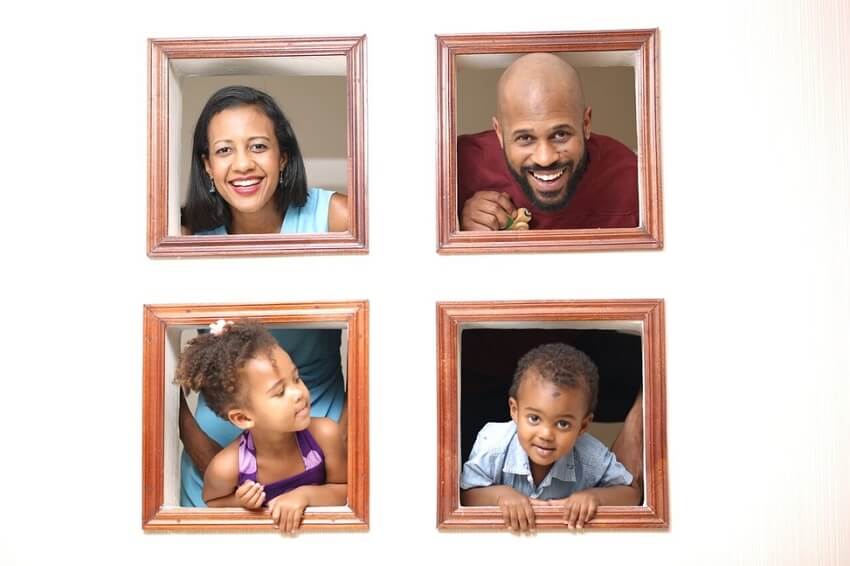 'Quick Fire'
Fave family meal? Pizza!
Eat out or order in for the kids? Which restaurant? Mambo Italiano for both.
Fave family holiday destination? To the States to visit the grandparents, for the moment – Michigan and New Jersey are #everything!
Fave family chill out spot? Home
Fave family animated movie? We don't watch a lot of animated movies but recently introduced them to the Tanzanian series Ubongo Kids which they love.
Fave family activity? Being together at home, whether it's dancing to silly songs or watching something interesting on YouTube.