Is Fornite Chapter One Over?
Fortnite, once of the most addictive and explosive games came to an end. The dramatic season 10 content saw a meteor destroy the map and characters, leaving the fan base with an empty black screen and a black hole. The black hole seemed to be precluding to, and the excuse the pun, a whole new world.
The game was developed by Epic Games, and first teased in 2011 before its 2017 release.  Although, it has three different game mode versions, Fortnite: Save the World, Fortnite:Creative and Fortnite: Battle Royale, the most popular one is the Fortnite: Battle Royale, a free-to–play game, where up to 100 players fight to be the last player standing; earning and victory and bragging rights. It can be played on a PS4, Nintendo Switch, X-box One, Windows, MacOs, iOs and android. Also it can be live-streamed on YouTube, through a Twitch account.
Fortnite Battle Royale became financially successful for Epic Games earning them million of dollars monthly. It managed to draw in more than 125 million players in less than a year. The game has been etched into pop culture with players being able to make their characters mimic popular dance moves such as The Carlton, The Floss ,The Electric Shuffle, Disco Fever and many more.

Because it is entwined with pop culture, it not shocking that the game has led to many people receiving accolades, money and even stardom from it.
People like Tyler 'Ninja' Blevins, who was one the most followed  and most popular Twitch streamer, gained his followers and his status through the game, and even had the opportunity to play with Hiphop artist Drake. The Fortnite World Cup finals held from July 26th to July 28th 2019, saw more than 200 top 'Fortnite' players go to New York City to compete for the collective $30 million in prize money.
The live-stream had drawn in a 2 million strong audience where saw 16-year-old Kyle Giersdorf, aka "Bugha," win the $3 million solo grand prize which is also the largest cash payout for an individual esports champ. One step for man, a huge step for Fortnite players.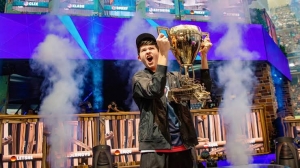 Is it over for Fortnite?
It doesn't look like it but as of October 14 2019, out of the black screen came Fortnite Chapter 2. The new chapter evolved from the black hole to the cosmos to form a whole new version of the game.
It boasts a new display, with new challenges and new locations, revitalizing the game, to attract new players and keep the old ones enticed.
Fortnite is exciting again #YearOfReturn #TachaxHouseOfLunnettes #OneChicagoCrossover #OnMyWeddingDay #Trump pic.twitter.com/AqG8t9wAaq
— grandtechy (@grandtechy) October 17, 2019
Fortnite is exciting again https://t.co/j4vPUAzElh pic.twitter.com/5FBoquQYVd
— The Verge (@verge) October 16, 2019
Will you be playing?