'I am Every Woman'; Meet the Multi-Talented Music Producer and Singer, Viola Karuri
A interview with music producer, singer and song writer, Viola Karuri her music journey, from being one of the founding engineers at Amazon's Audible, producing her debut album, Everything, and becoming Coke Studio Africa's first ever female producer.
KenyaBuzz: Who is Viola Karuri in her own words?
Viola Karuri: I am singer, song-writer, engineer and African woman.
KB: Take me back to the beginning of your musical journey
VK: I knew for a fact that I was going to do music after watching Tshala Mwana on Fred Machoka's show, Music Time. I was about eight years old and completely enamoured by her performance. I am not sure whether it was her singing or the long slit on her dress, which I thought was very bold, that influenced my decision to pursue music. I was fortunate to have teachers who encouraged me along the way.
In high school, I joined a singing group with Amani and got signed to Shelton music by Big Ted and Big Kev, and that was the first time I sang professionally.
I applied to Moi University to study law and to Berkeley to study music. I got the Moi University letter first but hid it because I my heart was set on Berkeley. Then one Tuesday in September, I got a letter in the mail confirming my admission.
I chose to study production because it was so hectic for a woman to get into the studio to record. One had to fit and conform to a very narrow mold of beauty and physical appearance and I was tired of it. I wanted to open my own music studio and operate on my terms.
After Berkeley, I worked in New York for five years and was one of the founding engineers for Amazon's subsidiary, Audible. I worked on a couple of films – one of them is Harry Potter (6th film) and some Indiana Jones films.
I came back to Kenya and decided to do produce my album, Everything and it was a culmination of everything I had ever written since I started music professionally. The entire album is live so it took a while before it was ready for the world because we had to practice recorded all the instruments and vocals. Recording and producing an album is one of the hardest thing I have ever done, and by the time it was finished, I had given every part of myself to that body of work.
KB: What is your creative process like?
VK: For me, things are most clear in two places; the shower – I think the acoustics of a shower are amazing and I wish I could replicate that in the shower. The second place is in my dreams. I sleep with a notebook, a pen and a recorder, to write down lyrics and record melodies that come to me at night.
KB: How about Coke Studio Africa, what was it like being part of the production?
VK: It was a very high strung environment, and one of the most fulfilling moments of my career. I was the first ever female producer on the show, I was surrounded by incredible talent every day and it was crazy because we don't sleep. It's an adrenaline rush of creativity, and the most rewarding and satisfying experience I have had in a long time.
The interesting thing is, I wasn't aware of my 'difference' as a female producer on the show until during one of the recordings when I was introduced as such, and it hit me and I realized my presence on the show was a big deal.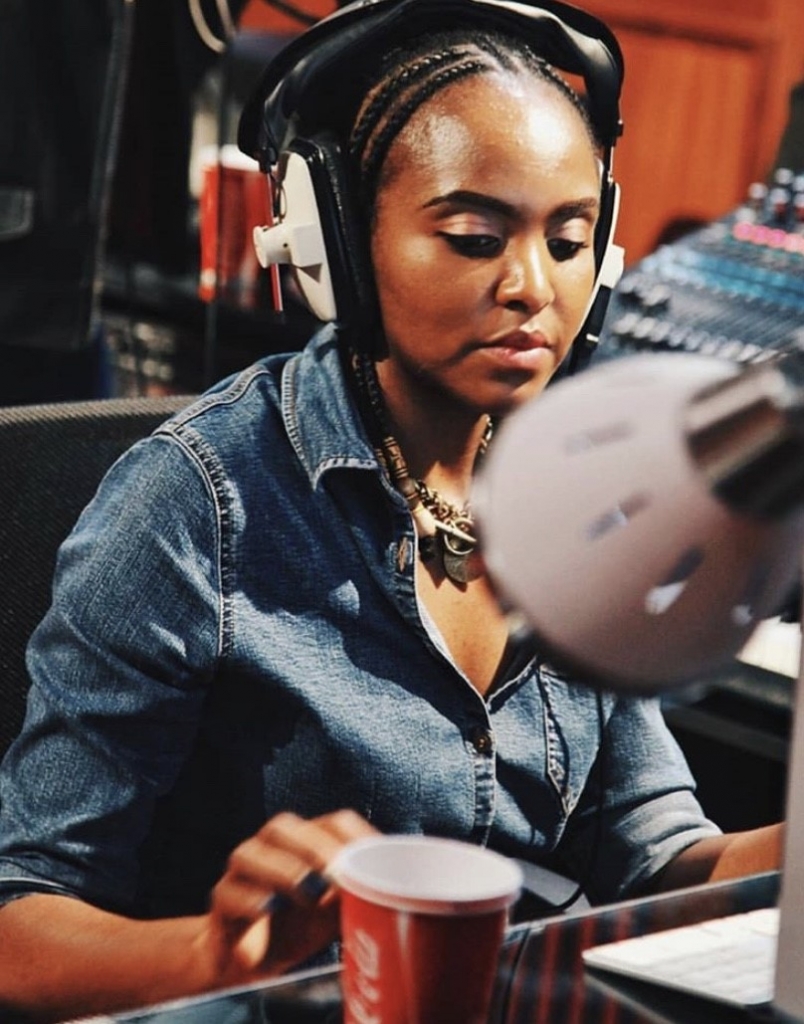 KB: What does it take to be a producer?
VK: We learnt production the old school way at Berkeley. We had to literally cut recording tapes and piece different parts of an audio together to filter out parts we didn't like and those that we did. You end up with a lot bruises because of that and reels and reels of bulky tape. What is great about being a producer now is, as long as you have a computer, you're good to go. But the one thing that doesn't change is that you need a good ear and learning auto-tune because everyone uses auto-tune now.
KB: If you could learn an instrument what would it be?
VK: Viola. Just to get rid of the disappointment on people's faces when I introduce myself and they ask if I can play the viola and I say no.
KB: What is the oddest place or thing that has ever inspired you?
VK: When I climbed Mt. Kilimanjaro last year and the profundity and silence of the mountain created this unrelenting creative surge. I wrote for six straight days – which was the entirety of my climb.
KB: Beside recording your album, Everything, and being part of Coke Studio, what are some of the highlights of your musical journey?
VK: When I met Jonathan Butler in New York at a restaurant. I went over to his table and we started talking and eventually ended up having a jam session on the piano in the restaurant. We sang and played until 2 am.
The other one working as concert producer for Trey Songz concert in Namibia.
KB: What are your future plans?
VK: To continue making music.