How to Plan and Host a Memorable Fashion Show
Fashion shows can be exciting. It's a chance for a designer to show off their latest collection and for VIPs to see and be seen. They can also be a lot of work to get right. Here are some handy tips on planning and hosting a memorable fashion show.
5 tips for planning a fashion show
1. Pick a great fashion show venue
When planning a fashion show, it's essential to pick a good venue to showcase the designer's vision and collection. Make sure the fashion show venue is big enough to seat your expected number of guests, whether that is 50 or 500.
There must also be space for a runway, as well as backstage space for models to change and get their hair and makeup done. The fashion show venue should also have a good sound system and high ceilings for a good lighting setup.
Spaces such as schools, auditoriums, and performance centers are great for those starting out. Looking for venues that have hosted fashion shows in the past is a good starting point. There's also no limit to how creative you can get with the venue. In recent years, designers have started using outdoor venues from Central Park to the Great Wall of China.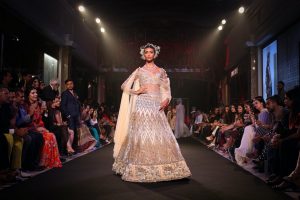 Alt text: A model wearing a dress at the end of the runway at a fashion show
2. Book the right models
It's also important to get the right models to really bring the designer's collection to life. The models should have the right look for the clothing in question. You may want to go after models who have a unique look, are eye-catching, or can show great personality during the show. However, you don't want models that will overshadow the clothing they are wearing.
Start your search for models as soon as you can, as it can take some time and sought-after models are often booked months in advance. Professional casting agents can help you find the right models for your show. Having relationships with various model agents also helps. And always include a few extra models as backup, in case of any no-shows.
3. Choose a standout theme
Pick a striking and memorable theme that will showcase the clothing collection being shown to its best advantage. Tell a story with the clothing and the show, or have an overarching concept that ties everything together, including the models' hair and makeup, the venue decoration, color scheme, lighting, music, and overall atmosphere.
The lighting should focus on the runway and the models. Go for flattering lighting at different angles. Try not to over-choreograph the show. The music should be at a good tempo for the models to walk to — not too fast and not too slow. The music should also be played at an appropriate level. Save any dramatic lighting or music choices for the show's finale.
4. Invite the right guests
Having the right guests at your fashion show can make a big difference on how it's received and its ultimate success. Key people that you want to have attending your fashion show include fashion editors, fashion writers and bloggers, potential buyers, celebrities, and micro- and macro-influencers.
Save some front-row seats for VIPs and the fashion journalists who will be writing about the show, as their writing can make a big impact on the show's success. Feel free to get creative with your invitations and tie them into your theme. The invitation is also your chance to make a statement and grab potential guests' attention.
Make all your attendees feel like special guests. Offer champagne, cocktails, and hors d'oeuvres. Don't skimp on the goody bags. You don't have to include a lot of items, but make them count with quality items. Sample hair and makeup products are always appreciated.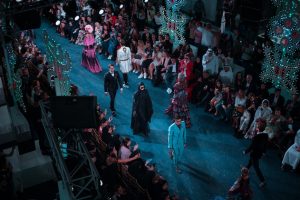 Alt text: Models walking along the runway at a fashion show
5. Schedule a dress rehearsal
Even if you are working with an experienced team, including all the models who will be walking the runway, it's always a good idea to have a dress rehearsal prior to the actual show. That will ensure the show itself will run smoothly, as you would have addressed any issues beforehand after the dress rehearsal.
Have the models walk down the actual runway for the show. That will also give you a chance to mark the stage or runway as necessary, and give those in charge of lighting, music, and other production elements a chance to get their timing and cues down. Prepare all the garments, shoes, and accessories ahead of time so there are no last-minute issues.
Wrapping up: planning a great fashion show
Planning a fashion show can be a lot of work. But with the right planning and production, it can be the talk of the fashion scene. As with anything, always start your planning well in advance. The tips above cover the main areas you need to be aware of. Plan things out, hire a good team, and get ready to wow with your fashion show.