Hijama (Cupping Therapy) in Nairobi
Have you been feeling a little bogged down lately? Like you need  some sort of rejuvenation? I came across something called Hijama (Cupping therapy) on Instagram and people (Including swimming Olympic Champion Micheal Phelps) swear by it.
Hijama is an ancient Chinese wellness practice that is popular all over Asia and the Middle East and is now slowly being sought as a form of alternative therapy by many Kenyans.  Proponents claim Cupping increases blood circulation to the area where the cups are placed. 
This may relieve muscle tension, which can improve overall blood flow and promote cell repair. It may also help form new connective tissues and create new blood vessels in the tissue.
The jury is still out on whether this is pseudoscience and many professional medical practitioners won't go out of their way to recommend it but hey, for most people it's harmless like a body massage.
If you choose to get the cupping therapy, be aware of the risks like:
Mild discomfort

Burns

Bruises
What should you expect during a cupping treatment?
During a cupping treatment, the cups are heated with fire using alcohol, herbs, or paper that's placed directly into the cup. The fire source is removed, and the heated cup is placed with the open side directly on your skin.
Some modern cupping practitioners have shifted to using rubber pumps to create suction versus more traditional heat methods.
When the hot cup is placed on your skin, the air inside the cup cools and creates a vacuum that draws the skin and muscle upward into the cup. Your skin may turn red as the blood vessels respond to the change in pressure.
With dry cupping, the cup is set in place for a set time, usually between 5 and 10 minutes. With wet cupping, cups are usually only in place for a few minutes before the practitioner removes the cup and makes a small incision to draw blood.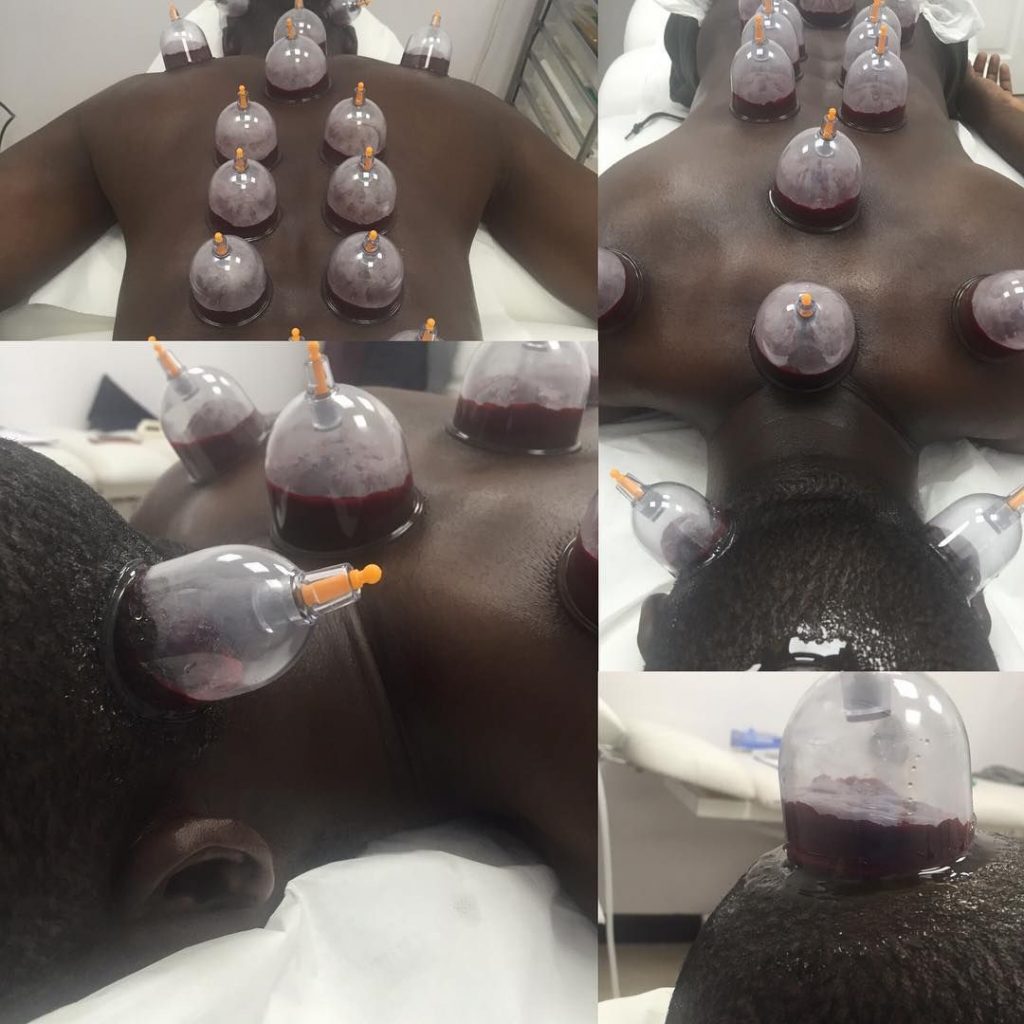 After the cups are removed, the practitioner may cover the previously cupped areas with ointment and bandages. This helps prevent infection. Any mild bruising or other marks usually go away within 10 days of the session.
Cupping is sometimes performed along with acupuncture treatments. For best results, you may also want to fast or eat only light meals for two to three hours before your cupping session.
Where to get it done in Nairobi
South C, 0725 901391
Mobile Service   0722 523328
Tawakal herbal and cupping centre
12th Street Eastleigh, 0710 502728
Chinese Doctor and alternative medicine practitioner in Hurlingham Nairobi 0722 837386