Guinness Set For Thrilling Football Extravaganza With Thierry Henry At RFUEA Grounds
Former Arsenal and France International footballer, Thiery Henry is set to visit Kenya as part of the Guinness Made of Black program. The football legend will interact with  Kenyan football fans on December 16th, 2017 in what is dubbed 'Guinness Fanzone.' This will take place at the RFUEA Impala Grounds.
The 'Fanzone' will have over 1,000 consumers who will watch the Arsenal vs. Newcastle match on High Definition screens. The fun doesn't stop there, there will be entertainment from Nyashinski, Fena Gitu, H_Art the Band and Jua Cali in between breaks. Fans will also be entertained in a gaming area with top video games and foosball.  The football viewing area will have four Mega High Definition Screens with lots of Guinness merchandise giveaways.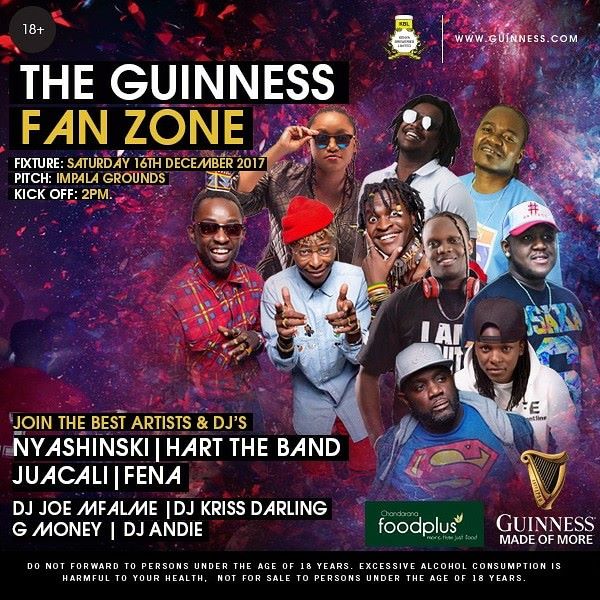 Would you like to be part of the 'Fanzone'? You are encouraged to purchase a 6 pack of Guinness at any Chandarana outlet. One ticket will be availed to the consumer for each six-pack of Guinness bought while stocks last. There are over 1,000 tickets up for grabs. The ticket provides entry to 'Fanzone' and its activities.
"Guinness is known for providing incredible football experiences for consumers. It is a great honour to host a legendary football player of the highest calibre here in Kenya for a time with our Guinness fans. We expect fans to turn up in large numbers to experience the many engaging activities the brand has to offer," said Ms Nduku Wamakau, Marketing Manager, Guinness.
G-Money, Joe Mfalme, Kriss Darling, DJ Andie and DJ JP will be the deejays that will keep the deck spinning throughout.