Gengetone-The Defining Sound of 2019?
2019 has been a rollercoaster year for Kenyan Music; from the tweet storm #PlayKE earlier in the year, to the notorious royalty payout debacle involving the Music Copyright Society of Kenya. But the most monumental event in the industry has been the spectacular rise of new-age artists who've defied all the rules in the game. Their non-traditional approach to the music business has been refreshing; the disruption the static industry needed.
This year has seen a digital shift in how music is distributed and consumed. These young, fresh, out-of-the box artists have fully embraced the internet as their showcase platform. They have shown and proven that conventional media outlets are no longer the sole gatekeepers dictating who gets to be the next breakout star.
Their eccentric, controversial hits caused a lot of debate on what's considered 'Real Music'.
The rivalry between the nostalgic fans of old-school artists and the new-school up-and-comers this year has been downright sitcom-ish.
This new genre of music has received a lot of backlash with some music 'gatekeepers' condescendingly referring to it as 'trash'.
Music hasn't suddenly become 'trash'. All music is art, and all art—when put on display—is subject to the judgment and interpretation of both appreciative and unappreciative audiences.
We delve into the defining sound of 2019-Gengetone.
If you don't live under a rock, you've probably heard of lamba lolo or wamlambez. Chances are, you're already familiar with Gengetone.
Gengetone is a sub-genre of Kenyan hip hop music that has evolved from its predecessor Genge which was popular in the early to mid-2000s. Genge literally translates to 'mass of people'. It is music made for the 'Ordinary Masses'.
Gengetone employs multilayered thin- or thick-textured one-track drones with the occassional melodic accompaniment expressed by synthesizers; crisp, grimy, and rhythmic snares.
It is characterized by its ominous and raunchy, gritty vocals and lyrical content conveyed in Sheng. Typical themes include general life in the ghetto and street culture.
Topics vary from night life to casual sex, twerking, funny news sound-bites and even recreational drug use.  Critical yikes. But the sordid lyrics are accompanied by catchy beats that compensate for the lack of philosophy in most, if not all Gengetone songs.
To be fair, this is made-for-club music so expecting 'deep reflection' from these kinds of songs might be asking for too much.
There has been a public back-and-forth on who really invented Gengetone. Music pundits seem to agree that the (in)famous quartet Ethic are pioneers of this style of music.
We profile the players who have disrupted the industry this year and who will no doubt go down as the defining sound of 2019.
Ethic
It was May 31st 2018 when a grainy YouTube video titled Lamba Lolo debuted on the video sharing platform and forever changed the game. The video went viral. Ethic set a precedent on how to get your big break in music by utilizing digital spaces and bypassing traditional media.
Ethic have since inspired a new generation of artists with their one of a kind style. They're raunchy, unapologetic and rabble-rousing.  They are not out to make 'acceptable music' and yet, they have amassed a loyal fan base by being authentic and uninterested in aping what everyone else is doing.
Their unique sound captured the attention of international music label: Universal Music Group through their local subsidiary AI Records who signed a long-term contract with them.
They've since been churning out hit after hit with high quality accompanying music videos, performing at sold out concerts, gaining traction on social media and even collaborating with international dancehall artist Konshens on their club banger Figa.
Because of copyright infringement, Figa has since been pulled down on all their digital platforms and a court ordered them to stop performing their colossal hit.
That hasn't stopped them from breaking the internet every time they drop a video on the internet.
2019 has been a great year for Ethic and it's only up from here for the founders of Gengetone.
Ochungulo Family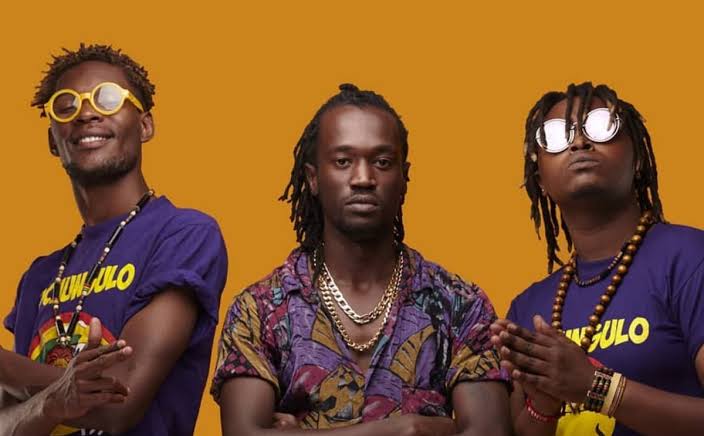 The Ochungulo trio are known for their penchant for spoofing Kenyan pop culture and creating parodies that become contemporary radio hits. It's fascinating how they can make mundane local news sound- bites into hit songs. From Bora Uhai to Krimino to Na Iwake-which has gone on to inspire memes and a feature in BBC 1Xtra in the UK!
Their profanity-laced songs have earned them notoriety with the censorship board and they've also sparked contentious debates on the growing influence they have on kids listening to their music.
They seem impenitent about it all. Several times on their social media platforms, they've made it clear in brazen language to anyone questioning their 'morality' to consider listening to alternative music because they are not about to stop.
Sailors Gang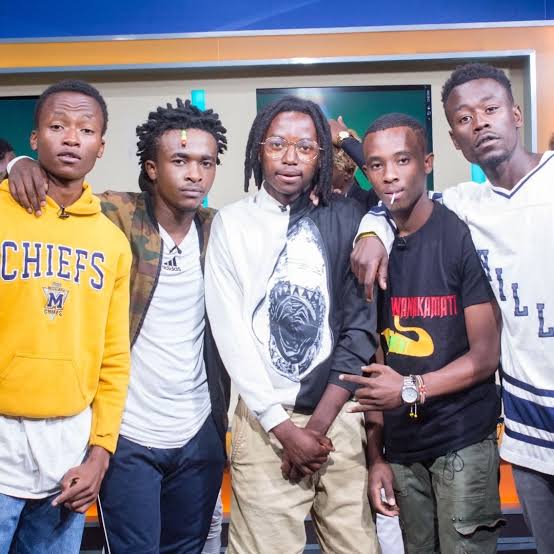 They've made a name for themselves with their bawdy one-liners that have stealthily made their way into everyday vocabulary which are also synonymous with club anthems.
You've probably Wamlambez, Wamnyonyez! in a matatu, a club or from some attention-seeking politician looking to rouse a crowd. True to form, Kenyans have taken the phrase international. Don't be surprised to hear someone yell it out in downtown Paris. The hook in their (in)famous song has gained national notoriety and garnered millions of YouTube views.
They got spotlighted by BBC after their video was banned by the Kenya Film Commission board for what they termed as 'coded pornography'.
The focal point of Sailors Gang's music is more often on the beats than the lyrics. Their songs are majorly comprised of ad-libs.
Sailors Gang's music favors call and response slogans in lieu of more substantive approaches and their party won't stop anytime soon.
Is Gengetone tone going to be around in the next few years? We'll be watching.
Honorable mentions of other Gengetone artists to break out this year
Boondocks: Biggest Hit-Rieng
Gwash and 34GVN: Biggest Hit- Wabebe
Rico Gang: Biggest Hit-Kimonyoski