Full Throttle: The Kenyan Couple Travelling the World on Motorbikes
 1 Couple | 2 Bikes | 3 years| 7 Continents | 50 Countries 
Like something out of a movie script, married couple Dos and Wamuyu from Throttle Adventures met at a biker's event and agreed to ride out of town the following day. They have been together since. Such is their love for travel and each other that they decided to risk it all and travel the around world on their motorcycles for the next three years. Determined to deliver Kenya's story to the world and share new cultures and experiences through their website Throttle Adventures, their journey began in July 2018.
We caught up with this adventurous couple for an in-depth online chat:
How did you two discover your love for biking and travel?
DOS:  My first encounter with a bike was about 9 years ago when Pastor Nick Korir from Nairobi Chapel gave me a ride on his motorbike. After that ride, I knew I was going to get a bike for myself.  However, it took me 3 years to be able to buy my own. In 2015, after riding for some years, I took three months off to travel from Kenya to South Africa and back. That is when the long distance bug travel bit me hard!
WAMUYU:  In the corporate world I'm known as Joan and in social circles I am Wamuyu. I do prefer the latter.  I started riding three years ago.  Earlier in life I'd tried car rally driving but did not get far with it.  My main reason was because it is an expensive hobby. Unable to contain my motor love, I decided to get a motorbike. I was also at a stage in life where I wanted to experience something new. After I met Dos we started doing out of town rides. We would spend a weekend or two away and I just fell in love with riding long distance. Prior to this, I had never thought that I would travel on a motorbike!
What inspired this ambitious and exciting adventure around the world?
We wanted to travel beyond the out of town rides. Dos asked, "What if we took on one ride that didn't involve coming back home after a day or two?" I was sold instantly. We didn't put too much thought into this in the beginning. It started as a suggestion to take a year off to travel in 2016, when he asked, "what if we took a year to ride around several countries?" That same week we got a map of the world. We started watching You Tube videos and movies about other bikers who have done the same thing we had in mind. We joined various Facebook groups for motorbike travellers. We needed as much information as possible to help us understand what we wanted to do and how to get to do it.
We discussed how to raise money. We made a budget, looked at how much we had between us and how much we could possibly raise in future. We also started discussing the bikes, which ones we'd get, how much they were and all the technical items that we would need to consider in choosing the bikes for the adventure.
What kind of preparations did you have to do to make this dream a reality?
When we decided to do this our son was about to sit for his class 8 exams and our daughter was in year 10.  We had to factor them into our plan. It took us 7 months to complete payment for the bikes. We knew we needed to work for some time to be able to come up with money for the important things to start us off. We also needed to inform family and plan how everything would be taken care of while we were away.
What were your must-get items?
Bikes, carnet de passage, passports, medical cover and the money to start off!
Let's talk about the bikes…
We looked at a couple of bikes before settling on the ones we are using.  We considered several factors such as our budget, bike costs, height and weight, fuel range, service intervals, brand network (can we find their dealers in as many countries as possible?), parts availability and quality.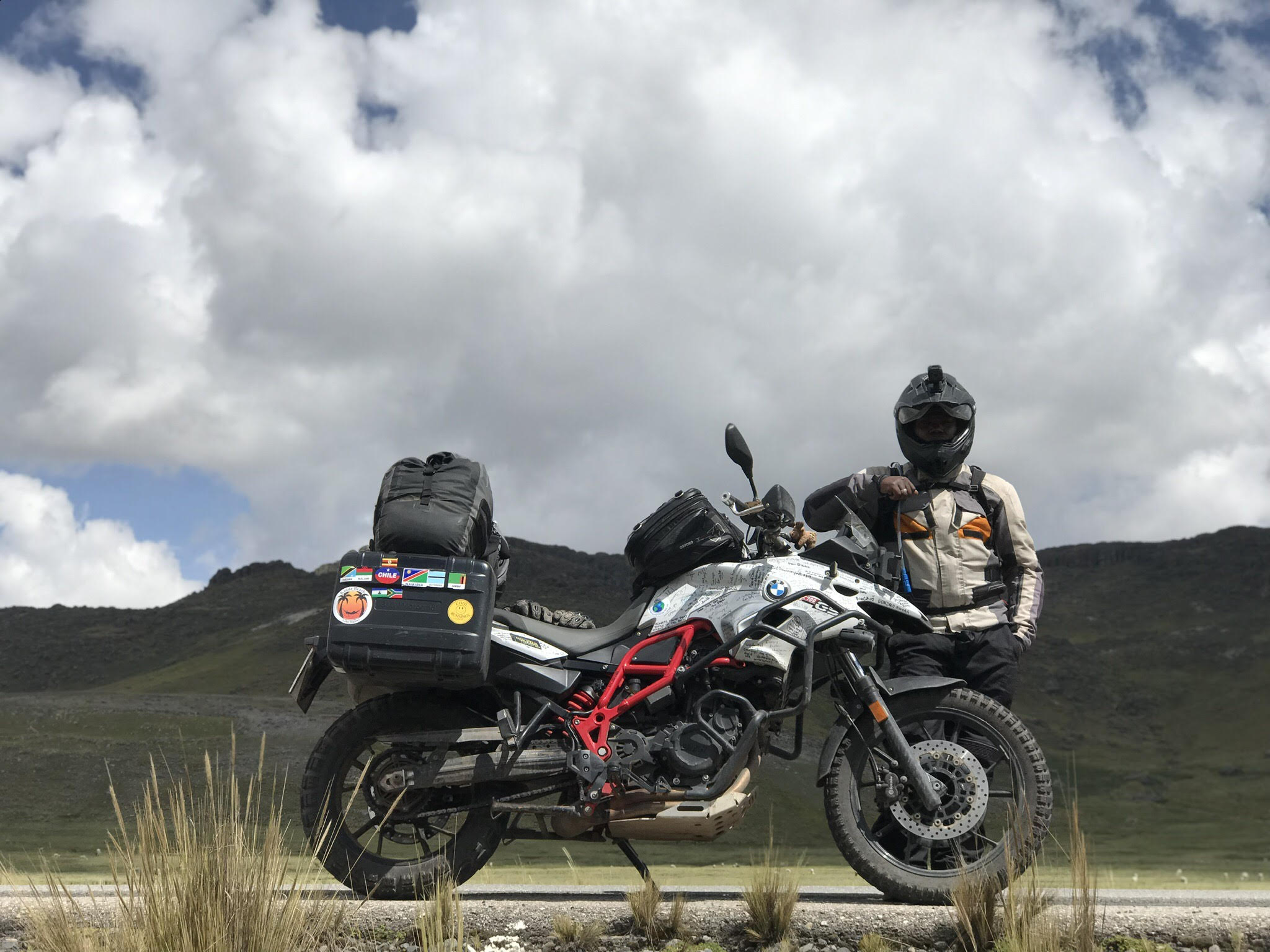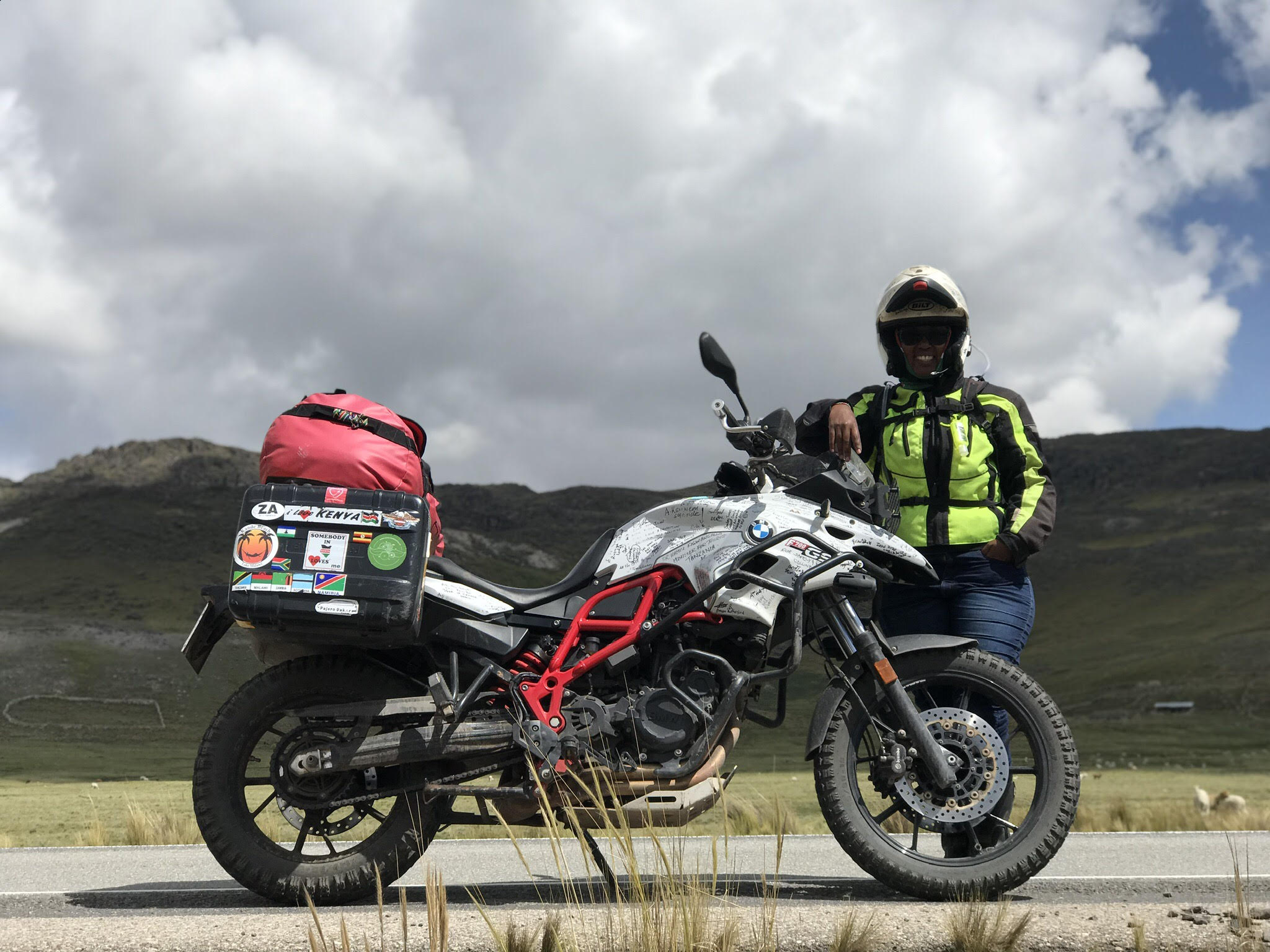 The package we chose was not a perfect situation as the cost of the bikes was high, but we felt that the other benefits like the fuel range and service intervals paid off.  We are able to do about 400 kilometres on a 16-litre tank and service is every 10,000 km.  We have already done two services now as we have covered over 23,000 kms. That gives us a peace of mind. We did not customize the bikes, but we added extras like heated grips for the cold weather. We are happy we did that especially after experiencing winter in Namibia. Wamuyu's bike has a lowered seat for her comfort.
We got the bikes in January 2017 and we were scheduled to leave on 2nd July 2018.  That gave us enough time to get used to the bikes. We rode them in Nairobi traffic, took them out of Nairobi to experience different weather and terrains. We rode in the mud, wet tarmac, gravel and dirt roads all to get used to handling the bikes -which are bigger and more powerful than what both of us had been riding before.
What was the intended number of months/years for your trip?
We initially thought we would take one year. Due to the route it stretched to two years.  At that point we realised our route was leaving out very little of the world and we decided to make it 'an every continent adventure'. We factored in: the route, visas, shipping and air flights, weather – we needed to avoid winters.
We have been on the road for 10.5 months (at the time of this interview). We don't know if it will change at this time.  We travel with a very open mind.
We agreed to incorporate our bucket list of places and things in the plan too. So far, we have only dropped Zimbabwe because we got there during the elections and we mutually agreed not to enter the country during that period.
How many towns/ continents were in your plan?
We are doing all seven continents. We have covered three so far, that is Africa, Antarctica and now in South America. The countries on our original plan are 50 but we see us doing more than that. The only thing that would change this is visa access.
In choosing the countries, we looked at visas. We had to research intensively about visas. Where would they be easy to get and if not, how would we re-plan the route to be able to continue?  This isn't a done deal yet and we have to pray hard about it. Unfortunately, we have to balance between what we want and what is possible.  So far the visa applications have been good and we have been issued with all the visas we have applied for.
So far how many countries have you visited? How many towns?
We have so far been to 15 countries excluding Kenya. As for the towns – Gosh, they're uncountable.  We avoid cities if we can or just spend less time in them, but small towns are fun; you get to experience more about a country through them. Big cities are often too expensive.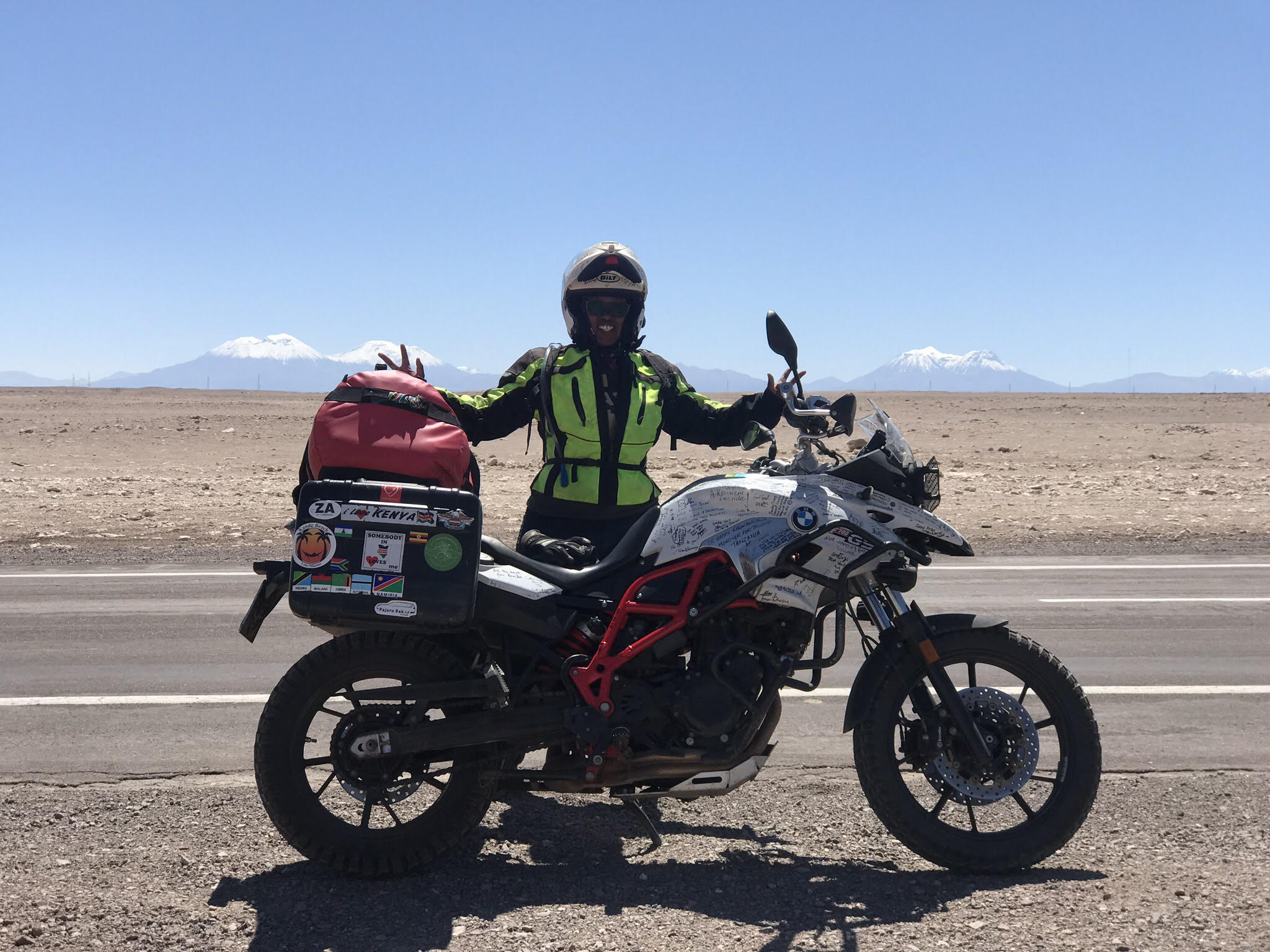 What has been the most memorable experience so far?
We didn't know whether would get lonely or how things would turn out on the road. Our most memorable experience has been meeting and making friends with locals and travellers (some of whom we have travelled several countries together). We have a new big family in every country we have been to and in the countries we are going to, and this is going to evolve to something so good.  We can feel it.
What has been the worst experience so far?
We did homework well on the weather and when we left we were sure we would arrive down south after winter. Unfortunately, it extended and we caught up with it in Namibia.  We were not prepared for the low temperatures.  But this also turned out to be a really awesome adventure.  Temperatures dropped below 3 degrees in the middle of the night as we were camping. We had a private beautiful bathroom and we just moved our tent inside and had a good sleep in what we called an "en-suite room". There was hot water so we ran the shower a bit to get the bathroom warm and brought our tent in.
It did however cost us more in shopping for the right clothes and gear to be able to accommodate the weather. We have also had to spend more in accommodation as we stopped camping and took up rooms.
How long on average do you stay in one particular place?
Unfortunately, our ride from Kenya to South Africa was rushed.  We spent two and a half months to get to South Africa.  We needed to save time on our carnet which is issued and renewed annually. To ensure that we are safe (in a country that gives us more time in terms of visas to be able to process a new carnet), we could not spend a lot of time in Africa. But we were able to spend about two weeks in each country and seen as much as we could during the time. In the following countries, we are spending as much time as the visa allows.  Mostly two to two and half months in each country other than Bolivia which only gave us 30 days visa.
What kind of support have you received from friends, family, and new people since your first day of travel?
We have really been blessed right from home. We had a lot of support from our children, families, friends, and the Kenyan Biking community before we left.  And the support has continued all through.  We have met wonderful people who have shared their time and resources with us.  We have been fed, housed and gifted. We have made many friends along the way who will remain in our hearts forever.
We met bikers in Uganda, Rwanda, Tanzania, Botswana and Namibia. One thing that stood out for us is that Kenya has the most lady bikers so far. South Africa may have equal or more lady bikers as Kenya but the rest of the countries we have been through, don't have that many. We may be wrong, but this is what we gathered.
Each country's biking community organise their bikers uniquely. One universal trait we've seen and felt is the sense of togetherness, love and family. This is no different from Kenya.  However, there is so much we can learn from each other. Each conversation was full of curiosity about each other's biker community. We wanted to learn more about them and they wanted to learn as much about us in Kenya. Maybe we should have cross country meet ups.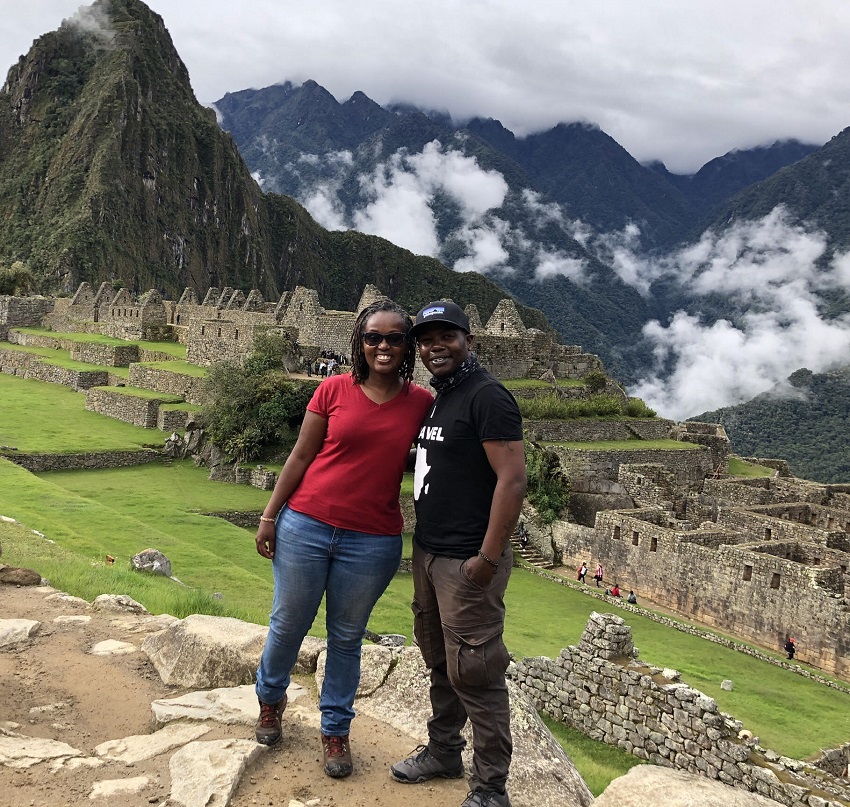 How do local people interact with you in the different towns?
The bikes are conversation starters almost everywhere we stop. People get excited over them and are eager to hear more about our travels.  We hear this statement all the time; "Africans don't do this, why are you doing it?"  The other novelty for most people is seeing an African woman riding a motorcycle distance. But the best part is all the love we receive. Everyone is offering something; food, somewhere to sleep, directions, safety tips, phone numbers to call if we need anything, and even invitations to homes for family meals and companionship.
Have you ever gotten lost?
We have a couple of times but not in a major way that would cause concern. We download off line maps but sometimes they have a mind of their own and take us where they wish we would go.  Sometimes it is a good thing, but other times we have to defy them and look for what we want! The best directions come from the locals and so when the maps fail us, the locals are our best rescuers.
Any mechanical incidents so far?
The bikes have behaved very well, and have had no mechanical issues so far.  Just a minor incident where Wamuyu's pannier was hit by a gate. As a result the bike fell and the mirror broke and that was fixed at a cost of Kshs 150/-.  We thank God for safe trip so far.
How are you prepared in case you encounter trouble with the bikes?
We learned a few things about the bikes before we left. Thankfully Dos is very good in this area. Mathew Njeru from Bikers Clinic got us all the tools we needed to bring with us and he took the time to take us through each one. The folks from Auto Seal put sealant in the tyres to save us from punctures. Mentally we are prepared to deal with arising incidents.  Thanks to the good network of BMW dealers we can find help almost everywhere, other than in the bush!
What conversations are you sparking about Kenya on your trip?
You will be surprised to learn that when we ask people why they have not been to Kenya, the two biggest reasons are majorly safety concerns and malaria! When you ask where they got this information, either "they heard somewhere", "watched some documentary", or "someone told them". All these stories are told by people who have never been to Kenya.  Being on the road as Kenyans has a very positive impact on the people we meet and engage with.  We are their living example of Kenya and Kenyans. You can see their mind set change about. Majority of them have added Kenya to their bucket list and others have moved it a few numbers up on their bucket list.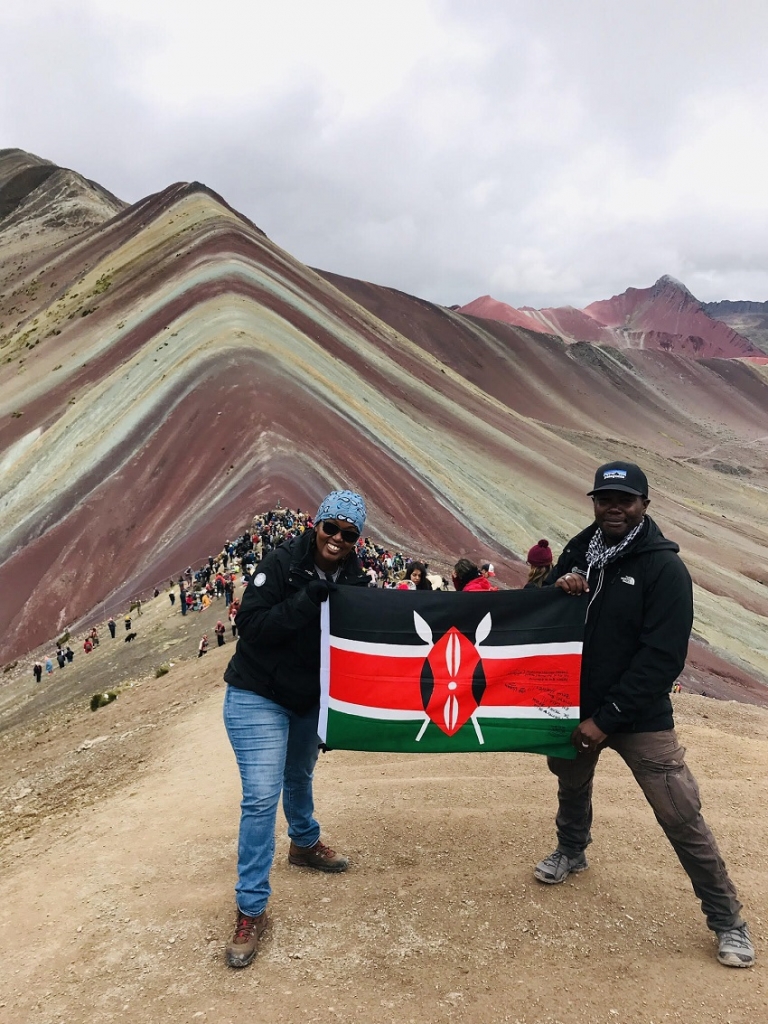 Finally, how do you anticipate this great adventure impacting Kenya's biking community?
Actually, we see the impact going beyond just the biking community. For the biking community, we see many more Kenyans taking trips outside the country.  That will result in to attracting more visitors to our country through each of these experiences. One thing that we continuously share is that we have a big biker's community in Kenya. Kenya is a country for adventure riding and it shows through what we are doing. We envision more bikers from all over the world coming to visit Kenya.  Let's get ready for this!