Fashion Vanguard: Kibera Fashion Week
Kibera Fashion Week, a pioneering endeavor that celebrates the beauty of Kibera, endeavors to disrupt exploitative global supply chains and transform the fashion discourse from the perspective of the global south.
The mastermind behind Kibera Fashion Week is David Avido, popularly known as @Lookslike Avido, who collaborated with Goethe Kenya, Nairobi Design Week, Maasai Mbili, and EUNIC Kenya to launch the initiative. 
The project is financed as part of the European Spaces of Culture program, which seeks to enhance cultural collaboration across Europe. Kibera Fashion Week has garnered attention in the fashion industry for its one-of-a-kind designs and inspirational narrative. From hand painted garments using coffee stains and upcycled ankara fabrics, the artists at Kibera Fashion week are without a doubt Nairobi's Fashion Vanguard.
View this post on Instagram
The venture provides a platform for up-and-coming Kibera designers to exhibit their talent and ingenuity to a worldwide audience. Furthermore, the initiative prioritizes ethical and sustainable fashion, challenging the current exploitative global supply chain practices prevalent in the industry.
Here's a look at Kibera Fashion's week debut at the Opportunity Factory in Karen.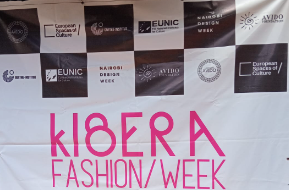 Maasai Mbili