Eliud Kipchoge's Berlin Marathon Win Was More Than a Sports Victory – It Was a Life Lesson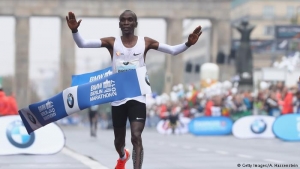 A super-human run by Eliud Kipchoge saw him win the 2017 Berlin marathon in 2:03.32, just 35 seconds outside of his ultimate goal of breaking the world record.
In an interview before the game he was quoted saying that winning was a necessity for him rather than an option. It was clear that Kipchoge was in a league of his own throughout the race, and was only racing against the clock. He was beating the clock too. That's until his body gave in to the unrelenting weather.
With only 8kms to go and fans egging him on from the sidewalks, Kipchoge began to lose steam. The unfriendly downpour continued to beat down, and Kipchoge looked frail for some time. Even Ethiopian debutant Guye Adola looked like a favourite to win the race by this point. But with a grimacing smile on his face, the Kenyan pressed on. Kipchoge soon started to show more agility and strength, and gave the race the thrill that we were all waiting for. He went on to win the race on sheer will because he had nothing left in his reserves.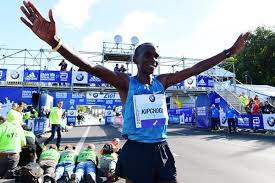 What surprised most of the watching fans about this incredible race was not that Kipchoge didn't break the world record (which I personally hoped he would), or that the weather was going to be unexpectedly dreary for any marathon, let alone one with a world record attempt, but the heroic way in which the 32-year-old managed to win the race. Kipchoge lived by his own words, "Marathon is life. It's not about the legs, but it's about the heart and mind." He showed that sport is so much more than physical ability, sometimes a determined mindset is enough to break records.
The Berlin marathon was graced by some of the greatest marathoners of all time. Kipchoge lined up alongside Wilson Kipsang of Kenya and Kenenisa Bekele of Ethiopia.