Tomorrow  is Eid al-Fitr and the state has been kind enough to grant us a bonus holiday! If you're not a Muslim and didn't have any plans, we got you! Everyone loooooves pleasant surprises. How about surprising your kids this Wednesday by treating them out for lunch? They rarely get to bond with us during the week. A mid-week family meal sounds like a plan. Here are some of our top kiddie dining picks.
They're famous for their unlimited ribs but I bet you didn't know that every Wednesday, Spur restaurants have a Kids eat *free offer with every meal worth over Ksh 2000 purchased (eat-ins only). They have an extensive kids' menu. Your child(ren) will be spoilt for choice. They have a fun play area where your kids can bounce off the wall as you dig into your meal.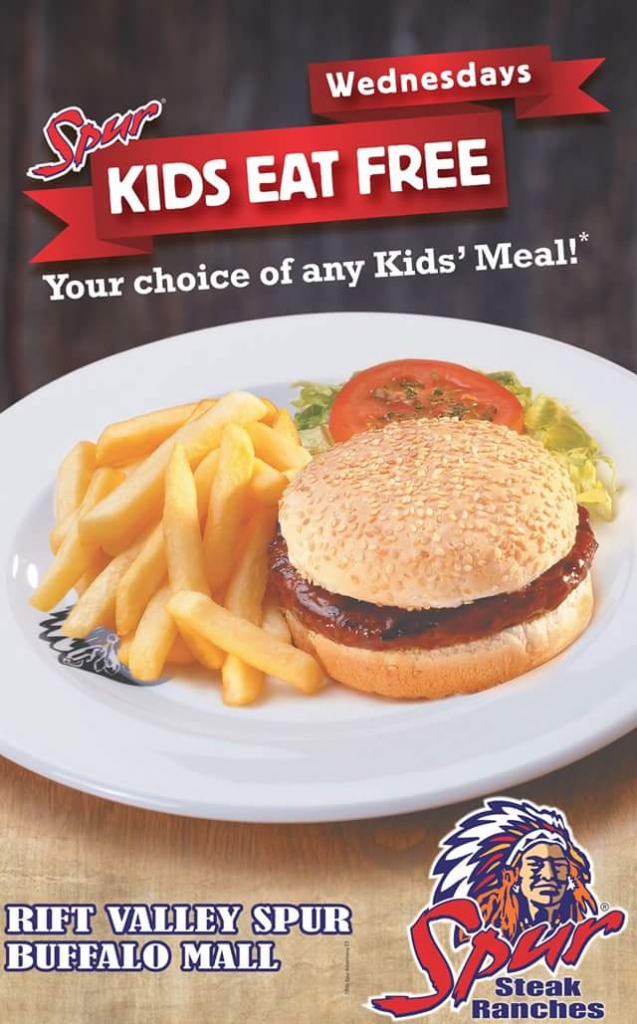 The Maasai Ostrich Farm in Kitengela has a restaurant that has a limited but wildly popular menu of a variety of carbs and delicious Ostrich meat.  Kids get to ride, pet (and eat) the humongous birds. Ok, that sounds brutal so it's probably not a good idea to tell them the tasty fowl on their plate is one of their feathery friends.  Kids get to learn so much on site. Definitely worth a visit.
3.)   Ocean Basket
Ocean Basket at the Hub Karen, has a weekday lunch time special where kids under 10 get to order a free kiddie meal with every full meal ordered. Mum and dad can get a sea food platter and some Merlot to wash it down while the kids burn some calories after eating fish fingers at the play park right next to the restaurant. The Hub has a lot to offer for kids. Their park is loads of fun filled with rides, games, popcorn and sweet treats.
4.)  Zen Gardens
Located in Spring Valley, Zen Gardens is set on an indigenous forest with an amazing backdrop featuring trees and a sprawling ever green lawn.  Perfect for large families. They have an extensive menu and occasionally offer weekday discounts.  They have recreational facilities on site for the kids such as trampolines and bouncy castles. Kid friendly meals include chicken nuggets, mini pizzas, cupcakes and Oreo milkshakes. The have ample seating space, enough for big families.
5.)  Big Square
Big Square branches around Nairobi are great if you want a place where the kids can be occupied having fun while you wait for your meal. They have amazing play areas and some of them even equipped with fun gadgets such as Xboxes. Since May, their kiddie meals come with free toys inside!
*All these establishments have halal options