Eerie-sistible! Spooktacular Halloween Events in Nairobi
Celebrating Halloween is a fairly new concept in Kenya. It's all the rage now and everyone wants to get festive with their spooky costumes and go trick-or- treating. Wanna join in on the fun? We gotchu! Here are some spooktacular Halloween events in Nairobi for adults and kids you can check out.
Fright Night at The Village Market
Village Market will be hosting their 24th Annual Halloween party  and this year's theme is dubbed 'Fright Night'. They've been doing this for years so you know its going to be good. Activities include: Trick or Treat, Costume Fashion Parade and fangtastic bounce sessions.
Little Chef's Spooky Cupcakes Decorating Class
Still at the Village Market, take the kids for a free cupcake decorating class to create the spookiest cupcake designs they can come up with!
Kiddie Karaoke Halloween Party At the Waterfront Karen
The Waterfront at Karen will be hosting a fun Karaoke Halloween party for kids. Other activities include: trick or treating, VR gaming and body paint
Haunted House Experience
Adults visiting the Waterfront can also experience some Halloween fun by visiting the haunted house!
Pumpkin Carving at The Hub Karen
Take the kids to the hub Karen for some pumpkin carving fun! They'll delight in some Jack-o'-lantern creations.
BARAK JACUZZI & FRIENDS (HAUNTED HOUSE)
Nairobi's golden boy Barak Jacuzzi has teamed up with Melanin Club to bring you yet another edition of his fiery concert series Barak Jacuzzi and Friends. The upcoming installment will be a Halloween special featuring some of the city's highflying acts and acclaimed mood setters including Fena, Steph Kapela, Ochunglo Family, Karun, Chris Kaiga, Shappaman, Butchnorman, Mawinch, Shishi, GI and Hiribae.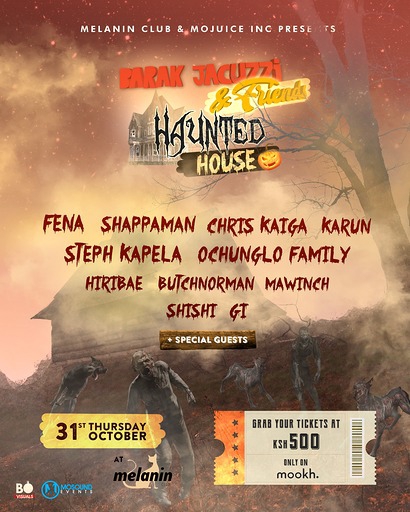 THE SHIFTEYE SOCIAL: DAY OF THE DEAD
Shifteye studios presents their 2nd annual adults only Halloween party on November 1st. Goub  dressed for the part!

FRIGHT NIGHT HALLOWEEN CONCERT-Karen Country Club
Karen Country club are hosting a fright night Halloween concert on the 1st of November. They've got the booze, You bring the Boo's. Don't miss out on haunting spirits and Wicked Brews. Eat, Drink and get spooky.
DRIPOWEEN
Tree house Nairobi have a Halloween party on Friday Nov 1st.