Doja Cat: The Bizarre Artist
Doja Cat, real name Amalaratna Zandile Dlamini is a rapper, singer, songwriter and a record producer.
Many people know Doja Cat from her 'Mooo!' video. The absurdity and the weird lyrics made it one of most viral videos of 2018 on YouTube. The song received majority of its notoriety from co-signs from Chance The Rapper, Chris Brown and Katy Perry. The song was made as a meme, but it ended up going viral.
As she anticipates the launch of her album Hot Pink on 7th November, Doja Cat clearly is creating a ruckus in the industry. From her sense of dressing to the topics on her songs, to hit songs such as 'Go to Town', 'So High' and 'Tia Tamera', it is easy to deduce she isn't like any other musician.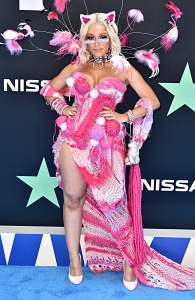 Doja comes from an artistic family. Dumisani Dlamini, her father, is a South African actor and film producer best known for his role as Crocodile in the 1992 musical film Sarafina! Her mother, Deborah Sawyer is a painter and so was her grandmother. From childhood to her teenage years, Doja studied piano and danced. She was introduced to rap from watching her brother.
She is said to be inspired by the likes of Erykah Badu, PartyNextDoor, Nicki Minaj but also the Indian culture and Japanese culture. Her music gives off a neo soul, hip-hop and RnB vibe.
In 2018, she released her debut studio album, Amala and  released a deluxe package in 2019. She got her first entry into the US Billboard Hot 100, when she released her song Juicy,  which debut at number 83.
She was named 'On the Verge' Artist by iHeart Radio and has a station where fans can listen to her music.
Earlier in the year she released 'Tia Tamera' featuring Rico Nasty, which pays homage to the Mowry twins and the ninety's era(fashion and shows). It was also the lead single on her deluxe debut album Amala.  She also performed her song juicy on the YouTube channel Colors, also repackaged from the deluxe album.
Her steady rise to the top hasn't been unproblematic. In 2015, she had some controversial homophobic tweets which were brought back in 2018. Instead of apologizing , she defended herself and got even more backlash. She apologized and deleted her old tweets.
It's 2019 and it seems everyone has forgotten, so we continue watching her soar to the top.