Dance Center Kenya Presents Midsummer Night's Dream
A Midsummer Night's Dream is one of Shakespeare's most loved comedies. It is called a "Dream" because of the quirky events the characters experience in the play.
The enchanted land of Shakespeare's A Midsummer Night's Dream is a lush forest with fairies, talking animals and confused friends and lovers. 
Dance Centre Kenya will be showcasing their kid-friendly version of this classic at the Kenya Cultural Centre from the 10th to 12th of February.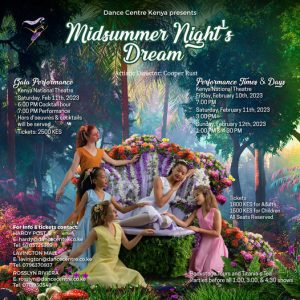 For reservations, email  rosslyn@dancecentre.co.ke 
*Featured Image: DCK