Dance Away! Dance Centre Kenya Online Classes
Dancing is great! There are lots of reasons to get children interested in dance. Not only does learning dance enhance a child's confidence, focus, physical strength,  agility, and grace; it also exposes them to great art and music in a way that other physical activities don't. 
Dance Kenya's premier dance school  Dance Centre Kenya has an ingenious way to keep the kids moving amid the crisis: Virtual dance lessons. 
They recognize that Dance is an integral part of many kids' lives and missing classes not only takes away a major piece of their daily routines but also their outlet for self-expression.  The discipline of mind and body offered through dance is something that many of us may want to consider taking up.
Since April 20th, DCK has been offering Royal Academy of Dance (RAD)- credited Ballet, Contemporary Dance, Jazz, Tap, Musical Theatre, Hip Hop, and Gymnastics.
The classes are taught through Zoom and you can join in from anywhere as long as you have an internet-connected device that can stream video. Their dance classes run from Monday to Saturday and are recommended for children as young as 3 years old.
For the past 5 weeks, DCK has been keeping kids on their feet as they dance away. Currently, they're on a midterm break but will resume with their elaborate foot-work on June 1st. Classes will run for the next 5 weeks.
Dance Centre Kenya is offering a discount of approximately 40% for all its classes to cushion parents and students during this pandemic. The prices below show their rates that will cover for 5 weeks' classes.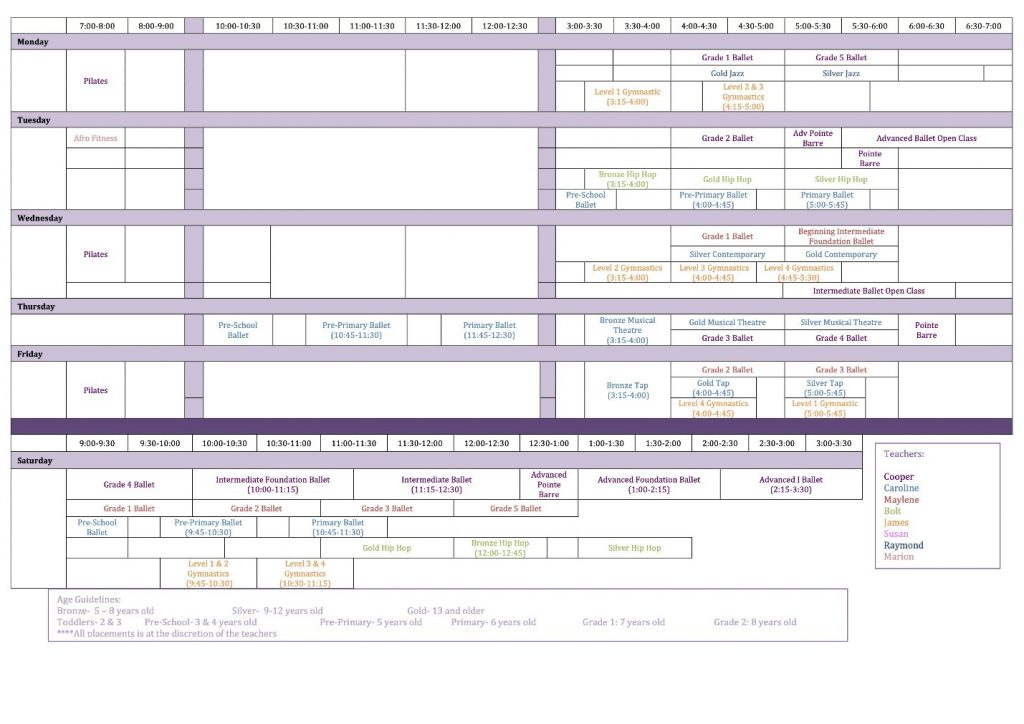 The half-termly rate will be as follows: 30-minute classes – 2500 KES, 45-minute classes – 3000 KES, 60-minute classes – 3500 KES, 75-minute classes – 3750 KES and 90-minute classes – 4000 KES.
DCK has recommended levels for dancers depending on their age, as described below:
Basic Age Guidelines:
Bronze: 5–8 years old
Silver: 9-12 years old
Gold: 13 and older
Toddlers: 2 & 3
Pre-School: 3 & 4 years old
Pre-Primary: 5 years old
Primary: 6 years old
Grade 1: 7 years old
Grade 2: 8 years old
Grade 3: 9 years old
 All level class placements are at the discretion of the teachers. They have offered more explanations for the classes below:
RAD classes: These are students taking Pre-primary Ballet, Primary Ballet, and Grades 1 to 5. They will get to do an exam at the end of the year, before moving to the next grade.
Pointe Classes: These are Ballet students who are in Grade 4 and above. They are encouraged to take two pointe barre classes a week with a minimum of two and a half years of pointe work for experience.
Open Classes: This class will have guest international dance teachers who will join to teach throughout the term. This will especially be happening in the Open Level Ballet Classes and the Silver and Gold Contemporary Classes. The Intermediate Open Ballet Class can be taken by students from Grade 4 through the Intermediate level.
Pilates: This is open to people of all ages, including those who are not students. DCK highly recommends that anyone who is serious about dance and fitness over the age of 9 years to consider joining the early morning Pilates classes. This will get the day started with energy and wake up their bodies and brains before school or work starts. 
Beginning-Intermediate Foundation: This class is intended for first and second-year ballet students over the age of 12.
Toddlers and Mommies: This is a class where we explore our bodies, the space around us, and the music while using our imagination to go on adventures with the young ones. It is a perfect class for mommies and their little one of approximately 2.5-3 years of age. It is fun for both.
To register, please fill the Google form: https://forms.gle/53XZfRzWFD7jt9nF8, which will include you in the list, and afterward you will be added to the classes. If you have any questions or need assistance please send an email to info@dancecentre.co.ke or call 0796370937.