Cooper Rust on Using Your Gifts to Empower Others
Cooper hails from Columbia, South Carolina, USA and trained in classical ballet, jazz, modern, tap, and musical theatre for more than fifteen years.
While dancing professionally with three American ballet companies, she acquired a bachelors' degrees in Dance Performance and Choreography, European History from the University of Nevada as well as a Post-Graduate Teaching Certification from the Royal Academy of Dance London. She also holds a Pilates certification through DK Body Balance.
The 33-year-old co-founder of Dance Centre Kenya studios and the Executive Director of the not-for-profit organization, Artists for Africa.
Artists for Africa holds arts programs for more than 1000 underprivileged children throughout Nairobi and runs the A4A boarding house, which gives exceptionally talented children a chance to move out of the slums and train in ballet at a pre-professional level.
Has it always been ballet for you?
Always. From the time I was two years old. And it wasn't pushy. My sister was also a dancer, but by the time she was thirteen, she didn't want to do it anymore, and that was fine. But I was just obsessed, passionate and in love with ballet. Classical ballet is my first love and passion, and always will be.
Why ballet?
It was after seeing a Nutcracker production. I told my mum, "I'm going be a ballet dancer". She was like, "Ok, well you can start in September", and apparently, every month I was just like, "Is it September? Is it September?"
I left my home in North Carolina when I was thirteen to go and train in New York. I was still very close to my family but leaving was necessary, that's how one becomes a professional ballerina. When I was seventeen, I got my first contract to dance professionally.
How did you find yourself in Kenya?
Every year, we had six to eight weeks off. During that time, I didn't have anything to do, but I had always wanted to come to Africa. I didn't think of Kenya specifically, but when I found a program out of the UK that was teaching ballet in the Kibera slums it sounded like the perfect opportunity; it would satisfy my longing to come to Africa, and offer me the opportunity to give what I have, which is ballet. So I got in touch with Mike Wamaya, a guy who taught dance in Kibera and asked if he could use any help. He immediately said, yes. I came for three summers in a row to teach ballet. I loved it. It changed my life.
By my third year of visiting, I was getting frustrated because I saw these kids that were super talented but were training without the necessary equipment. They had no floors, no mirrors and no bars. I knew they were never going to become professional because we have to train all the time. So I decided I wanted to stay and figure out a way to start a studio that had all the proper equipment.
I started talking to some people of means in Kenya and in 2014, these four families came together to invest. In January of 2015, we were able to open our first studio. Our idea was to bring together talented young people from different economic backgrounds; it didn't matter if they were black, white or Asian. They would just come to the studio to dance. We started with a small studio in 2015 with 60 students.
Fast forward to four and a half years, and we have two studios at the Hardy post, two at Lavington mall and two at Rosslyn mall. We are in 18 schools and have 600 students in total. One of my previous students, Joel Kioko, is now at the English National Ballet in London. Another one, Lawrence was accepted for dance and civil engineering at the University of South Carolina in America. I've become the guardian of seven children, and they've gotten scholarships to international schools in Kenya. They are changing the perception of what coming from Kibera means, and they are beautiful dancers, things have just exploded.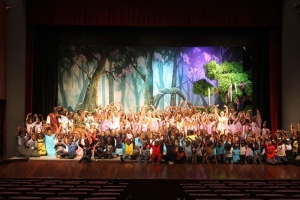 When you go to these children's parents and say, "I want to teach your son or daughter ballet", how do they react? I ask because this is a culture where most people still don't view Dance as anything meaningful.
Joel Kioko has been helpful. He's been featured on CNN, BBC, Al Jazeera… everybody has covered Joel. He left Kuwinda slums to come and train with me at a time when his mum wasn't even able to provide food for him. He was struggling academically, but we knew he was really talented. I asked his mum if he could come and stay with me and she agreed. I know this was a tough decision for her, and he's still super close to her, but now whenever he's home, he lives with me. We were able to get him to London where he has now become a little bit of a local celeb.
So when I go to the parents, and they know about Joel, they see hope in ballet, and that's one of the coolest things that I think has happened. Even in the West, when you decide to become an artist, a lot of times, people think, Oh gosh, so you're going to be poor for the rest of your life. But a story like Joel's gives so much hope. It is a story of getting out of poverty and having a better life and being able to do more. My other student, Lawrence, has a similar story. These guys are showing people that not only is it cool for boys to be in ballet, its also possible for dance to take you out of despair and into endless possibilities.
The kids that currently live with me are sponsored by an organization in the States that I started, Artists for Africa. Their parents not only see that they are getting the quality training, but they are also going to top schools and getting the support that they weren't getting in Kibera. All of them have these stories of corporal punishment and class sizes of 90 and more, and now their parents see them blossoming.
I encourage them to stay in touch with their parents, and they go home over their breaks, and I talk to their mums and dads- if they have a dad- all the time. We also arrange for them to come to their kids' performances, so it's not a question of trying to take them out of their culture it's just trying to give them all the options and open their world to so many other possibilities.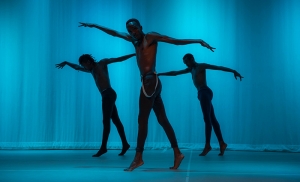 How exactly do you choose the kids that will join you?
We have a base of 600 students, and those 600 students can audition for the ballet company. About 80% are paying students, and 20% are sponsored. With the sponsored students, my charity, Artists for Africa, runs programs in the slums. We started with Kibera, but now I've kind of moved away from there because it gets so much help. We're looking more at working in Kawangware and Kuwinda, areas where there's a little bit less help. We run these programs once a week, where local teachers come in to teach visual art, music, drama, traditional African dance and ballet. Then we look for opportunities for the most talented in those fields. Hillcrest holds drama workshops every Sunday, and recently, they offered us five free spots to our top five drama students. We have hundreds of ballet students, and when somebody really shines, we find them a sponsor and bring them over to Dance Centre Kenya. We also have other sponsored students who have come on their own.
Tell me a bit about your kids.
At first, was just Joel and I; at that time, I was engaged. Tragically, my fiancé who was a pilot died in a plane accident; so it was just Joel and I. Then Joel went on his way, and as time went by, more kids came.
There was Francis who never became a professional dancer but wants to go into production. We're looking at American Universities that do production work for him to go to school in September 2020. He will use what he gained in dance for the rest of his life; he wants to be the first real-deal stage designer in Kenya.
Shamik, George and Pamela were also some of my first students. They're now 15, 16 and 17. They were children I had when I first started coming to Kenya, and they started coming to the studio twice a week on sponsorship. Then we decided they would come on full time. Pamela is a ballet dancer, Shamik and George are in year ten in Nairobi Academy, they are both academically strong. George wants to get into business. After seeing what sponsorship can do for the arts and students, he decided he wants to go into the corporate world and teach about corporate responsibility. And Shamik intends to become a doctor.
So you're like their mum- in a way?
They're in a boarding house which I started, and I care for them. The sponsors from the US fund that; meaning their basic needs, school fees, transport are catered for by the sponsors. I'm their guardian. I don't ever want them or their mums to think that I don't respect that first relationship. They send still me messages for Mothers Day (laughs). I'm their second mum or their best friend for life.
I also have the little girls, Lavender who is in 6th grade in the American education system and Michelle is in year 8 in the British system at Hillcrest. Michelle is the first student to go to primary school on scholarship in Hillcrest. These guys are just trailblazing. They're showing these international schools that just because I'm from Kibera, it doesn't mean I am not capable. I just love that they're breaking down these barriers of what people think underprivileged children can achieve.
Your face lights up so much when you talk about them.
I love them. Yeah. They are inspiring people. They've all been beaten down, they've lost fathers or never had fathers, they've been abused in school…one of them told me stories where, for missing a math problem, they'd make him stick his head under the desk and beat his backside. Another told me about his head getting slammed into the back of a desk. Another was made to kneel on rocks when he was only seven years old to the point that his knees are covered in scars. I mean just horrible, horrible things and then now with just a little bit of opportunity they're amazing. It only shows you how everybody needs a chance.
A lot of time people tell me how lucky the kids are, and that makes me so annoyed. I mean, they're lucky because they're getting a good education and have someone to look out for them? I feel lucky because some of my friends have kids who are nightmare people dealing with drugs and crazy issues; our problems are broken dishes. What is sad with the broken dishes is sometimes they're still too scared to tell me- it's those kinds of things that truly open my eyes to what they've had to go through. There are moments where they put so much pressure on themselves. But I love them so much, they've changed my whole world, and I can't wait to see what they do with their lives.
(Get to watch Cooper's magic come alive with the Dance Centre Kenya production- Romeo and Juliet on the 15th & 16th of February 2020 at the Kenya National Theatre. Get your tickets here.)
━━━━━━━━━━━━━━━━━━━━━━━━
Qazini is a resource for anyone who is looking to improve their professional lives so they can raise their level of prosperity. We provide you with information that can help you on your journey to executing your dreams, we match employers with the right candidates for the job and job seekers with work that is the right fit for their skills.