Can You Trade Commodities As A Beginner?
Commodities are basic goods that may come under daily use and can be exchanged with other assets of similar nature. They can either be raw materials, agricultural, mining products, etc. A few good examples are wheat, gold, beef, and oil. In trading, these resources are a better way for investors to increase diversity in their portfolios.
Previously Commodities Trading was a big hassle that required much attention and physical exertion from a trader. Now investors only need an internet connection and a mobile phone to access the broad market of such goods. Our article will go through the critical details of commodities and how traders can trade them for profits.
Various Ways to Trade Commodities
We can trade commodities through multiple methods thanks to the advancements in the fintech section. Let us go through a few as follows.
Futures. A futures contract allows a buyer or seller to purchase or sell a financial asset later. There is a high degree of leverage available that can be employed to increase both gains and losses. Investors scan level two market data to sport big buyers and sellers and take positions in the same direction.
Mutual Funds and ETFs. Both mutual funds and Exchange Traded Funds can be used to trade commodities. This can help protect against potential market fluctuations.
Shares. By buying or selling the shares of mining companies, it is possible to trade commodities indirectly.
Physical. Commodities are available in the general market to sell and purchase. Buying and holding the asset in bulk may come under hoarding, so traders must be careful.
Characteristics of Commodity Trading
Let us go through some common characteristics of commodity trading to understand how we can profit better.
Need and Supply
The price of a particular commodity can fluctuate immensely if the demand is disturbed or the supply is increased or decreased. As a general example, if a drought wipes out a cotton crop, the supply will be affected by a considerable margin. Consequently, the cost will go up in the market.
Volume and Movements
The volume of the commodity market is significantly high. This can help traders get good fills their trades. The volatility is also sufficient, which is considered the bread and butter of traders.
Trading Hours
Traders can trade commodities when they are open on their respective exchanges. Chicago Mercantile Exchange is one of the important ones in the United States which trades metals, energy, interest rates, agricultural products, currencies, stock indexes, and weather.
Trading Strategies for Commodities
The trading methodologies for commodities are simple and effective. Traders have to stick to trading basics such as risk management and maintaining psychology. Other than this, keeping a note of global events and technicals is useful. Indicators such as moving averages and RSI can help locate trend and reversal points. Price action traders can use possible key levels, plot Fibonacci intervals, and read the charts.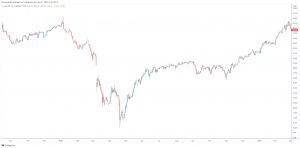 Image 1. The daily chart of crude oil shows the price model. Notice how there is a significant drop at the beginning of March 2020. This was the beginning of the Covid 19 pandemic. As the crisis reduced the usage of cars due to lockdowns, the demand for oil reduced, causing a decrease in prices.
While the commodities offer excellent trading conditions to diversify your portfolio, there is always a risk associated with trading. Traders have to employ reduced leverage in the initial stages of their careers to avoid huge losses. The learning curve might be slow initially, but it can pave the way to being a consistently profitable trader.