Call to Artists: Art Installation Competition
Are you a Kenyan artist who can communicate complex issues in a creative format using any mixed media/art?  The NGO International Film Festival is looking for you! They've just opened submissions for an art installation project during the film festival on October 19th – 21st, 2022.
The theme of the art installation is based on the intersections of climate change, conflict and Covid-19. Artists who are keen on exploring new forms of expression in visual/video storytelling installation are encouraged to participate. The work should not only speak about the problem but also provide a solution.
 This open call offers artists the opportunity to develop an art installation that will explore human and digital interactions in a very simple contextual presentation. The opportunity also offers a space for experimentation and collaboration in creative, cross-disciplinary partnerships across storytelling, the creative arts, science, technology and social entrepreneurship.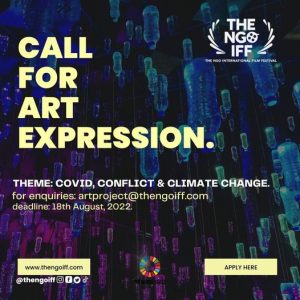 Submission ends on August 15th. Each project will have one month to put it together starting from September into October, 2022. From the selection of submitted projects, only three artists will get a chance to develop their interactive and immersive projects with support from the film festival.
 Interested? Apply HERE