Buon Appetito! Month of Italian Delectables in Nairobi
Italy is renowned for famous fashion brands, vespas, classic art and hand gestures but if there's something quintessentially Italian, it is the delicious cuisine. 
From the various pasta dishes and pizza to the much-loved gelato, Italy offers endless gastronomy joy. Throughout the month of May you can indulge in the flavours and flair of Italian culture and cuisine exclusively at Rhapta Square.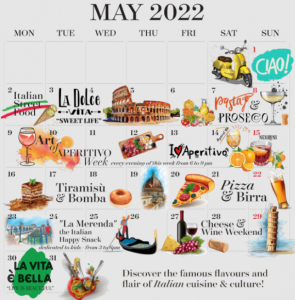 The Artcaffé Market and Market Cellar have been transformed into a wonderland filled with scenes, products and experiences from Italy. Shoppers will be able to discover, taste and take home authentic and traditional Italian items, from pasta and prosecco to gelato and pizza, cheese and wine and more.
 Each week in May will showcase different tasting experiences and events to bring to life the diverse nature of Italian cuisine, including Italian street food, pizza and beer, the art of Apertivo and many more. La Dolce Vita! '