Apprends le Français! Storytelling and Online French Lessons For Kids
Finding new ways to keep our kids busy and engaged with activities at home amid the pandemic is becoming a tall order. They've done enough math assignments, solved the Rubik's cube and watched too much TV…now what? How about you sign them up for some French lessons?
Alliance Française is offering an online course through a series of engaging video lessons that introduce beginners to various aspects of the French language. After taking this course, your child will be able to use a range of French vocabulary, understand past, present, and future verb tenses, and become skilled in conversational French.
Here's why you should totally sign up your kids for French lessons here 
Children's minds are more receptive to learning new languages so it will be easier for them to learn French while they're still young.
It will build their emotional intelligence. Studies show that multilingual children have more empathy and higher EQ (emotional intelligence)!
Multilingual kids could relate more to a wider group of people. Being able to communicate with a larger group of people will help broaden their relationships and experiences.
It broadens opportunities for your child, gives them a competitive advantage in school, and sets him/her up for career success. Now who doesn't want that?
It increases your child's cognitive abilities.
If you're still deliberating, give your kids a primer with a FREE storytelling session brought to you by Alliance Française this Saturday.
It'll be for children between 6 and 12 yrs of age. French actress Layla Metssitane will be offering a storytelling session in French via zoom. It'll have subtitles too!
To participate, connect with Layla on 11th April at 6:30pm, by Logging on to Zoom through this link : https://bit.ly/2RgTJ4m
Password: Nairobi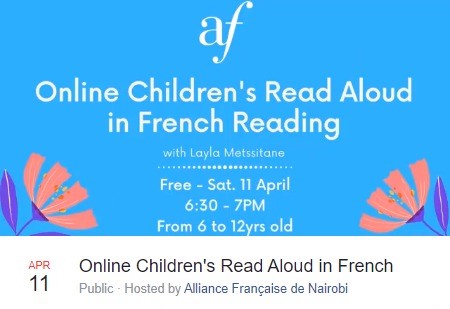 Don't let the kids miss out on this opportunity to learn basic French. Prendre plaisir!