All in the family: The Josiah's Cinematic Magic
Raising kids is no easy feat. Neither is building an empire. But getting to do both together with your
spouse? Phenomenal! This is why we're awestruck by Delphine and Albert Josiah, the bona fide
Indie filmmakers with their own company: Phat PawPaw.
This dynamic duo has found companionship and compatibility in both personal and professional
spaces. Both of them are alumni of prestigious film schools in the UK. Under Phat PawPaw, they
specialize in audience engagement and content strategy. Simply put: they use film to tell brand
stories in a unique, bespoke way.
They let us in on how they're disrupting the industry behind the lens, their mission to pass on their
skills to the youth and manifesting activism in film.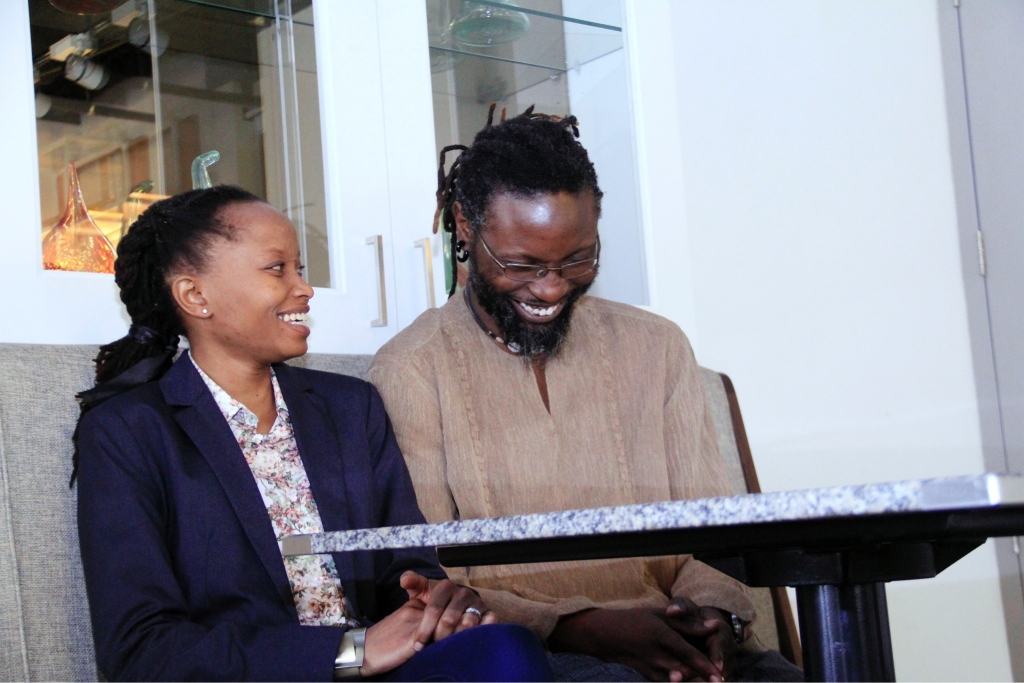 KB: Albert, you were the first Kenyan to be admitted to the London Film School and
Delphine, you were at one point, the only African woman at the MetFilm school pursuing a
Masters in Cinematography. Those are some glass ceilings you both shattered right there!
How did y'all achieve such a feat? How did you end up honing your skills at such prestigious
schools? Give us the scoop.
Dee: After 12 years of being a photographer, covering Sauti za Busara in Zanzibar when I was six
months pregnant with my eldest daughter, I figured out two things: I wanted my pictures to move,
and with some grit nothing is impossible!
AJ: I don't think getting into London Film School was breaking a glass ceiling. I think that the
ceiling is beyond that. It's putting authentic African stories on the worldwide stage. We are still
working on that one.
KB: It must have been heart-wrenching to leave behind your young kids to chase lifelong
dreams in a foreign land. But you take your craft very seriously and this, I reckon, was bigger
than your own individual pursuits. The end goal was to bring the skills home, pass them on
and tell African stories. Has this been achieved?
AJ: I think that it is going to take so much more than just the two of us attending school in London
to see a lasting impact on the local film industry. We are, however, very keen on skills transfer. We
have had a few amazing opportunities to interact with filmmakers from around the region to teach
and exchange ideas, so I think we can say that there is definitely a lot happening.
Dee: As a DOP (Director of Photography), it is fantastic to see so many people shooting. It forces
us to tell a more authentic story because now access to the world is at the touch of a button. Visuals
give you a picture into that world and represent a different 'lens view' allowing us to appreciate
how quickly society changes. I wanted to see music videos from Kenya in my dad's era as he was in
a band but I couldn't find any, only stills. Now my daughters want to record every meal.
KB: How would you say you've disrupted the film industry in Kenya since you left for the UK
about half a decade ago?
Dee: As a woman, being head of a department in a technical role in Africa where there are painfully
few female DOPs is definitely disruptive. I am approached on set a lot by industry veterans who are
shocked to see a woman behind the camera, let alone as DOP. I hope that by showing that I can take
up a technical, traditionally male role and still be a mum, I can encourage more female filmmakers
to take up more challenging, technical roles.
AJ: The fact that we live purely off our art is in itself disruption in a country where parents still
consider the arts a hobby. I think the opportunity for disruption lies in the cinema: both in making
films for the African audience which has a growing appetite for films with characters they can relate
to and in the exhibition of films because we are woefully underserved when it comes to cinemas.
Building more cinemas is a multisectoral conversation, but making more films for a local audience
is something we are very keen to have an impact on.
KB: Delphine, you've owned your space in this testosterone-driven industry. And you're
cognizant of how difficult it is for women in any male-dominated field to navigate. Has this
been a challenge? Has any misinformed person tried to conflate your personal achievements
with Albert's like you wouldn't have done it on your own?
Dee: It still shocks me that in the entire world there are about 50 female DOPS! It is long crazy
hours standing on set, but I do not feel it; I really love what I do. I am always aware that I am a
woman because on most sets I am the only woman on the crew. I feel the pressure to be at my best
professionally more than the fact that I am a woman. I am fortunate that my father and husband
have been the most encouraging in my pursuits. I do feel it waters down my role when we are on set
and they introduce me as Albert's wife!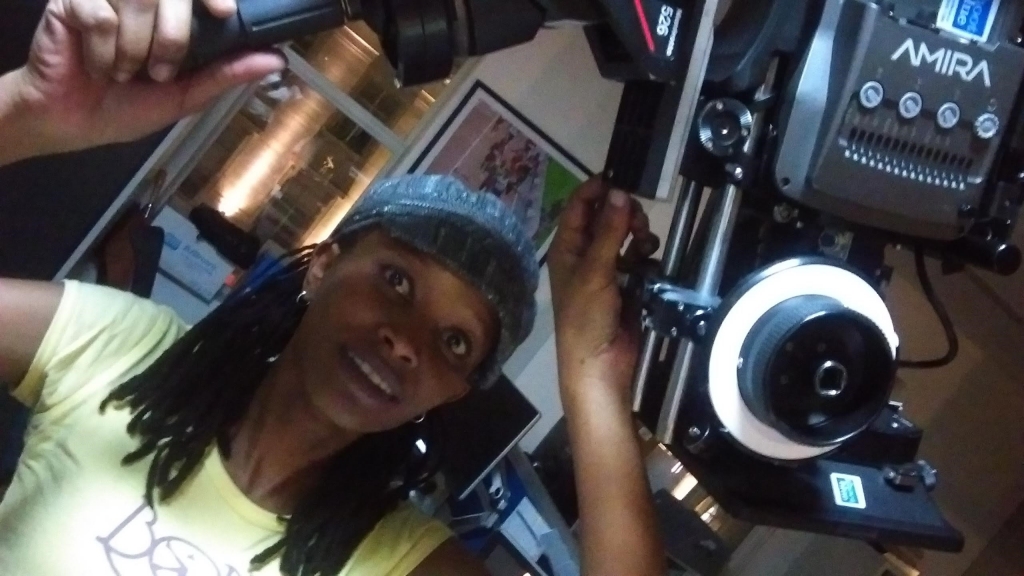 KB: What is your directing, producing process like?
Dee: Each requires a special set of skills that are only as good as you practice. The production
process is a collaborative, almost symbiotic affair. From the script to the screen is transforming an
idea into a viewable work. It is art and business. We keep each other on our toes about both these
elements so as not to lose one over the other.
AJ: The Director – DOP relationship is one that makes or breaks films. When you watch a film, you
see the translation from word to picture stewarded by these two. Most directors will form a lifelong
partnership with their DOP, so in a lot of ways, I feel like we are already winning on this front.
We definitely have different strengths in the production process, and we have the best outcomes
when we play to those different strengths. Our greatest strength as a team is that our different skill
sets overlap perfectly with the different phases of production. That means we seldom find ourselves
in a situation where there is a particular thing we are unable to do.
KB: Albert, what was a typical day at Film Studios like? Also, let us in on what FSK has been
up to this year and how you're shaping the industry for the coming years.
Film Studios will always be a career highlight for me. I am the youngest Kenyan General Manager
to ever run Film Studios. That was a feat for me. At this stage when I have moved on from Film
Studios to pursue interests more closely aligned to my artistic goals, I look back at Film Studios
with the greatest fondness. I had the honor of running the most advanced team of filmmakers this
country has seen.
At Phat PawPaw, we are currently in the process of preparing our first full-length feature for the
African film market. We are very excited about the future of filmmaking in Africa. The past year
has seen some tremendous strides for the industry, and we hope to continue being an active part of
it.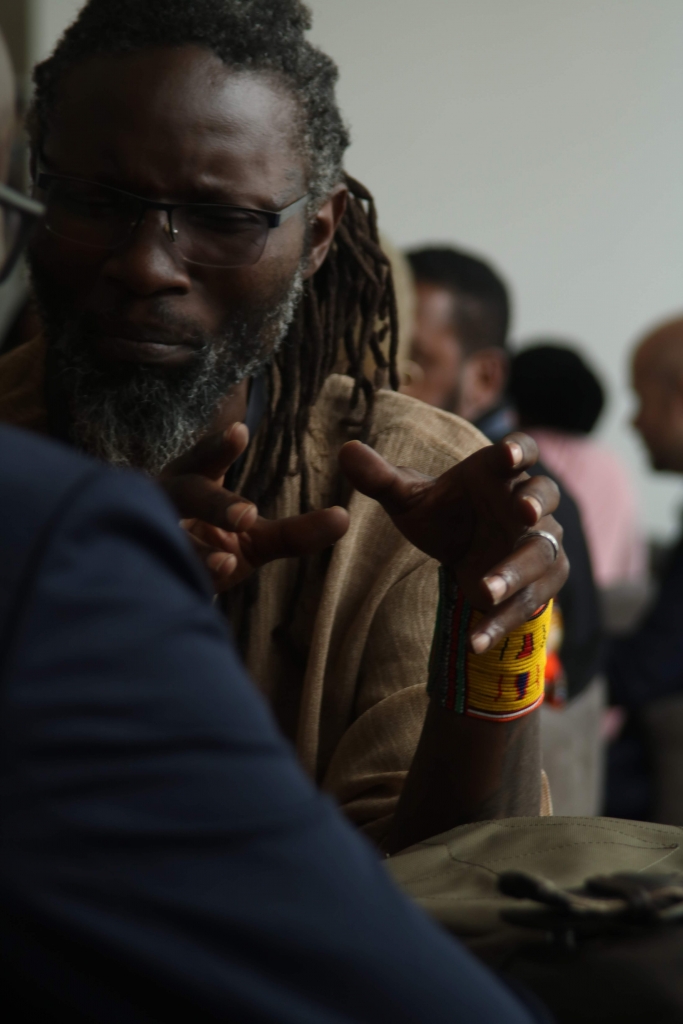 KB: Both of you are passionate about social justice. How does your activism reflect in your
work?
Dee: Beautiful images of black people is social justice! For the future generations to come, a
beautiful depiction of 'self' is critical, especially when there isn't a wealth of other positive images
to see. We are the stories we tell ourselves of ourselves. Chimamanda Ngozi Adichie talks about the
danger of a single narrative. We need a variety of African characters that depict the true breadth of
life on this continent. Taking back our narrative is the most important milestone in the fight for
justice for Africa.
AJ: I feel that activism is part and parcel of what we do, and is totally inseparable. I feel that we
take the power of film very lightly as a society. Being cognizant of the power of the images that I
put in front of an African audience to consume is the first and most fundamental of my roles as an
African filmmaker and an activist.
There are certain things that I am adamant about: fair wages for talent, a balanced depiction of the
skin tones during casting, and I make a conscious effort to cast plus-size women wherever I can.
KB: What's one "hot button" social issue in Kenya you'd like to address in the film? Are we
even ready for this table to be shaken?
AJ: Wealth is not evil, and all rich people aren't corrupt. With the constant bombarding of our
social space with stories about misappropriation of funds in both the private and public sector, I am
very concerned that there is a generation that is growing up with a very warped attitude towards
wealth. Wealth creation is the responsibility of every citizen, even in the most difficult
circumstances. We can't say that too many times.
Dee: Where is the romance? Our kids will form their idea of what romance and love look like from
the things that they watch. When I look around at some of the stories in the newspapers, it looks
like we are telling Kenyan women that being attractive and confident is inviting disaster! There is
such distrust between men and women in this country, it turns into murder. Surely love is never that
serious? We need to remind each other that even our grandparents giggled and felt butterflies!
KB: Censorship in Kenya. Thoughts?
AJ: It is a necessary evil. I know that the opinions are often very polarizing, and there is a twitter
army ready to jump down your throat either way, but I have kids. Life is a terrible thing to waste. If
limiting what young people have access to will make my daughters safer when they decide they
want to party, or if it will mean that when my daughter decides to date, the young man knows that
no means no, I am all for it. It is not hard to find the ugly side of the world; my children need a safe
place to be children.
Dee: I recognize the challenge of attempting to bring order to the chaos that is social media. When I
look at some of the content that floats around on social media, I wonder where we all lost our ability
to self-censor? I am not about curtailing anyone's freedom, but where does your freedom end, and
where does the next persons' begin? It is not my job to make that call, and I am glad.
KB: What do you enjoy watching at home?
AJ: I think I am quite scattered when it comes to what I watch. I like to watch things with my
children that are story-driven, because I think storytelling is a very crucial human skill, and
imagination is something that you nurture.
When I am watching things with my wife, more often than not the conversation is like: "where was
that light? Do you think that was a dolly or a gymbal? That plot point is inconsistent…"
It's hard to enjoy films once you've peeked behind the curtain. It's like magic.
Dee: I like to stay abreast of what Africans are making Africa look like. I find that an exciting
conversation. We continue to modify our self-image and our wealth of self-expression, and that is a
very exciting place to be right now. There is so much room for untold stories, and Africans have a
really deep visual sense and sense of style. There are too many layers to explore in just this one life.
KB: There's a deep philosophy behind your crowns. It's more than just a hairstyle. What do
your locks mean to you?
AJ: There is the stereotype of what a 'good African' looks like. That image of an African was not
created by an African and it is false. There is, conversely, the stereotype of a 'bad' African. The one
with the dreadlocks and wild eyes. The defiant one. My dreadlocks are an expression of my
defiance. I reject the image of an African as a meek lamb, willing and ready to be instructed. I am
not a lamb, I am a lion, and my dreadlocks are my mane.
Dee: Fighting nature is pointless. Black hair is not a wilderness to be tamed. The process of making
kinky, curly, African hair what it is not is a toxic, unsafe, uncomfortable, unhealthy process for your
body and soul. Dreadlocks to me represent the most natural state that my hair can exist in, and I feel
that it is true to my self-image.