Nerd culture super-fans are in for a treat this August as East Africa's biggest comic convention takes center stage in Nairobi. Every gaming, animation, comic book, graphic novel, manga, anime, sci fi, movie, cosplay or any other nerd culture aficionado makes an annual pilgrimage to NAICCON. Started in 2014, the event has steadily gained momentum.
For super-fan Kenneth Mwatha, best known by his moniker Just a Nerd -or simply -Jan, it is one of the biggest events on the calendar. Multifaceted Jan is a photographer, videographer, graphic designer, and radio talk show host. By his own admission he is a huge consumer of all things nerdy and it all began with a pile of Beano Comics.
"I've always been a huge nerd. I was that kid who would stay in class at break time to read Harry Potter. My older brother also had a lot of Beano Comics," he shares.
Jan credits his 'nerdy passions' in part to the strong reading culture from his childhood. "I think I was in class 4 or 5 when my dad bought me my very first novel, [Dan Brown's] The Da Vinci Code." Naturally, his repertoire has since expanded to Marvel Comics, DC and Manga. From there, it was a natural progression to the most popular fiction franchises like Star Wars, Harry Potter and Lord of the Rings. Jan got invested in the culture all the way from lore to fan theories. "You know how authors keep coming up with extraordinary or out of this world content? I love that. I also love coming up with fan theories. Imagining living in those universes, and those worlds. As a creative, it really opens up your mind," he tells us.
For a long time, Jan wanted a Kenyan version of the San Diego Comic Con; only the biggest nerd culture church in the world, to happen. "I longed for a place where all geeks would gather to celebrate what they love most about these gaming, fantasy, sci-fi and anime universes. And until NAICCON, there was no such thing in Kenya."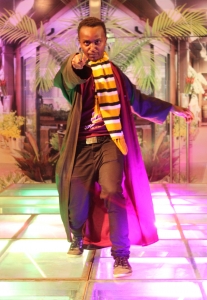 The very first NAICCON was special to Jan. He first heard about it on the streets from whispers of a convention happening at Sarit. "It was getting my friends excited, which got me excited."
He decided to have fun by cosplaying, another big part of nerd culture. He went dressed as a Maasai Jedi. One of his highlights was getting to meet Collin Davis, who is part of the creative team for Kim Possible, a Disney cartoon about a girl super spy.
There is something else about bonding with other virtual reality enthusiasts, cosplayers, movie fans, comic book writers and readers and gamers. It's no wonder that Jan's favorite NAICCON experience is meeting people with the "same vibe". He says that he has a loving but casual affair with gaming specifically. "I don't play competitively. I love role-playing games, racing, beat 'em ups, massive online battle arenas (MOABs), simulations, and board games." At NAICCON, the experience becomes even more special. "It's awesome that NAICCON provides a platform for all gaming experiences through the Pro Series Gaming, VR, and LAN parties. And what's even more awesome is that they have this rare Star Wars board game that lets you live out the experiences of the Empire or the Rebel Alliance with your friends."
NAICCON cultivates an environment for superfans and to Jan, it's a second home.